Nairobi, 30 September 2019 – UN-Habitat would like to extend its thanks to the 230 teams from around the world who submitted their projects that highlight "Innovative solutions to transform Waste to Wealth". The submissions reflect exciting new projects along the entire spectrum of the waste collection and waste value chain. What is notable is that most of these waste solutions are already being implemented, with around 75 per cent of the projects happening in Africa and 15 per cent in Asia.
A team from UN-Habitat narrowed down the most innovative 20 projects in the table below. These were selected based on how scalable they are, as well as how much the solution responds to the Sustainable Development Goals (SDGs) and contributes to the New Urban Agenda.
This years World Habitat Day takes place on Monday 7 October. The theme is "Frontier technologies as an innovative tool to transform waste into wealth". In the build up to the official events taking place in Mexico City, Nairobi , Vancouver and Yaoundé, as well as the huge number of events taking place in cities around the world, UN-Habitat will publicise the top 20 projects across its social media channels to enable knowledge sharing and highlight innovations in this field.
Background to #WasteWiseCities
UN-Habitat launched the Waste Wise Cities Campaign on World Habitat Day in 2018. The campaign aims to enhance waste management and resource efficiency in the world's cities.
The campaign draws on the long-standing expertise of UN-Habitat in delivering basic services, especially to the urban poor. In its global report on "Solid Waste Management in the World's Cities", published in 2010, UN-Habitat established the framework of integrated sustainable waste management. According to this framework, waste management systems have to take care of both the physical and the governance aspects of waste.
The physical aspects include waste collection, the 5Rs of recycling (Rethink, Refuse, Reduce, Reuse, Recycle) as well as waste disposal. The governance aspects encompass stakeholder inclusivity, financial sustainability, and the institutional framework.
To give cities and local governments a guideline to establish integrated sustainable waste management systems, Waste Wise Cities Campaign promotes 12 principles.
By joining the campaign cities and local governments commit to these principles and promote sustainable waste management. UN-Habitat supports members of Waste Wise Cities Campaign in the following four key action areas: Data & Monitoring, Knowledge & Best Practices Sharing, Advocacy & Education, and Project Finance & Bankability Support.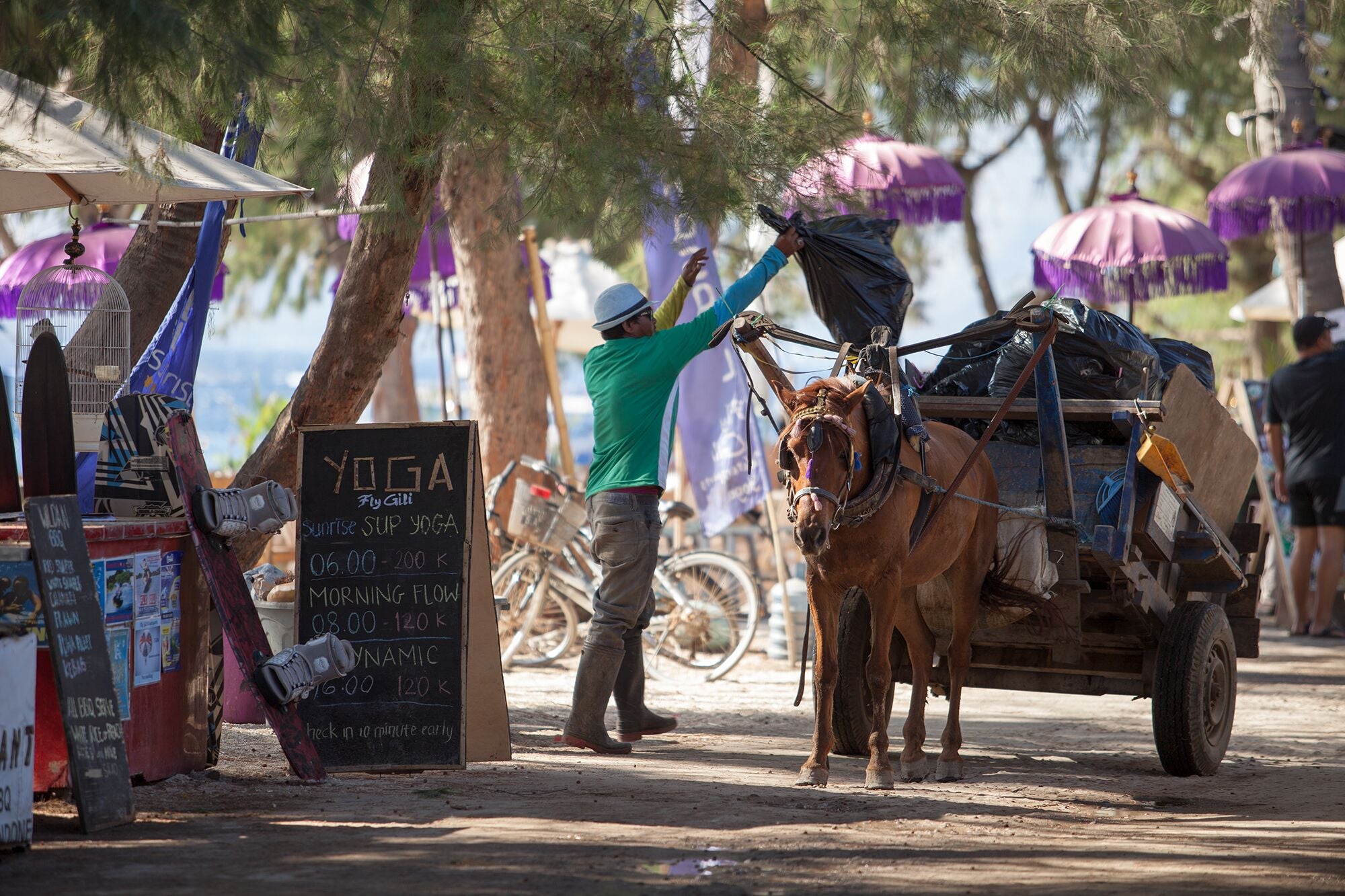 The Yapeka project in Indonesia converts waste to wealth through solid waste value chain assessment, post disaster assessment, capacity building for local SWM service provider, raising the awareness of tourism industry actors and promoting collaborative SWM action plans.
[Yapeka project]
The Top 20 Projects that highlight "Innovative solutions to transform Waste to Wealth"
(Tabled according to their place in the value chain)
Name of project:
About this innovative project:

Place in waste value chain:

 

Gili Island Solid Waste Management Project, North Lombok Regency, Indonesia by YAPEKA

Indonesia is particularly vulnerable to global marine plastics waste. Tourists to the idyllic islands, drawn by their stunning natural beauty, leave behind tons of solid waste that the regional waste management infrastructure has been unable to keep up with. This waste inevitably finds its way into the oceans. The earthquake that struck the area in July 2018 further compromised the waste management infrastructure. This project seeks to convert waste to wealth through solid waste value chain assessment, post disaster assessment, capacity building for local SWM service provider, raising the awareness of tourism industry actors and promoting collaborative SWM action plans.

 

 Whole
Recycle It! by Innovative Solutions for Sustainable Development of communities (ISSD)

Armenia, a small country with a population of only three million people, is the sixth most waste-producing state in the world. The NGO 'Innovative Solutions for Sustainable Development of Communities', through its "Recycle It!" initiative, aims to tackle this issue by installing a waste sorting and recycling culture focusing on paper, plastic, glass and metal waste. To that end, it has partnered with over 200 organizations, involving 200,000 stakeholders and, alongside various initiatives, sent 52 tonnes of plastic, 51 tonnes of paper, 1.4 tonnes of glass and 0.9 tonnes of metal to recycling stations within a year.

 

 Whole
Sustainable Recycling Industries - Turning Waste into Resources for Development by World Resources Forum

e-Waste has quickly become the fastest growing waste stream worldwide. Many electronic devices contain valuable materials, however, e-waste components are also potentially toxic if managed inappropriately. Hence, the SRI Programme focuses on governance and technology aspects that allow for an optimal recovery of secondary raw materials and the safe management of hazardous substances. One of its major outputs are the ISO/IWA 19: 2017 Guidance Principles for the Sustainable Management of Secondary Metals, focusing on the inclusion of vulnerable groups in e-waste value chains. The document can be used by small SMEs or serve as baseline for legislation, as it did in Ghana.

 

 Whole
Reverse Vending Machines by UN-Habitat Lebanon Office

Since July 2015, Lebanon has been confronted with a solid waste crisis, characterised by temporary measures and landfills as well as a lack of serious intention to recover raw materials from solid waste. Sorting at source is the cornerstone of effective and comprehensive solid waste management practice. Reverse Vending Machines are devices that accept used empty containers (metal, plastic or glass) and return mobile call credit to the user. The Ministry of Environment has signed an agreement with Lebanese telecommunications services (Alfa and Touch) in coordination with UN-Habitat in order to realize the transformation of waste to mobile phone credit. A literal example of turning waste to wealth.

 

 Whole
Comida Invisivel (Invisible Food)

Invisible Food is a Brazil-based social-tech organization providing solutions to fight food waste and minimize waste generation. They created a food donation network, connecting private establishments and NGOs with people living in socio-economically precarious conditions through an innovative mobile application. The organization also raises awareness around the issue of food waste through the publication of content such as full-use ingredient recipes, aiming to positively impact public policy.

 

 Reduction
eTrash2Cash

Only about one third of reusable or recyclable waste in Nigeria is collected and repurposed. eTrash2Cash, a social enterprise in the city of Kano, Northern Nigeria, incentivises residents and households to collect their waste and transfer it to kiosks provided around the city, in exchange for cash. 3,000 low-income individuals already earn around $ 8 per month for providing their waste, and over 11,000 metric tonnes of waste have been diverted to the collection points, where it is treated as a valuable resource and recycled.

 

 Collection
eWaste recycling by Wastezon

Individual residents rarely dispose of their potentially toxic e-waste although this is a sought-after resource for private recyclers. Wastezon, operating in Rwanda, aims to address this supply-demand gap through the development of an online platform and mobile application where individuals list their redundant electronic appliances, along with detailed information, costings and various payment options. This waste can then be purchased by actors in the recycling industry, who can communicate with customers through the chat feature in the application and pick it up at the right place via the GPS function. Already, 416 tonnes of e-waste have been transacted.

 

 Collection
MIRA - Mindful, intelligent, Recycling Assistant by CogniConsult Ltd

In a world where USD $ 80 to $ 120 billion is lost due to single-use plastics annually, a Mindful, Intelligent Recycling Assistant, dubbed 'MIRA', could be vital in creating a circular plastics economy and limiting the environmental impact of plastic waste. Relying on Artificial Intelligence and accessible through social media and smart home devices, MIRA advises consumers what, how and where to recycle plastic waste. Developed by Cogniconsult, based in Ghana, this chatbot holds the potential to sensitize millions of users, empower them to act against plastic waste, and enable coordination among all actors in the waste economy.

 

 Collection
SOSO Care

In Lagos, Nigeria, 1,400 metric tonnes of waste is generated each day. Only five per cent of this waste is collected and recycled, severely impacting the environment and public health. At the same time, only three percent of Nigerians have health insurance. Trying to address both crises simultaneously, SOSO Care treats the donation of recyclable garbage as a resource and exchanges it for micro health insurance and food stamp points. This insurance-tech social enterprise transfers the money generated by the sale of the collected valuables into a health fund which, in turn covers the $ 3 premium for access to health services.

 

 Collection
A Circular Economy Model for Faecal Sludge Management by Sanivation

Sanivation's business model is straightforward: turn faecal waste management from a cost into a profit centre. It constructs faecal sludge treatment plants at 10 per cent of the traditional cost, the sludge is treated and turned into biomass briquettes. The sale of these briquettes covers the plant's operational cost and turns waste management into a profitable business. Sanivation currently operates in the Kenyan municipalities of Naivasha and Kakuma, home to a UNHCR refugee camp, serving 20,000 residents and refugees. Saving 22 trees per tonne of produced briquettes, the 1,000 tonnes sold have so far saved 22,000 trees.

 

 Recovery
Bio-resource based approach to sanitation by Meru University of Science and Technology

Four out of five Kenyans rely on on-site sanitation facilities without standardized treatment of faecal matter. This causes significant environmental pollution and health hazards, but also deprives the environment from potentially useful nutrients. The Bioresource Recovery Center at the Meru University of Science and Technology has developed an operational protocol to convert faecal matter and food waste into safe organic fertilizer and agro-protein using the Black Soldier Fly larvae. Within 14 days, it successfully and cost-effectively transforms 200 kg of human waste and 500 kg of food waste of 500 primary schoolchildren into 250 kg of larvae and 125 kg of manure.

 

 Recycling
Converting Waste into Urban Aquaculture by Positive Change for Marine Life

Population growth, marine ecosystem degradation and industrial fishing have caused depleted fishing stocks and threatened livelihoods for numerous coastal communities around the globe. One of these is Vizhinjam, in Southern Kerala, India, where a large proportion of the 40,000 residents live below the poverty line. The marine conservation organization Positive Change for Marine Life will collect plastic and organic waste, and convert these into urban composting and aquaponic (CAP) systems – the plastic being upcycled into beams to construct the CAP units, the organic waste being composted in them. This will reduce pollution, and lower pressure on fish stocks.

 

 Recycling
Cleanliness and Economic Resilience in Rwanda by Instut Catholique de Kabgayi

Coffee constitutes a quarter of Rwanda's total export. The processing of beans leaves the country with over 160,000 tonnes of coffee pulp every year. Despite containing a significant amount of nutrients, this pulp is often seen as invaluable waste. The Institut Catholique de Kabgayi will explore the opportunities to collect and transform this residue into fodder for pigs and cattle. This research, starting with a pilot involving 3,000 female and young farmers, has the potential to substantially improve the livelihoods of the many Rwandans relying on farming for their subsistence, as well as reduce the unnecessary disposal of precious nutrients.

 

 Recycling
Re-Stor Ties & Re-Stor Solar Mount by Brick-by-Brick

Active in disaster-prone Dominica, Brick-by-Brick, a USA non-profit organization, works together with local partners to build more resilient communities. Following the passage of hurricanes like Category 5 Maria in 2017, countless homes and a significant share of the public infrastructure was destroyed. Brick-by-Brick makes use of the debris piled up from these disasters by transforming waste metal and recycled plastic into locally produced climate-resilient and seismic-resistant hurricane straps, as well as solar panel mounting systems. This reduces both the existing post-disaster waste and will limit the extent of damage caused by future extreme events.

 

 Recycling
Salubata sustainable shoes with recyclable soles

Africa's biggest leather and shoe brand, Salubata, combines African art with modern fashion to produce sustainable shoes with reusable soles, as well as bags and accessories, made from recycled plastic waste. As a pair of shoes requires about a kilogram of plastic waste for its production, this initiative significantly contributes to the reduction of the vast amounts of plastic waste generated. One of 'Africa's 100 Most Promising Start-Ups', the company, based in Lagos, Nigeria, aims to produce 5,000,000 shoes per year by 2023. In addition to contributing to waste reduction, 5 per cent of profits are donated to help children confronted with malnutrition.

 

 Recycling
Sense in Nonsense - Aqua Planet

Aqua Planet proposes the use of a so-called 'chitosan-activated carbon composite' to treat wastewater through the process of adsorption. Based in Nigeria, the initiative primarily focuses on the treatment of oil-polluted rivers like those found in the Niger Delta Region. As water flows over the composite, its polluting oil particles and organic waste are captured and adsorbed, resulting in cleaner and less hazardous water bodies, thereby limiting health risks. What started as an academic research now has resulted in a growing business with nineteen major clients already making use of the developed composite for wastewater treatment.

 

 Recycling
Greening the Lake Victoria Basin Ecosystem by using Water Hyacinth for packing products by Takawiri Paper

Over 40 million people in the riparian states of Kenya, Tanzania and Uganda rely on Lake Victoria for their livelihoods, but large parts of it are invaded by water hyacinth. This persistent weed pressurizes the optimal use of water and fishing resources, and hampers navigation. Takawiri Paper is a social enterprise that fights the water hyacinth by using it as a raw material for the production of envelopes, packaging bags and notebooks, among other biodegradable products. Simultaneously, it generates employment opportunities for vulnerable members of society in the city of Kisumu, Kenya, on the banks of the lake.

 

 Reduction & Recycling

Beib El Chouf by March Lebanon

South of Beirut, Lebanon, Beib El Chouf cultural centre aims to create an open space for people to meet around cultural, social and environmental events. The building's main walls were constructed using 2,500 old car tyres, and aluminium cans were re-used for non-structural walls, reduced the need for cement. This also stabilizes the indoor temperature during the warm summers and cold winters, reducing energy demand by 70 per cent. Rain water harvesting and the treatment and use of sewage are used for irrigation, and there is an active botanical cell inside the building.

 

 Reuse
Liter of Light @ Night by Liter of Light Global Foundation

In 2013, super-typhoon Haiyan ravaged the Philippines, causing over 6,000 deaths, wrecking livelihoods and destroying vital infrastructure on the islands. The absence of lighting at night was particularly challenging, posing severe safety and security risks. Liter of Light @ Night was the first organization to install emergency lighting during that time of crisis, reusing only material that was available locally post-disaster (including used PET bottles). From there, Liter of Light grew to a full-scale community-based solar lighting solution for energy-poor communities in some 30 countries, creating DIY lights at a cost below USD $2.00 and training women to produce and sell solar reading lanterns.

 

 Reuse
The Phone2Wallplate Shop by Tavony LLC

In a world where over a billion cellphones are being produced annually, increasingly attention is being paid to the disposal and reuse of the vast amounts of waste generated by discarded devices. The Phone2Wallplate Shop is a business idea that addresses a source of waste that is often overlooked in this process: the phone cover. Aiming to be implemented in Ouagadougou, Burkina Faso, discarded phone covers can be transformed and recycled to become novelty electrical wall switches. This will reduce the amount of hard plastic ending up on dumpsites while stimulating the local economy.

 

 Reuse