Population (2018)
41.5 million
Total value of projects
US$ 22,020,000
No. of projects (2014 - 2019)
المجموع: 9
Impact
Impact
Land allocated to 18,000 IDPs in Damazin, Blue Nile State with certificates of land titles.
Sketch map/plan produced for 52 return villages, including existing boundary and possible direction(s) of the settlements' future expansion.
3,316,344 people in five Darfur states are enjoying the better access to health care through the rehabilitated/upgraded 30 health facilities.
Urban numbers
Urban numbers
5.1 million out of 40.5 million of the population (12.6 per cent) consists of Internal Displaced Persons (IDPs), refugees from neighbouring countries and returnees.
The refugee population in Sudan more than doubled in 2017, reaching 906,600 at the end of the year.
848,091 South Sudanese refugees in Sudan (additional sources estimate that there are 1.3 million South Sudanese refugees in Sudan; however, data requires verification).
الصورة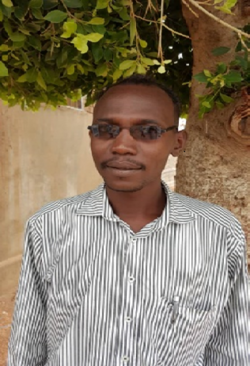 "After rehabilitation work by UN-Habitat, Um Labasa Rural Hospital has helped us and saved many lives. When the hospital was closed, we used to travel big cities. The travel was not easy especially during the rainy season when the roads are blocked."
Adam Abdelrahman, Farmer in Um Labasa, South Darfur
Donors and partners
UN-Habitat Sudan has been actively engaging with key government counterparts both in federal and state level, key UN agencies, donor communities and international/national organizations in the country. In compliance with Sudan UNDAF 2018-2021 and Humanitarian Response Plan, UN-Habitat Sudan Office has been working under the coordination of Sudan United Nations Country Team (UNCT) and Humanitarian Coordination Team (HCT) in order to assist bridging humanitarian response and development support in line with the principle of Humanitarian, Peace Building and Development Nexus.
Contact
Head of Country Programme
UN Sudan Country Programme
Legacy content

 

تعد السودان دولة في مرحلة ما بعد النزاع وتطمح إلى صياغة سلام مستدام والحفاظ عليه. ووفقاً لدراسات مختلفة، فقد تم تحديد عملية التحضر السريع التي تم رصدها في السودان بأربعة عوامل. وهي التدفقات المكثفة للهجرة من الريف إلى الحضر والنزوح نتيجة للصراعات الطويلة والتي ضربت أجزاء معينة بالبلاد، والكوارث الطبيعية المتلاحقة وخاصة الجفاف وتبعاته، والنمط المعقد للتطور السياسي في الدولة منذ الاستقلال والحالة غير الملائمة للتطور الريفي في البلاد نتيجة للتطور الإقليمي غير المتوازن.

في حين أن المدن والمجتمعات في السودان تواجه العديد من التحديات، توفر عمليات التحضر فرصة لبدء عمليات التنمية المستدامة، وتستغل قدرات وطموحات ساكني المناطق الحضرية. وكذلك سيتطلب تحقيق التحضر المستدام تلبية احتياجات المدن والمجتمعات بطريقة متوازنة بالإضافة إلى المناطق شبه الحضرية والمناطق الريفية والتي بها تفاعلات اجتماعية واقتصادية وبيئية تعتمد على بعضها البعض.

في هذا الصدد ستباشر الحكومة السودانية العمل على تشكيل وتنمية استراتيجية متكاملة للتحضر تعتمد على الشراكة مع القطاع الخاص والمشاركة المجتمعية. وقد تم اتخاذ الخطوات والإجراءات المبدئية فيما يخص الإعداد لوثيقة المشروع وقد تم تخصيص التمويل الأولي من قبل الحكومة وتم الاتصال بعدد من الجهات المانحة لتمويل المشروع. و تتمثل الأهداف الرئيسية للاستراتيجية في:

أ. تطبيق استراتيجية أكثر كفاءة لاستخدام الموارد الطبيعية (وخاصة الأراضي) من أجل الحد من النزاعات وحماية الموارد للأجيال المستقبلية.

ب. ضمان توطين الزيادة السكانية المتوقعة حتى 2031 للحد من النمو غير النظامي والعشوائي و الحد من الفقر.

 

وائل الأشهب

برنامج الأمم المتحدة للمستوطنات البشرية بالسودان

الشركاء الرئيسين

يتم تطوير وتنفيذ ومتابعة كافة مشروعات برنامج الأمم المتحدة للمستوطنات البشرية في السودان بالاشتراك مع الوزارات السودانية المعنية لضمان أنها تواكب خطة التنمية الوطنية وأولوياتها. لإضافة الطابع المؤسسي على العلاقة مع النظير الحكومي الأساسي، تم توقيع مذكرة تفاهم بين برنامج الأمم المتحدة للمستوطنات البشرية والحكومة الاتحادية في السودان في نوفمبر 2010 وتم تجديدها في يناير 2015، وهدفها الرئيسي هو إنشاء إطار للجهود التعاونية فيما يخص برامج التنمية الوطنية والأنشطة المتعلقة بالتحضر المستدام ولتتماشى مع التخطيط العمراني في السودان. وينبغي أن تقوم هذه المذكرة بتمكين كلا الشريكين من تحديد الأولويات والاهتمامات المشتركة.

وقد قام برنامج الأمم المتحدة للمستوطنات البشرية بتقديم المساعدة الفنية والمالية للحكومة الوطنية في السودان ولجنة الموئل الوطنية لصياغة تقرير وطني للمؤتمر الثالث للأمم المتحدة بشأن الإسكان والتنمية الحضرية المستدامة (الموئل الثالث) بناءً على الإرشادات المقدمة. وتم إعداد التقرير الوطني حول نهج تشاركي تصاعدي وجمع الموظفين العموميين السودانيين من الحكومات الاتحادية وحكومات الولايات، وممثلين من منظمات المجتمع المدني والأكاديميات والمؤسسات البحثية والإعلام والأمم المتحدة والجهات المانحة الدولية والقطاع الخاص والفئات المجتمعية. وأخيراً تمت الموافقة على التقرير الوطني من قبل الحكومة السودانية.