نظرة عامة
Population (2018)
33.6 million
Total value of projects
US$ 25,000,000
No. of projects (2014 - 2019)
المجموع: 1
Impact
The country launched the new Integrated Planning Act for the first time based on the advice of the Future Saudi Cities Program.
More than 5,000 multi stakeholder (females and males) attending and shared their views with regard to Saudi cities during the 1st and 2nd Saudi Urban Forums.
The country launched a complete assessment and review on the National Spatial Strategy (NSS) based on the review that we did of the old NSS of KSA as part of the Future Saudi Cities Program.
Urban numbers
92 per cent of the populations dependence on private transportation.
The legal urban legal system is composed of more than 600 by law, royal decree, ministerial decree, etc.
32 per cent of the cities are accessible and linked to public transport systems.
الصورة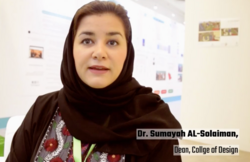 "There is a focus on women, there is specific sessions on women, its really interesting how gender issues can really inform planning"
Dr. Sumayah Al-Solaiman, Dean college of design at Imam Abdulrahman Bin Faisal university
Donors and partners
The success of our work in Saudi Arabia is dependent on successful partnerships with Ministry of Municipal and Rural Affairs. During the consolations with the UN-HABITAT advisers it has been agreed to launch a comprehensive program to address urban challenges that the Saudi cities face, and contribute to their prosperity as per the recent global trends for management of urban cities, and setting of a strategy and modern planning vision for Saudi cities and to develop the idea and the study, besides the possibility of its implementation in the Kingdom of Saudi Arabia within the forum events.
UN-Habitat has been involved as well with Public Investment Fund in urban regeneration of central Riyadh City. The collaboration was focused on how to build an engagement plan for citizens and expatriates in the urban regeneration area.
In addition, UN-Habitat is currently building partnerships with Arriyadh Development Authority, Madinah Development Authority. The first is focused on areas to support the SDGs Goal 11 in Riyadh and globally. The 2nd is focused on supporting the measurement of development in Madinah Region through support to the local urban observatory.
The partnership with the ministry of Housing is another initiative focused on support to the role of the NGOs and cooperatives system in the country in order to match housing demands by several target groups not reachable through private sector housing provision mechanisms.
Donors
Saudi Arabia
JACOBS
Ericsson
Contact
Acting Country Manager and Team Leader in KSA
Legacy content

تشهد مدن المملكة العربية السعودية توسعًا حضريًا سريعًا مع تضاعف سكان الحضر ثلاث مرات تقريبًا من 9.32 ملايين في 1980 إلى 29.8 مليون في 2014. وبالإضافة إلى ذلك، من المتوقع أن يواصل هذا التحضر زيادته ليصل إلى 97.6% بحلول عام 2030، حيث ستصل الرياض (العاصمة) إلى 8.2 ملايين وستكون نسبة السعوديين فيها 75%. في ضوء معدلات النمو الحالية والتقديرات السكانية طويلة الأجل للمملكة، من المتوقع أن يصل النمو السكاني السنوي في المملكة إلى متوسط 0.87% ليصل العدد إلى ما يقرب من 31.457 مليون في 2030، منهم 4.214 مليون شخص غير سعودي. يتركز معظم السكان في الرياض العاصمة، والمدن الثانوية جدة والدمام، والمدينتين المقدستين مكة المكرمة والمدينة المنورة.

تبرز هنا  الحاجة الماسة لمواجهة العوامل الخارجية السلبية والاختلالات الناتجة عن النمو الحضري، مع تعظيم  فوائد التوسع الحضري لأقصى حد ممكن من خلال التنمية الإقليمية المتوازنة. مع تولي خادم الحرمين الشريفين الملك سلمان بن عبد العزيز آل سعود الحكم، تم تشكيل حكومة جديدة يتبعها مجلس جديد للشؤون الاقتصادية والتنمية الذي وافق بدوره على استراتيجية وزارة الشؤون البلدية والقروية في فبراير 2015. وضعت الاستراتيجية الجديدة في الاعتبار اتجاه التنمية المستدامة ونهج البرنامج الحضري الجديد ثلاثي المحاور. تهدف الاستراتيجية إلى تحقيق التنمية الحضرية المستدامة والمتوازنة والخدمات البلدية المتميزة في سياق من العدل والتنافس في جميع المناطق. وسوف تتطلب ممارسات التنمية الحضرية المستدامة مساحات وآليات أكبر لمشاركة الشعب اهتماماته ومشاغله. تهدف المملكة العربية السعودية إلى الوصول بمدنها إلى مستوى التحضر المستدام الذي من شأنه معالجة هذه العوامل.

سيتحقق هذا من خلال تشكيل بيئات حضرية عالية الكفاءة يمكنها تلبية تطلعات واحتياجات الأجيال الحالية والمستقبلية وتوفير مستويات مرتفعة من المعيشة، بالإضافة إلى المجتمعات المتقدمة والمخطط لها التي يمكنها إشعار جميع مواطني المملكة العربية السعودية بالفخر، كما يمكنهم العمل والعيش بها والتمتع بوسائل الراحة والفرص التي تتماشى مع المعايير الدولية أو تتفوق عليها. عن طريق الاستفادة من مبادئ التحضر المستدام لبرنامج الأمم المتحدة للمستوطنات البشرية والنهج ثلاثي المحاور ومبادرة ازدهار المدينة باعتبارها نقاطًا للانطلاق، ستكون المدن السعودية مؤهلة لمعالجة التنمية الحضرية بطريقة أكثر شمولية ومتعددة الأبعاد.

ويقوم حاليًا برنامج الأمم المتحدة للمستوطنات البشرية والأمانة العامة لتخطيط المدن في وزارة الشؤون البلدية والقروية بتنفيذ برنامج مستقبل المدن السعودية، كما يتم تحديد أهدافه ونتائجه المقررة ومخرجاته لتتماشى بالكامل مع الرؤية الجديدة للوزارة بالإضافة إلى أهدافها التي تشمل هدف التنمية المستدامة رقم 11 وهو "تحويل المدن إلى مدن شاملة وآمنة ومرنة ومستدامة".

الشركاء الرئيسيون

وزارة الشؤون البلدية والقروية

رأس صاحب السمو وزير الشؤون البلدية والقروية وفد المملكة إلى الدورة السادسة للمنتدى الحضري العالمي (WUF) المنعقد في نابولي بإيطاليا خلال سبتمبر 2012 (شوال 1433 هـ)، والذي ينظمه برنامج الأمم المتحدة للمستوطنات البشرية "UN-Habitat".

خلال اللقاءات الثنائية بين معالي الوزير وسعادة وكيل الوزارة مع مسؤولي برنامج الأمم المتحدة للمستوطنات البشرية ضمن فعاليات المنتدى، تم اقتراح فكرة توقيع اتفاق متبادل مع برنامج الأمم المتحدة للمستوطنات البشرية لوضع استراتيجية تخطيط حديثة ورؤية معاصرة للمدن السعودية.

تم طرح الاقتراح على صاحب السمو لالتماس المساعدة من تجربة برنامج الأمم المتحدة للمستوطنات البشرية ومشاركة كل من وزير المالية ووزير الاقتصاد والتخطيط.

ونتيجة لذلك، تم توقيع مذكرة تفاهم بين الوزارة وبرنامج الأمم المتحدة للمستوطنات البشرية لتنفيذ "برنامج المدن السعودية".