Habitat UNI is UN-Habitat's main mechanism for partnerships with academia and researchers. The partnerships are open, and invites all levels of academia to engage.
UNI (previously HPUI - Habitat Partner University Initiative) was introduced as a means of promoting cooperation between UN-Habitat and institutions of higher education, as well as facilitating exchange and cooperation among universities globally. UNI promotes universities becoming closer partners of cities, actively engaged in problem solving, thus closing the gap between academia and practice and encouraging collaborative learning.
The collaborations aspire to create the next generation of urban leaders, managers, researchers and practitioners. UN-Habitat acts as a catalyst, facilitating partnerships between between universities and other agenda partners.
See the UNI Charter for further information on the operation and focus of UNI.
Below you will find more information on how to become a member, as well as information on current activities and collaborations of UNI.
How to become a UNI partner
Habitat UNI is an inclusive partnership, enabling an open entry process based on motivation towards sustainable urban development and subsequent opportunities for partners to distinguish themselves through their engagement and achievements towards this goal.
Besides agreeing with the general vision of UNI the basic requirement for becoming a partner is to promote the UNI principles and, for institutional members, support implementing its agenda.
UNI includes two membership levels: "Individual" and "Institutional".
For more information on membership, please contact UNI@unhabitat.org
Global Urban Lectures
 The Global Urban Lectures were launched in April 2014 as part of UNI's mission to support the exchange of ideas between urban professionals, academics and experts worldwide.
The series is comprised of lecture packages including a 15 min video, synopsis of the topic, biography of the speaker and links to indepth study.
The lecturers are associated with UN-Habitat, universities, think-tanks, governments, NGOs, and private sector institutions. The series aims to demonstrate a sound evidence-based analysis of a given problem and issues at stake, identify propositions to address them and provide examples that demonstrate how such propositions actually work, are being tested or have been implemented.
All lecture packages are available online, free of charge: Global Urban Lectures
To follow the series and get updates on new releases, do either of the following:
Subscribe to the UN-Habitat YouTube channel 
Like the UN-Habitat Facebook page 
Thematic Hubs
A UNI Hub is a consortium of universities that agree to work on the same thematic priority under the principles of mutual collaboration, exchange and learning, producing outputs which strengthen the role of universities in forwarding sustainable urban development.
The Hubs established under the umbrella of Habitat UNI are to link the ongoing related work of UN-Habitat to the work the Hub does on the subject. Through active collaborations UN-Habitat and these academic consortia are to forward research and action on the thematic target, promoting education, policy advice and professional development which are updated to current urban realities, and which have a strong focus on translating into direct impacts on the city level.
You find a full definition of a UNI Hub, as well as requirements and roles involved here: UNI Hubs - Definition, requirements and roles
The current Hubs are:
Informal Urbanism Hub
Hosted by: University of Hannover, Germany
Hub Coordinator: Christian Werthmann
What: The thematic hub on 'Informal Urbanism' provides a platform for exchange in studying the phenomenon of informal urbanization and the advance of understanding related to improve policies and responses in the future. It seeks an interdisciplinary perspective that views physical, social, cultural, economic, environmental, governance and policy issues as interdependent. The Hub supports activities that can be generally categorized into two streams: 1) Studying and better understanding existing informal urbanization, including responses by governments, NGO's and academic institutions in the form of citywide upgrading programs, integration policies and redevelopment approaches. 2) Studying future informal urbanization, trends and anticipative approaches and strategies that include but are not limited to the development of sustainable living strategies for arriving low populations.
Why: The goal of the Hub is to enable academics to make a useful contribution to practices and policies that improve the lives of those living in informal conditions. Currently, municipal attitudes towards informal urbanism range from eradication to neglect to grudging tolerance; sometimes to improvement and rarely to anticipation. This Hub will investigate and propose appropriate processes of engagement for academics and professionals to improve and anticipate informal urbanization. This production of knowledge and empirical evidences is to improve research and education methodologies on the topic of informal urbanism as well as provide a window for academics to work with and contribute to the improvement of UN-Habitat programs. This to help mainstream the results of academic production and ideas into the global debate led by the United Nations in improving the lives of urban dwellers.
Who: The Hub embraces an inclusive, inter-disciplinary and inter-regional approach to the investigation of informal urbanism. As many academics are working on issues related to informal urbanism from a variety of perspectives much can be gained by sharing innovative practices across urban disciplines. The phenomenon of informal urbanism is geographically diverse and the Hub will engage with individuals and institutions from around the globe to exchange regional approaches and best practices. For a list of proposed partnerships and connected projects, see concept note.
How: The Hub will serve as a platform for academic exchange and collaboration on topics related to informal urbanism.  The Hub will grow over time in response to the discussions generated by exchange between members.  A phased development approach is proposed as a means to guide this development. Phase 1: Academic Exchange to facilitate member exchange and discussion through annual conferences. Phase 2: Coordinated Research to use coordinated research initiatives in investigating research questions identified by member institutions and UN-Habitat in phase one. Phase 3: Academic & Professional Collaboration Progressing to collaboration between academic institutions and UN-Habitat and other partner institutions on relevant projects.
Urban Governance Hub
Hosted by: London Metropolitan University, UK
Hub Coordinator: Lara Kinneir
What:  To document, analyze and promote effective governance models, processes and tools to deliver sustainable urban development in line with current global trends. The Hub will create an evidence base of practical knowledge and expertise involved in researching and delivering urban governance, alongside evaluation of such practices, to enable impact on education and policy, and enable others to deliver promising practice. The Hub has the aim to deliver more inclusive, participatory and effective governance, particularly in relation to the three macro trends of: planning and design for urbanization; the near ubiquity of mobile and other information and communication technologies in developing countries; and the demographic reality of youth being the preponderance of urban populations in most/all developing countries. It focuses on documentation, analysis, and promotion of promising practices regarding sustainable urban governance.
Why:  Often the elements that deliver urban governance are intertwined within various government departments and are difficult to access and make known. This Hub will allow a collective resource to be developed and shared through the network. As the principals of promising practice of governance are often challenging to relay, the collective resource will allow practice to be shared with universities and open up opportunities for methods to be analyzed and improved through academic study that is linked to the realities of urban environments, and subsequently make a useful contribution to practices and policies that improve the life in urban places. The Hub raises awareness for promising practices and engage academia and governments in supporting their further spread, development and application.
Who:  This Hub will provide a forum for local and central government functionaries and associations, academics and professionals to connect and share their practice and polices of effective urban governance, and by doing so, create a resource that can be promoted to influence the practice of others.  The initial proposal is for 15 regional university-government representatives to be part of the core group. The Hub will be closely connected with other HPUI thematic Hubs, other UN-Habitat programmes, key local government contacts, and ensure collaboration with civil society, national government, NGO's, youth organisations, and the private sector (including telecoms). For a list of proposed partnerships and connected projects, see concept note,
How:  The Hub serves as a platform for recording information, exchanging knowledge and enabling promising practice.The first phase of this will happen through the online HPUI portal.  A template to record promising practice will be available and sent to interested parties. The case study template along with the evaluation will form the basis of the online resource library. Following this, an online discussion will be held, with invited specialists asked to participate and discuss the initial case studies and evaluations. This program will be repeated several times in order to build up the resource. Each time it is repeated, an online discussion forum will be held to disseminate findings of the case studies and evaluations, to help direct the agenda of the subsequent research.
Climate Change Hub
Hosted by: Makerere University, Uganda
Hub Coordinator: Shuaib Lwasa
What: This Hub focuses on climate change and disaster risk reduction responding to the knowledge and practice gaps in adaptation and mitigation of climate change. The Hub will provide a platform for knowledge generation through interactive processes of research-dissemination-uptake. The Hub builds on a multiplicity of methodological and analytical frameworks that enhance co-generation of knowledge among academics working with students, communities and researchers in the various regions. It focuses on knowledge management initiatives that are envisaged to enable transfer of knowledge to practice, tools, frameworks and utilizing multiple strategies for dissemination. It is envisaged the Hub to provide knowledge on practice, strategies and develop capacity on climate change issues affecting cities through enhancing existing training and educational modules but also develop new modules. The modules will be tailored for on-demand training to decision makers and other climate knowledge users.
Why: The Hub rationale is to contribute to the identified knowledge gap in climate change and urban disaster risk reduction.  But there are also research-policy and practice gaps needed for current and future response. These gaps will be filled by developing tools, policy briefs, strategies and approaches to respond to the climate change challenge. The Hub is to enable urban actors to make a useful contribution to practices and policies that improve the lives of urban dwellers while addressing urban risks and hazards. In addition the capacity development programming is to train future practitioners with necessary skills and knowledge that addresses climate risks, adaptation and mitigation. Recognizing the existence of various research and capacity development initiatives, the activities of the hub envisaged to provide a knowledge-sharing platform.
Who: The Hub is comprised of members from diverse disciplines and institutions with a broad range of expertise. This is considered an important element and principle of the hub that will enable build a team with multi-disciplinary skills to steer research and co-generation of knowledge on the thematic areas of the hub. Members' disciplines range from Geography, Urban and Regional Planning, Architecture, Environmental Science, Business Management and Social Sciences. For a list of proposed partnerships and connected projects, see concept note.
How: The Hub is planned and envisaged to develop leveraging existing initiatives of knowledge generation and management. A phased development approach is proposed as a means to guide the development of the hub.  Phase 1: A Local Urban Knowledge Arena (LUKA) has been established at the coordinating in-depth research on specific topics drawn from the thematic areas of the hub. Phase 2: This phase will overlap with phase one to produce research outputs namely, published papers, policy briefs, application tools and research conferences/workshops geared towards dissemination of emerging knowledge. Phase 3: For continuity and sustainability of the hub, training modules, curricula and training events will be organized including workshops, writing workshops and faculty exchanges.
Food Security Hub
Hosted by: Newcastle University, UK
Hub Coordinator: Suzanne Speak
What:  A collaboration of academic and practice partners seeking to promote urban food security through development of initiatives in research, communications, education, outreach, and capacity building, to assure a sustainable urban food supply that reduces environmental impact, enhances the food security and livelihoods of the urban poor and protects public health and urban ecosystems.
Why:  Urban food security, as defined by continuation of affordable, appropriate, safe and accessible supply, is probably the most critical issue facing the urban poor in the Global South. The UN recently raised concern over escalating world food prices.  However, work on urban food security has typically been disconnected from other development agendas; for example, spatial and urban development, housing and settlements, water quality, health, sustainability or urban governance.  There is an urgent need to bring these agendas together.  Moreover, because the provision of a sustainable food supply has strong links with several UN-Habitat issues, including resilience and gender, the theme cross-cuts several of the WUC themes.
Who: Initially: Newcastle University, Global Urban Research Unit, Global Urban Research Unit (UK); University of Pennsylvania, Penn Institute for Urban Research (USA); Chandigarh University (India); Obafemi Awolowo University (Nigeria); Foro Ciudades Para La Vida (Peru); University of South Florida (USA); University of Twente (Netherlands). For a list of proposed partnerships and connected projects, see concept note
How: Partners developed and circulated a draft work plan at the HPUI Global Meeting in Tampa, May 11, 2013. In order to advance the program, members will work virtually and meet regularly at international meetings. They will engage in the following activities:
Research: The Hub will develop a global landscape study of urban food security, surveying and assessing national and local food security policies and make recommendations for improved policies.
Instruction: The Hub will create a web-based catalog of curriculum offerings and develop modules to enhance knowledge and capacity building in urban food security for further and higher education which will also be the basis of capacity building materials.
Communications: The Hub will develop an educational and awareness outreach campaign related to urban food security through a range of audience-specific publications, including a quarterly bulletin.  It will also seek to develop and host workshops related to research and instructional initiatives.
Urban Futures Hub
Hosted by: University of South Florida
Hub Coordinator: Kalanithy Vairavamoorthy
What: The Urban Futures Hub is a centre of excellence for developing new approaches and tools to foster sustainable urban communities and environments through collaborative research. In adopting a forward-looking view, the Hub will focus not only on current but also emerging trends in urban development, embracing innovative and creative solutions to the problems surrounding urban planning and integrated resource management for cities, particularly in Africa. Resource flows in a city such as water, energy, and mobility will be analysed and optimized for sustainable urban development. Therefore, broader issues of urbanization that includes efficient management of resources and integrated management of infrastructure systems will be considered. The integrated approach will allow cities to address the interactions between urbanization, population growth, and other future change pressures including: climate change, deterioration of aging infrastructure systems, changes in public behaviours, and economic changes
Why: One of the pressing problems associated with urbanization and urban resource management is the provision of basic urban services. Almost a billion poor people live in urban areas in the world without adequate shelters and basic services. In Africa, only 36% of the population has even marginal sanitation coverage and 240 million people are undernourished. Access to energy has improved, but supplies are irregular and unpredictable. On the other hand, it is predicted that by 2020 more than 50% of the middle class population will live in Africa and Asia. Hence, the Urban Futures Hub serves to develop a suite of tools that will allow designing urban forms and associated infrastructure and governance systems that are technologically and socially adaptable to local conditions and demands in this unprecedented era of urban challenges.
Who: The Urban Futures Hub responds to the challenges of today's rapid urbanization by being a centre of excellence on urban resource management that will involve PCGS expertise in the areas of urban sustainability and through strategic collaboration with partners. Led by PCGS, the Hub brings together diverse partners such as the Norwegian University of Science and Technology, Gothenburg University, the University of Pennsylvania, and the University of Madras. The Hub works closely with UN-Habitat to promote and coordinate research, policy advice and education in the field of sustainable urban development, whilst engaging with experts working in sustainable urban development on different scales and in different regions across the globe.
How: The Hub involves expertise from different universities in several areas of sustainable urban planning and integrated urban resource management to address the aforementioned objectives. The Hub facilitates and coordinates discussions on the opportunities and challenges for universities in advancing sustainable urban development through teaching, research and fieldwork, and bridging research, policy and implementation gaps. Furthermore, the Hub seeks to establish a repository of knowledge online courses with best practices in resource management collected for an open access repository project.
Gender Hub
Hosted by: National University of Cordoba, Argentina
Hub Coordinator: Ana Falú
What: The Gender Hub serves to document the advances in research, policy and practice; their transference; as well as to promote effective governance models that assume the diversity of social actors and city stakeholders. The Hub works to disseminate, exchange, and transfer processes and tools so as to deliver sustainable urban development with a gender perspective within the continually shifting frameworks of critical global urban trends. The Hub is built on a repository of shared knowledge and the bringing together of various actors whilst contributing to and supporting UN Habitat Units, local governments and civil society organisations.
Why: More than half the world's population now lives in cities, but women and girls still make up three-fifths of the world's one billion poorest people. Women are also underrepresented in decision making, especially in public administration, the private sector and politics. They make up only 18 per cent of parliamentarians and 20 per cent of local councillors worldwide. Nowhere are the inequalities facing urban woman clearer than in slums and informal settlements, where the picture around the world is almost invariably of women experiencing the greatest degrees of poverty, reproductive health risks, sexual threats and violence, as well as the worst barriers to education, employment, housing, and basic services like water and sanitation. In light of this, the Gender Hub will provide a platform for the documentation, analysis, and promotion of a global agenda on gender equality and women's rights to the city.
Who: The Gender Hub supports a network of academics and professionals to link and share their practices and experiences regarding gender, urban planning, and women's rights to the city in order to stimulate and promote global action on gender and its respective issues within urban development. The Hub is supported and reinforced through its linkages with UN Habitat (specifically the Gender Unit) and the organisation's associated international capacities whilst remaining closely connected with the Advisor Group for Gender issues created by the Executive Director of UN Habitat.
How: The Hub operates through the continual interaction of interested academic institutions from around the world, acting as an intermediary in the recording and cataloguing of knowledge on gender practice, research, processes, projects, and policies in urban development. The Hub is accessible through the UNI portal for all members of the Hub and various other interested parties or members of the public. Further online discussions are being promoted to develop the on-going priorities of the Hub. Currently, a phased development approach is proposed as a means to guide this development, namely: through academic exchange so as to facilitate discussion through annual conferences and, furthermore, through coordinated research to enhance collaboration between academic institutions, UN-Habitat, and other partner institutions.
Contact
For more information on Habitat UNI, contact the UNI office: UNI@unhabitat.org
Visit the NEW portal for the 160+ university partners of UNI - see shared materials, upload your own material, and access resources. 
See the new Global Urban Lectures - a free online resource of 15 min video lectures focusing on sustainable urbanization.
Images
Image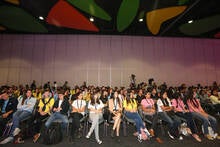 Image

Image

Image

Image

Image

Image

Image