Manizales, Colombia 22 May 2021 – UN-Habitat, in partnership with the University of Michigan is supporting the Colombian city of Manizales to mainstream biodiversity solutions into its planning on combating climate change.
Biodiversity and Climate Change: Lessons from Manizales
The analysis was carried out with UN-Habitat in consultation with the Colombian Ministry of Environment and Sustainable Development and the Ministry of Housing, City and Territory. It used the Law and Climate Change Toolkit, an online, open database grading system developed by UNFCC, UNEP, and the Commonwealth Secretariat, to help countries build legal frameworks for effective domestic implementation of the Paris Agreement and their Nationally Determined Contributions (NDCs).
The local component of this assessment ensures that Manizales' urban planning and policy framework includes nature-based solutions to climate change. A review of evidence-based approaches to biodiversity in cities informs an analysis of climate hazards and risks in Manizales, which identifies priority areas for intervention.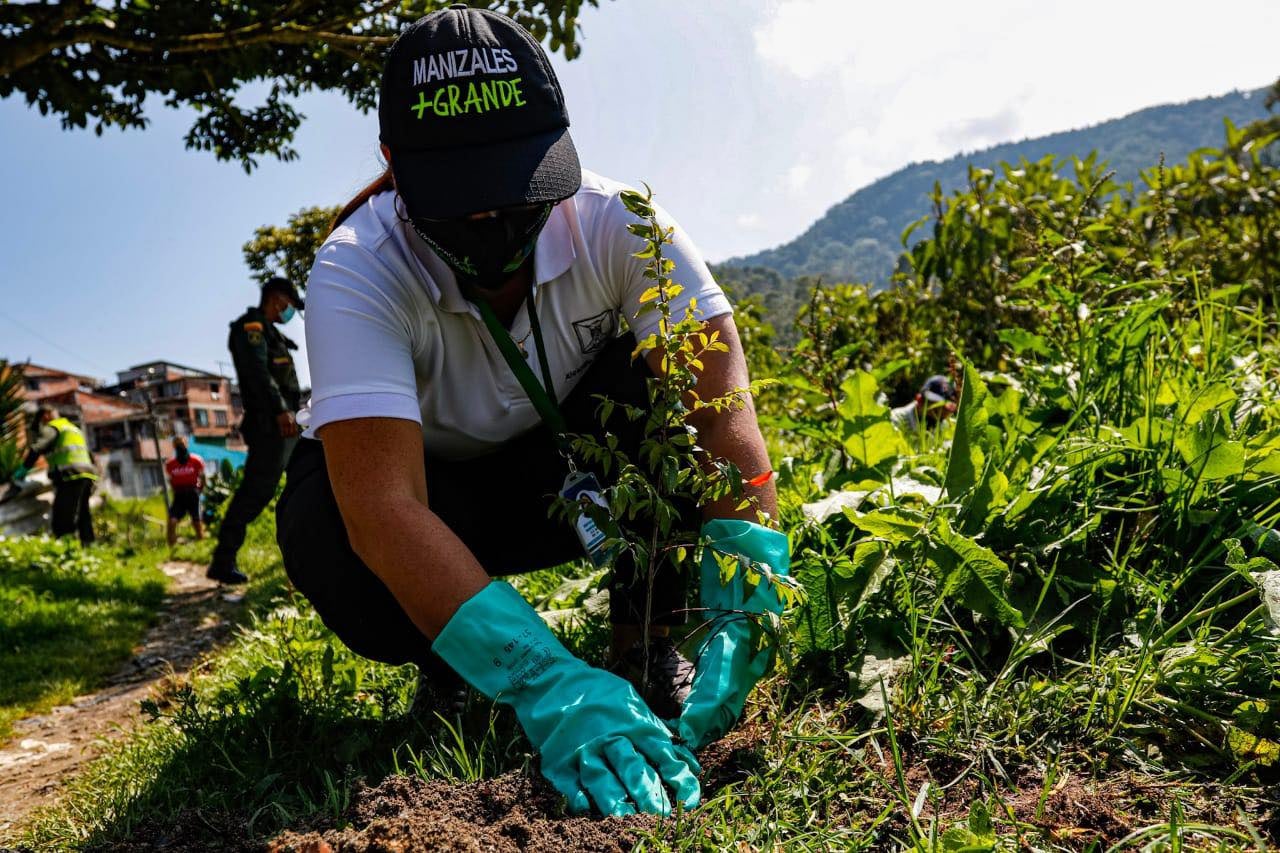 Tree planting to mainstream biodiversity solutions to combat climate change in the Colombian city of Manizales.
Alcaldía de Manizales
The project supports "Biodiverciudades", an initiative led by the Colombian Ministry of Environment and Sustainable Development to focus on sustainable urban development that prioritizes biodiversity and the environment and was welcomed by Edward Alfonso Buitrago Torres, Adviser of the Deputy Minister of Environment and Sustainable Development of Colombia.
"The urban legislation we design and implement must prioritise the promotion of climate actions aimed at reducing greenhouse emissions and communities' vulnerability to natural disasters. This is what we are doing in Colombian cities by focusing urban projects around the "Biodiverciudades" initiative. The implementation in Manizales will benefit from the added value provided by the assessment that UN-Habitat and the University of Michigan are conducting through the Law and Climate Change Toolkit," he said.
The analysis is part of a multi-year project to accelerate climate action through the promotion of Urban Low Emission Development Strategies or Urban-LEDs. The second phase of implementation (2017-2021) is being carried out by UN-Habitat with the Local Governments for Sustainability network (ICLEI) and funded by the European Commission. In Colombia, Urban-LEDs has supported several cities including Manizales in developing low carbon development strategies integrating climate change action plans, and implementing demonstration projects for low carbon development solutions.
Ana Paula Pimentel Walker, Assistant Professor of Urban and Regional Planning, University of Michigan said: "This collaboration allowed students to develop their creativity and analytical rigour to craft a biodiversity plan that builds upon synergies with climate change mitigation and the adaptation of vulnerable communities. They learned a great deal from Manizales' planning tradition."