Overview
Evaluate and analyze the legislative and institutional current situation of Saudi Cities and their capability to execute urban policies and strategies in the Kingdom. setting detailed strategic profiles and pilot projects as road map. Engage with communities in the planning system especially women and youth and establishing platforms for engagement in city planning.
The Future Saudi Cities Programme, a joint programme developed by the Saudi Ministry of Municipal and Rural Affairs (MoMRA) and UN-Habitat, implemented in close cooperation with the municipalities of 17 major Saudi cities. The cities have been selected based on their different population sizes, geographic distribution, and a range of criteria based on capacities and economic potential to create a more balanced regional development among the cities of Saudi Arabia. The chosen cities include Riyadh, Makkah, Jeddah, Taif, Madinah, Tabuk, Dammam, Qatif, Al-Ahsa, Abha, Najran, Jazan, Hael, Arar, Al Baha, Buraidah, and Skaka.
Horizontal expansion of the 286 Saudi Cities with increasing cost of the Infrastructure. Physical area of Cities expanding faster than populations.  High pollution and energy consumption in addition to more than 92% of the populations dependence on private transportation has caused incline of annual temperature and urban heat islands in most of Saudi cities. Waste production from than 33 million inhabitants is generating more than 15 million ton of waste annually most of which are sent to landfills. Primacy of big cities economy on the overall GDP of KSA where Riyadh and Makkah regions contributes to more than 50 % of the total GDP of the country excluding crude oil.
Urban numbers
92 per cent of the populations dependence on private transportation.
The legal urban legal system is composed of more than 600 by law, royal decree, ministerial decree, etc.
32 per cent of the cities are accessible and linked to public transport systems.
图像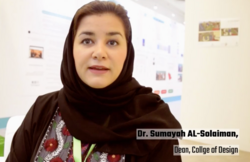 "There is a focus on women, there is specific sessions on women, its really interesting how gender issues can really inform planning"
Dr. Sumayah Al-Solaiman, Dean college of design at Imam Abdulrahman Bin Faisal university
Donors and partners
The success of our work in Saudi Arabia is dependent on successful partnerships with Ministry of Municipal and Rural Affairs. During the consolations with the UN-HABITAT advisers it has been agreed to launch a comprehensive program to address urban challenges that the Saudi cities face, and contribute to their prosperity as per the recent global trends for management of urban cities, and setting of a strategy and modern planning vision for Saudi cities and to develop the idea and the study, besides the possibility of its implementation in the Kingdom of Saudi Arabia within the forum events.
UN-Habitat has been involved as well with Public Investment Fund in urban regeneration of central Riyadh City. The collaboration was focused on how to build an engagement plan for citizens and expatriates in the urban regeneration area.
In addition, UN-Habitat is currently building partnerships with Arriyadh Development Authority, Madinah Development Authority. The first is focused on areas to support the SDGs Goal 11 in Riyadh and globally. The 2nd is focused on supporting the measurement of development in Madinah Region through support to the local urban observatory.
The partnership with the ministry of Housing is another initiative focused on support to the role of the NGOs and cooperatives system in the country in order to match housing demands by several target groups not reachable through private sector housing provision mechanisms.
Donors
Saudi Arabia
JACOBS
Ericsson
Contact
Acting Country Manager and Team Leader in KSA
Legacy content

Saudi Arabia's cities are urbanizing fast with urban population almost tripled from 9.32 million in 1980 to 29.8 million in 2014. In addition, urbanization is expected to continue its increase to reach up to 97.6 % by the year 2030, out of which Riyadh (the capital) will reach 8.2 million out of which 75 % will be Saudis. In light of the current growth rates and the Kingdom's long-term demographic estimates, the annual demographic growth in the Kingdom is expected to reach an average of 0.87 %, bringing the number to about 31.457 million in 2030, of which 4.214 million are non-Saudis. Most of the population is concentrated in the capital Riyadh, the secondary cities Jeddah and Dammam, and the holy cities of Mecca and Medina.

This calls for an urgent need to address the negative externalities and imbalances of urban growth and maximize the benefits of urbanization through balanced territorial development. With the new custodian of the two holy Mosques, King Salman Al-Saud, a new government was formed with a new Economic and Development Council that approved the Ministry of Municipal and Rural Affairs strategy in February 2015. The new strategy has taken into consideration the direction for sustainable development and the new urban agenda's three pronged approach. The strategy aims to achieve balanced and sustainable urban development and outstanding municipal services in a context of justice and competiveness in all regions. Sustainable urban development practices will require larger room and mechanisms for the people's participation in what matters to them. Saudi Arabia aims to take its cities to a level of sustainable urbanization that addresses these factors.

This is to be realized by forming urban environments of high efficiency that fulfil the expectations and needs of current and future generations, which provide high standards of living as well as developed and planned communities which all citizens of the Kingdom of Saudi Arabia can feel proud of and where they can work, live and enjoy amenities and opportunities that meet or exceed international standards. By utilizing UN-Habitat's principles of sustainable urbanization, the three pronged approach and the City Prosperity Initiative as entry points, Saudi cities will be capacitated to address urban development in a more inclusive and multi-dimensional way.

The Future Saudi Cities Programme is currently being implemented by UN-Habitat and the Secretariat of City Planning in the Ministry of Municipal and Rural Affairs, its goals, prescribed results and outputs are fully aligned with the Ministry's new vision, set of goals and objectives as well the Sustainable Development goal 11 "Make cities inclusive, safe, resilient and sustainable".

Tarek El-Sheikh, Ph.D.

UN-Habitat Programme Director

Kingdom of Saudi Arabia

 

MAIN PARTNER: Ministry of Municipal and Rural Affairs

 

His Highness, the Minister of Municipal and Rural Affairs headed the Kingdom's delegation to the sixth session of the World Urban Forum (WUF) held in Napoli – Italy during September 2012 (Shawwal 1433H) organized by United Nations Program for Human Settlements "UN-Habitat".

During the bilateral meetings of H.H. the Minister and H.E. the Undersecretary with the UN-Habitat officers within the forum's events, an idea was suggested for signing a mutual agreement with UN-Habitat to develop a modern planning strategy and vision for the Saudi Cities.

A proposal was raised to His Majesty to seek the assistance of UN-Habitat's experience and the involvement of both the Minister of Finance and the Minister of Economy and Planning.

As a result, a Memorandum of Understanding –MoU- was signed between the Ministry and UN-Habitat for the implementation of the "Saudi Cities Program".