The current rapid urbanization – especially in cities of the developing world – is bringing about many challenges in the spatial distribution of people and resources, as well as in the use and consumption of land. In some regions, urban land has grown much faster than the urban population, resulting in less dense and more inefficient land use patterns. Car-centred urban models are still the widespread norm, with strict zoning policies dividing urban space into residential, commercial, and industrial areas. These horizontally sprawling cities find it gradually harder to deal with an ever increasing urban population, and are not sustainable over the long-term, owing to overwhelming negative externalities such as congestion, infrastructure issues, pollution, and social disaggregation.
Largely due to the absence of urban planning strategies, frameworks, and coordination, population growth tends to result in large conurbations and urban sprawl, as residents spill from the core municipalities to occupy land in surrounding urban centres, often lacking accompanying services, amenities, and infrastructure. As a result, pressure on land and natural resources --  as well as mobility and energy constraints -- start to have a negative effect on the urban economy and overall efficiency of the city region.
Urban Design: the look and feel of a city
In regards to urban design, many cities still underestimate the importance of a city's look and feel, public spaces, and public infrastructure, failing to fully comprehend the correlation with quality of life, social development, and other key components of human well being. Likewise, appealing cities are more likely to attract a creative, innovative, and skilled workforce and the investments that are needed to drive the urban economy. Unfortunately, when this understanding is present, lack of finance and capacity often deprioritizes urban design in favour of more urgent development needs such as enhancing the provision of basic services.
At a regional level, cities tend to grow along infrastructure corridors, emerging as new engines of growth. Very often, however, this growth is unplanned and uncoordinated between cities, thereby leaving the region to miss out on a wide range of social, economic, and environmental opportunities.
Intermediate cities
Despite presently hosting more than 60 per cent of the global urban population and experiencing the fastest growth, intermediate cities – areas with a population between 100,000 and 500,000 –tend to be neglected by national and regional authorities, and often lack the financial and technical influence of larger cities to ensure proper planning. Nevertheless, neglecting urban planning today will only create a larger situation that will be even more costly to solve in the future.
Improving urban planning and design
In general, one of the key hindrances to good urban planning is the lack of adequate frameworks and legislation at the national or sub-national level. In particular, the mismatch between local needs and national urban planning frameworks is increasingly recognized in many countries.
Our cities must become spaces that facilitate social, economic, and environmental progress. For cities to develop in a sustainable and inclusive way, they must become more compact, absorbing population growth by increasing their density. Only through agglomeration will cities have the power to innovate, generate wealth, enhance quality of life, and accommodate more people in a sustainable manner (with a smaller environmental footprint through lower per capita resource use and lower per capita emissions than any other settlement pattern).
Orderly expansion requires that strong regulatory frameworks accompany the planning process. At the country level, a national urban policy need to be set up in order to provide an overarching coordinating framework that will deal with the most pressing issues related to rapid urban development.  As a key reference for legislative institutional reform in regards to urban matters, the national urban policy will also serve to orient sectoral ministries and urban service providers. In addition, the policy acts as an opportunity to promote consultation with urban stakeholders.
Balancing economical and environmental aspirations
In order to balance the economic and environmental aspirations of the wider area at the regional and supra-municipal levels, collaborating authorities need to coordinate urban planning through regional and metropolitan plans. These plans are needed for infrastructure optimization between neighbouring cities, for the establishment of locations for strategic facilities, and for gains maximization related to regional development and competitiveness. From the environmental perspective, plans need to take into account ecosystem and biodiversity protection, natural disaster prevention (such as avoiding floods or erosion), and provision of recreational opportunities.
Plans for expansion and densification
At the city level, plans for expansion and densification are needed to accommodate the expected growth in a sustainable and future-proof way. Planning considerations have to provide for a rational urban structure to minimize transport and service delivery costs, to optimize the use of land, and to support the protection and organization of urban open spaces. Planning initiatives should include suburban densification, area redevelopment, layout of new areas with higher densities, brownfield development – the rehabilitation of land previously used for industrial purposes – building conversions, and transit-oriented developments.
The goal of expansion and densification plans is the provision of enough land and spatial structures to support urban development and to attract investments. Cities need to ensure the availability of large areas of land for development, thus reducing land prices and speculation. To accommodate a growing population with a smaller ecological footprint -- while realizing economic agglomeration advantages (including lower costs of providing infrastructure and services), as well as strengthening social interactions and reducing mobility demand -- authorities also must incorporate densification strategies (e.g. allowing mixed land use and taller building structures).
Rethinking public spaces
City authorities also need to rethink public spaces such as parks, green areas, and streets. Well-designed public space not only contributes to improving the overall visual character, but also invigorates economic activities and enhances the functionality of the city. High density neighbourhoods with adequate public space, infrastructure and public transport facilities encourage walking, cycling, and other forms of eco-friendly non-motorized mobility, thereby reducing carbon emissions and cutting down reliance on fossil fuels.
Furthermore, the provision of pedestrian friendly streetscapes and public structures where residents can gather -- such as athletic, recreational, or cultural centres -- will promote social connectivity and diversity, thus making neighbourhoods more cohesive, lively, and ultimately more attractive to residents and investors alike. From an environmental point of view, city planning should create a green economy that is not reliant on fossil fuels. When designing their urban development plans, authorities should incorporate low emission strategies as well as resilience to climate change.
UN-Habitat's work on urban planning and design
UN-Habitat supports governments at the city, regional, and national levels to improve policies, plans, and designs for more compact, socially inclusive, and better integrated and connected cities that foster sustainable urban development and are resilient to climate change.
UN-Habitat's approach to urban planning and design emphasizes preventative, problem-focused planning, and encourages planning in phases, beginning with ensuring adequate access to basic urban services, especially water and sanitation, and linking planning with financial capacities. Combined with modern technology, better urban planning can solve many of the problems that cities are facing, and lead them to prosperity.
Supporting regional urban policy development processes
So far, UN-Habitat has supported several urban policy development processes, for instance in Burundi, Malawi, Mongolia, and Sri Lanka, where it helped to set up national urban sector policy frameworks. UN-Habitat's contribution to such projects includes a country assessment, advice on setting up of national processes and stakeholder participation, as well as documentation of good practices to support national processes. UN-Habitat also assists with analysis of urban planning policies and instruments, and facilitates local to national dialogue on reforms, as well as dissemination of and capacity development for the urban policy among all relevant actors.
At the city-region and metropolitan area levels -- for instance in the Greater Cairo area in Egypt; the Lake Victoria region; the Mekong River Basin in Vietnam; Palestine; and South Sudan -- UN-Habitat has worked towards increasing efficiency in the use of resources in urban agglomeration through the identification of urban and regional functions and patterns that contribute to sustainable development within the territory. UN-Habitat places special focus on the spatial development of the city-region or the metropolitan space – generally the area inside a 100 km radius within which interactions between one or more cities and the surrounding hinterlands are intense.
In regards to city expansion and densification, UN-Habitat offers its assistance to draw citywide designs for compact, medium to high build densities, enabling efficient public transport and thresholds to support concentrations of economic activity, services, and facilities. It also helps to create plans for mixed use environments and public open spaces that lend themselves to small and informal businesses. At the country level, UN-Habitat carries out assessments of urban design requirements for intermediate cities and market towns, including the identification of partners interested in engaging in innovative urban design initiatives. UN-Habitat has, for instance, supported Egypt in defining new city limits and in structuring the expansion for 50 small towns. Using expansion and densification techniques, it also assisted in the integration of internally displaced persons in Somalia and South Sudan.
Furthermore, UN-Habitat has successfully assisted in the design of public spaces in Kosovo, and in the participatory design of urban markets in Somalia. In Kenya, India and Mexico, public space design approaches have been applied systematically to improve safety and social cohesion in disadvantaged neighbourhoods. The role of public spaces for economic revitalization and community mobilization has been explored in slum upgrading programmes in both Colombia and Kenya. The objectives of urban design interventions in public spaces are to enhance the cultural and functional characteristics in a specific context, to enhance social interaction and cohesion, and to maximize economic vitality. This is achieved by maximizing access and use of public spaces by all citizens, resulting in an overall improvement of urban quality of life.
Images
Image

Image

Image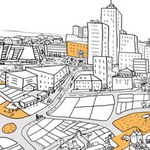 Image