At present, rapid urbanization is challenging both national and local governments in their role to develop compact, inclusive, connected and integrated cities.  In this process of fast urbanization, failure to fully mainstream gender equality into urban planning, legislation and economic development is hindering the inclusiveness of cities and preventing the full integration of women and girls in the economic, social, political and cultural life of cities. UN-Habitat is committed to the goal of gender equality in human settlements development. Women and men, girls and boys, experience urbanization and cities differently and benefit differently from the opportunities available therein. 
Indeed, gender inequalities persist and women and girls benefit less from urbanization and urban spaces than men and boys.  In fact, women and girls in cities will face a range of specific barriers and vulnerabilities in the form of gender based discrimination: gender inequality, violence against women, poverty, unpaid care-work, limited control over assets, unequal participation in public and private decision-making; as well as, barriers to education, employment, housing and basic services.
Why UN Habitat? – what cities can offer women and girls
UN-Habitat is uniquely positioned to ensure women's inclusion in the rapid urbanization process.
Compared to rural areas, cities offer various potential benefits women could profit from:
More diverse employment opportunities to increase financial independence;
Greater ease in accessing education at different levels,
Better access to healthcare;
More opportunities to socialize outside the home;
More prospects to take up community or political leadership roles and, most notably,
More possibilities to redefine the traditional roles of men and women.
We at UN - Habitat are empowering women through the facilitation of gender related projects and activities with a special focus on the areas of equal accessibility, public transport and safety. 
Gender Equality Challenges in Cities
In this current process of the urbanization of poverty, failure to mainstream gender equality into urban planning, legislation, finance and economic development hinders the inclusiveness of cities. In order to empower women and girls and improve the well-being of all persons in the city, it is paramount to work toward promoting inclusive cities with spaces that welcome and engage women and girls.
Informal Settlements
Many girls living in these areas fail to attend school, particular-ly after the onset of puberty, when separate toilet facilities for boys and girls are not available. The concentration of poverty in informal settlements aggra-vates gender inequalities in issues of safety, lack of access to security of tenure, water, sanitation, transport and health services.
Mobility
Poor urban design choices, such as poor street lighting and secluded underground walkways can put women more at risk of violence in public spaces. Women's safety involves strate-gies, practices and policies which aim to reduce gender-based violence, including women's vulnerability to crime. Making communities safer for all requires a change in community norms, patterns of social interaction, values, customs and institutions. Thus gender sensitive policies, planning and approaches to the prevention of crime and violence against women need to be inclusive of development and safety strategies. 
Young Women
Young women face dual discrimination because of their age and gender, and are often among those living with the highest levels of poverty and marginalization in urban settings. Female-headed households, which can reflect and lead to a change in traditional gender roles where young women take a lead role in their communities are not uncommon, particularly in informal settlements. In addition, young women continue to face challenges relating to security and mobility, rights and access to land, freedom of expression, sufficient basic services, educational and economic resources.
Economic Empowerment
Women have more opportunities for gainful employment in cities; however, they continue to earn less than men, due to the gendered division of labour which segregates them to lower-paid jobs. For women living in poverty there are immense challenges in accessing credit and financing for themselves and their organizations. Ensuring the integration of women to public life and jobs through the specific location of economic activities for market and accessible commercial uses, public venues and other services, in which social and economic dimensions are developed, is shown to lower poverty levels. 
Governance
Improving women and girls active and meaningful participa-tion in decision-making and policy development will change women's political and socio-economic status. In sum, unless women and communities are involved in decision-making and policy development at every level of governance, changes to women's political and socio-economic status will likely be minimal, and the improvement of human settlements will be greatly constrained.
Land ownership
At present, Women own less of the world's private land, in some cases as little as 2 percent. Lack of secure tenure over housing and land affects millions of people across the world, but women face harsher deprivations with some traditions and customs denying them direct entitlements to property. This translates into policies and laws that prevent women from buying land directly, having a house in their own name, or having control over decision-making regarding land and housing issues.
Legislation
Legislation is essential to gender mainstreaming and improving the lives of women and girls. Often it is the first point of evolution in women's rights, although these changes experience challenges when translating into the lives of women and girls on the ground. Moreover, rapidly growing urban areas are burdened by laws that do not match the prevailing urban reality and evolving gender-roles of both women and men.
How is UN-Habitat mainstreaming gender?
Women and girls are an integral part of cities sustainable development process and of its population. Inclusive cities welcoming and engaging women and girls are paramount to the objective to empower them, subsequently improving the well-being of all urban inhabitants.
After the Nairobi Conference in 1985, United Nations Centre for Human Settlements recognized the fact that women were missing from the human settlements agenda and ran a series of regional consultations to address this lack. Consequently, the Gender Equality Unit has been established, in order to play a role in facilitating external relations of Habitat on women's issues in human settlements, ensuring gender mainstreaming across UN-Habitat.
Within the UN-Habitat Strategic Plan 2014-2019, Gender Equality is identified as a cross-cutting issue. As such, UN-Habitat mainstreams gender equality through all of its normative and operational work. In practice, this involves participation of women in consultative processes, targeting of women specifically as beneficiaries and employment of women at the local level, among other activities. The agency also runs programmes specifically targeted at women's empowerment and the achieving of gender equality.
UN-Habitat uses the World Urban Forum (WUF) as platform to advocate gender issues on a global level. The WUF is a non-legislative technical forum convened by UN-Habitat, hosted in a different city every two years, to examine the most pressing issues facing the world today in the area of human settlements, including rapid urbanization and its impact on cities, communities, economies, climate change and policies.
Additionally, UN-Habitat strongly engages with the Commission on the Status of Women (CSW) which is instrumental in promoting women's rights, documenting the reality of women's lives throughout the world, and shaping global standards on gender equality and the empowerment of women. During the Commission's annual two-week session, representatives of UN Member States, civil society organizations and UN entities gather at UN headquarters in New York, discussing progress and gaps in the implementation of the 1995 Beijing Declaration and Platform for Action, the key global policy document on gender equality as well as emerging issues that affect gender equality and the empowerment of women. UN-Habitat uses this forum to promote the challenges and opportunities for women and girls in cities.
In order to promote the creation of inclusive cities UN-Habitat mainstreams gender equality into urban planning, legislation, finance and economic development using various activities and tools, including: 
The Gender Equality Action Plan (GEAP) is the means to realize the The UN-Habitat Policy and Plan for Gender Equality and the Empowerment of Women in Urban and Human Settlements (2014-19). The GEAP has been developed through a consultative process inclusive of UN-Habitat Gender Equality Unit (GEU), UN-Habitat Gender Focal Points (GFPs), and the Advisory Group on Gender Issues (AGGI).
The Policy and Plan makes categorical commitments to defined standards of gender mainstreaming performance, in accordance with agreements reached by the Chief Executives Board for Coordination (CEB) in 2005 and fully described in the System-Wide Action Plan for Gender Equality and the Empowerment of Women (SWAP), which came into force in 2013. The Policy and Plan provides a road map by which the Executive Director can achieve his obligation to meet these standards by 2017, as required, and continue progress to the end of the programme cycle and beyond, as an intrinsic component of UN-Habitat's work for more equitable and inclusive urban development.
The GEM is a mainstreaming tool that measures the degree to which a project addresses gender equality and the empowerment of women.
Extensive network of  Gender Focal Points (GFPs) at headquarters, regional and country levels
These are staff, experts in issues of urbanization, with a passion for gender equality and the empowerment of women in urban development and who function as a network for gender mainstreaming across the agency.
The Gender Hub serves to document the advance in research, policy and practice; their transference; as well as to promote effective governance models that assume the diversity of social actors and city stakeholders. The Hub works to disseminate exchange of processes and tools so as to deliver sustainable urban development with a gender perspective within the continually shifting frameworks of critical global urban trends.
Spearheaded by UN Women, the UN-SWAP assigns common performance standards for the gender-related work of all UN entities, ensuring greater coherence and accountability.
Advisory Group on Gender Issues (AGGI)
To support gender mainstreaming and gender equality across all levels of UN-Habitat, the Advisory Group on Gender Issues (AGGI) was formed in 2012, following the World Urban Forum 6 in Naples, on the initiative of Huairou Commission, UN Habitat, and Norway with support from Ghana, Tanzania, and Zambia.
The objective of AGGI is to advance women's empowerment and gender equality in sustainable urban development. This is achieved through the provision of strategic guidance and advice, across policies, programme of work and budgeting at global, regional, national and local levels. This is done taking note of gender evaluations, resolutions and the wider UN context for coherent work on women's empowerment and gender equality.
AGGI is guided by principles of integrity, transparency, trust and accountability and is made up of members nominated with a consideration of age, gender and regional balances, and professional backgrounds. Members are selected through a rigorous and transparent process.
AGGI was actively involved in developing the Gender Equality Action Plan which serves as a guide to achieve UN-Habitat's policy and plan for gender equality and the empowerment of women in urban and human settlements through its mission of supporting UN-Habitat to achieve and implement the NUA. AGGI was also involved in the drafting and negotiation of the New Urban Agenda (NUA), and played an important role in the focus on gender equality evident in the Agenda.
AGGI is supported by a secretariat which is based in UN-Habitat's Gender Equality Unit and is responsible for facilitating all communication between AGGI and UN-Habitat, and by Gender Focal Points at headquarters and in the regional offices in Latin America, Africa, Asia and Arab States.
Partnerships
UN-Habitat and the Huairou Commission have had a long-standing relationship in many areas of collaboration such as promoting women's empowerment, gender equality, and better towns and cities. The Huairou Commission is a global network linking women's community development organizations to influential development practitioners, with a focus on Governance, AIDS, Disaster, Land and Housing and Peace Building.
UN-Habitat works closely with grassroots organisations at the country level, as well as engaging with other global leaders, including Plan International and Women in Informal Employment: Globalizing and Organizing (WEIGO).
In addition to gender equality, UN-Habitat mainstreams three other cross-cutting issues: climate change, human rights and youth. These cross-cutting issues define the purpose of our outcomes as an Agency and we view safeguarding our environment and populations as the path of our progress at UN-Habitat. The relevant teams work closely together to ensure a collaborative and efficient approach to mainstreaming.  This holistic approach is closely aligned with the core principles of the New Urban Agenda and the Sustainable Development Goals, which aim for inclusivity and environmental sustainability.  
Gender-related Events
WUF9 Women's Assembly, Wednesday 7 February 2018, Kuala Lumpur Malaysia
WUF9 Women's Roundtable, Monday 12 February 2018, Kuala Lumpur, Malaysia
 Learn about the Gender Equality Network
 Learn about the Global Network on Safer Cities
Images
Image

Image

Image
Image

Image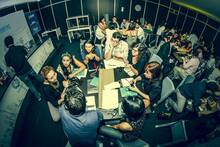 Image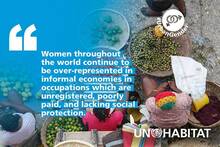 Image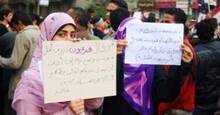 Image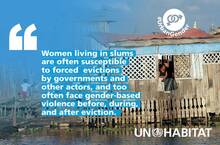 Image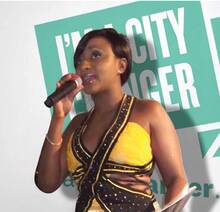 Image