Public space is crucial for sustainable cities and communities: providing ecosystem services, improving health and wellbeing, ensuring social inclusion and economic exchange. It offers an opportunity to enrich the quality of life of all urban dwellers, leaving no one behind. In collaboration with partners, UN-Habitat demonstrates how to turn public spaces around, transform communities and change mind-sets through innovative community-led approaches and scalable catalytic pilots.
Image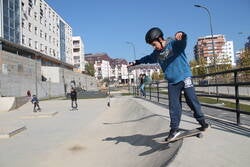 "In my project, I wanted to see a skatepark. Now something I made is being built in real life!"
Lian Loxha, 12, Minecraft charrette participant, Pristina, Kososvo
100
small public spaces successfully upgraded in collaboration with communities and local governments.
Over
1.5
million people are now able to access and enjoy safe, and inclusive public spaces in their communities.
20,000
people including youth, children, women and girls engaged in the co-design and co-building of their public spaces.
Related Sustainable Development Goals
Donors and partners
The success of UN-Habitat's public space programme is anchored in our wide network of local government, civil society, academia and private sector partners – now numbering more than 100. Our public space regeneration projects are usually completed in collaboration with the local government and a civil society partners. Through placemaking networks, UN-Habitat engages with and supports communities to take action towards reclaiming and transforming their public spaces. Since 2016, we have organized regular meetings of the UN Public Space Network to encourage other UN agencies to take action on public space as a way of achieving sustainable development