8 March 2022 - Women play a critical role in rebuilding communities after the war and in sustaining peace within their new resettlement sites. For the indigenous Maranao women, this role is often overshadowed by their custom that traditionally sees women only as wives and mothers.
This International Women's Day, get to know some of the Maranao women from Marawi City who have shown that given the opportunity and skills, they are fully up to the task of playing their fair share in the society.
The UN-Habitat's Rebuilding Marawi Project and the overall rehabilitation efforts in Marawi City was launched after conflict between government and forces loyal to the Islamic State of Iraq and the Levant (ISIL) flared up in 2017. The conflict lasted for five months, but its effects are felt until today; houses were destroyed and more than 60,000 residents were displayed.
Through UN-Habitats rehabilitation efforts, families were engaged in building their permanent homes and their communities.
Above all, Anisah Ampuan Bariga, 37, is most grateful for the safety of her children now that she has transferred her family to the new permanent house she now owns in the Hadiya Village located at Barangay Dulay West, Marawi City.
For almost four years, Anisah had lived as an internally displaced person (IDP) after the 2017 Marawi siege. She had gone from living with relatives to transferring to transitory shelter, and eventually going back to the war-damaged family house.
In February 2021, Anisah was among the 109 home-partners who were the first to be awarded their permanent houses and lots under the Rebuilding Marawi Project. The houses were constructed by UN-Habitat through funding support from the Japan on land procured and developed by Philippine's Social Housing Finance Corporation (SHFC).
Anisah, like other home-partners, was not merely a passive recipient. For more than three years prior to her transfer to Hadiya Village, she was an active member of the Saduc Riverside Homeowners Association (HOA) and led its Construction Finance Committee where she trained and learned how to canvass and procure shelter materials.
Anisah with officers of the Saduc Riverside HOA at the construction site
She was busiest in the first three months of 2020 because that was the start of the long-awaited actual construction of the houses – the time for her to apply what she learned from the trainings she attended.
Together with other members of Construction Committees of HOAs assigned at Hadiya Village, she joined in scouting for quality construction materials and negotiating for lower prices with hardware store owners. It was not the usual task assigned to women, particularly to Maranao women, but she proved that she could deliver what was expected of her and more.
Another female member of Marawi representing the gender equality principle of the International Day of Women is Hanifah Pangcoga, 35, mother of three. She is one of the staunchest advocates of proper waste segregation in the new resettlement site of Pamayandeg Ranao Residences in Barangay Mipantao-Gadongan, to where her family and 49 other IDP families had transferred after four years of living as evacuees.
Hanifah recalled the difficulty of transferring from one place to another after her family managed to escape from the firefight in Marawi – from Iligan to Balabagan to Cotabato to Bacolod and three more other places.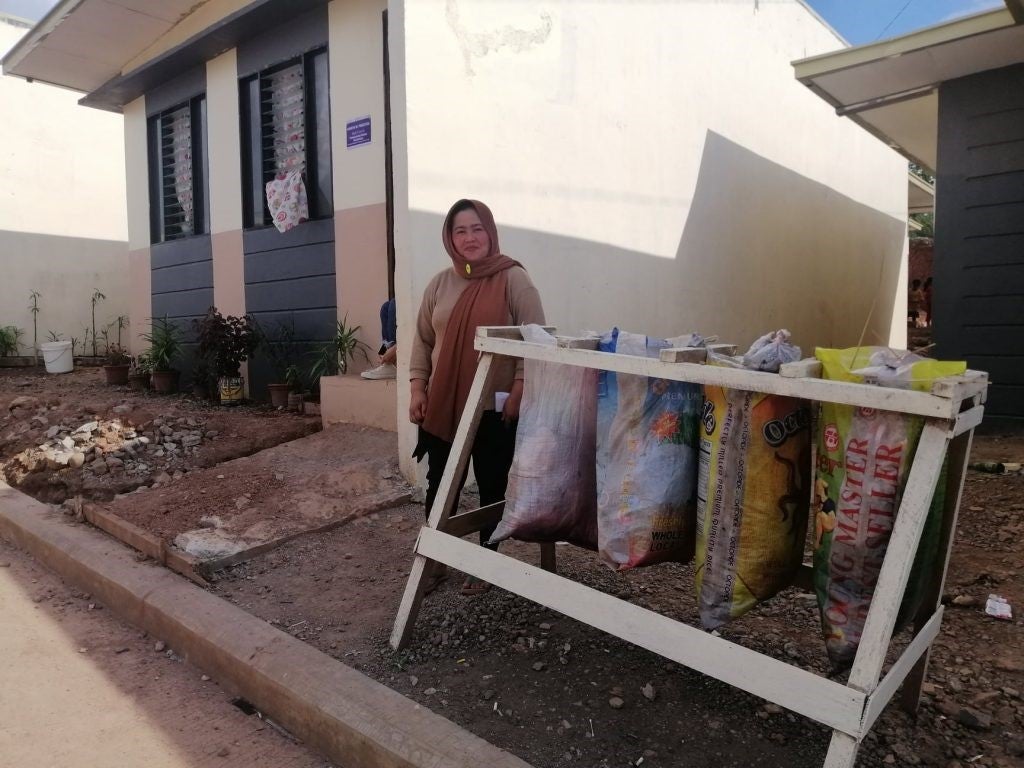 Hanifah with improvised waste segregation bins in their community
She laments that it was not just the house and properties that she lost, but also the barbershop that served as the main source of income for her family. For her, the indignity of being a burden to her host relatives was a bitter pill to swallow,
Being a member of Lumbaca Madaya Unity Homeowners Association organised under the Rebuilding Marawi Project, Hanifah was chosen to serve as Environment and Social Safeguards (ESS) Focal Person. She trained on proper waste segregation, water, sanitation, and hygiene (WASH), the use of environmental monitoring tools, and applied these in the shelter construction sites.
ESS is one of the components of the project and aims to effectively identify, assess, manage and monitor environmental and social risks and negative impacts of UN-Habitat's project in Marawi. It promotes environmental and climate actions in its resettlement sites and does so in partnership with HOAs, private organisations, and government agencies.
"It's not every day that we are given the chance to participate in establishing a new community," she says.