The urban population in Africa is increasing at a faster rate than any other continent (3.5% per annum).Although waste generation is currently lower in Africa than in the developed world, sub-Saharan Africa is forecast to become the dominant region globally in terms of total waste generation if current generation trends persist. 
Waste generation in Africa, like in other developing regions in the world, is driven by population growth, rapid urbanization, agrowing middle class, changing consumption habits and production patterns, and global waste trade and trafficking.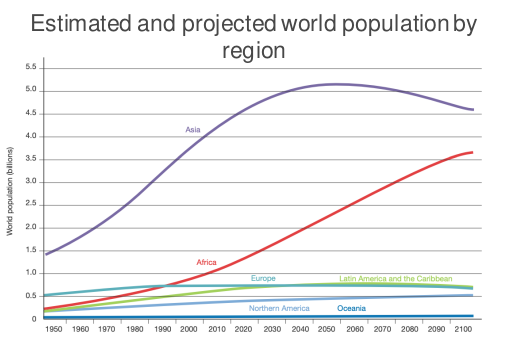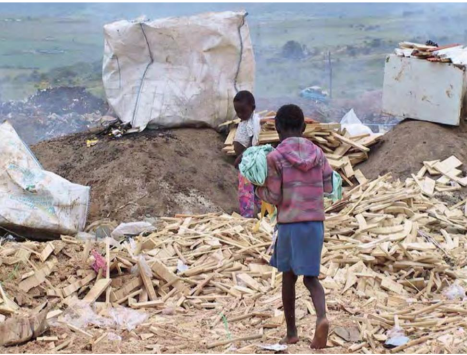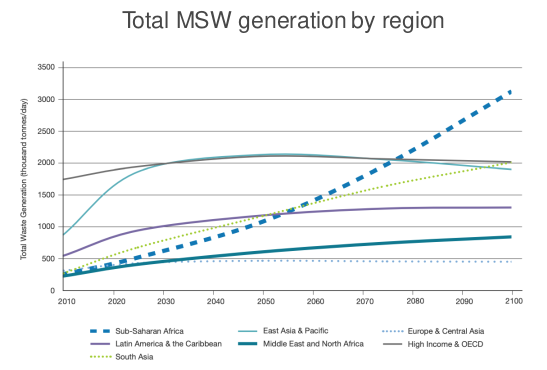 Key MSWM Issues in Africa

GENERATION In 2016, Africa generated a total MSW of 174 million tonnes. The largest waste generators are middle-income countries or those with significant tourist populations. Waste generation in Africa is projected to grow to 244 million tonnes per year by 2025. The rate of growth in waste generation in Africa is expected to be so significant that any decrease in waste generation expected in other regions globally will be overshadowed by Africa.

COMPOSITION On average,MSW in Africa is 57% organic and 13% plastic, the majority of which is currently dumped, but which could represent significant socio- economic opportunities for countries and people.

WASTE COLLECTION The largest part of the budget for solid waste management in developing countries goes to waste collection, yet, according to World Bank's What a Waste 2.0,less than half of the waste generated in Africa is collected formally. Waste collection is often non-existent in rural areas. The average MSW collection rate for the continent is expected to increase to 69 per cent by 2025.

RECYCLING has emerged across Africa, driven more by poverty, unemployment and socio-economic need than by public and private sector design. An estimated 70-80% of the MSW generated is recyclable, yet only 4% of MSW is currently recycled. Informal waste pickers are active in recovering valuable resources from waste at little to no cost to the public and private sectors.

DISPOSAL More than 90% of waste generated in Africa is disposed at uncontrolled dumpsites and landfills, often with associated open burning. 19 of the world's 50 biggest dumpsites are located in Africa, all in Sub-Saharan Africa.
 

FINANCING In low-income countries waste management consumes up to 20% of municipal budgets. Local governments often lack funds, only covering less than 50% of investment costs for waste systems. Remainder comes mainly from national government subsidies and the fund allocation from national governments to local governments often disturbed by instabilities.
Total MSW generation (10³ tonnes/year) of African countries in 2021 (A) and 2025 (B)