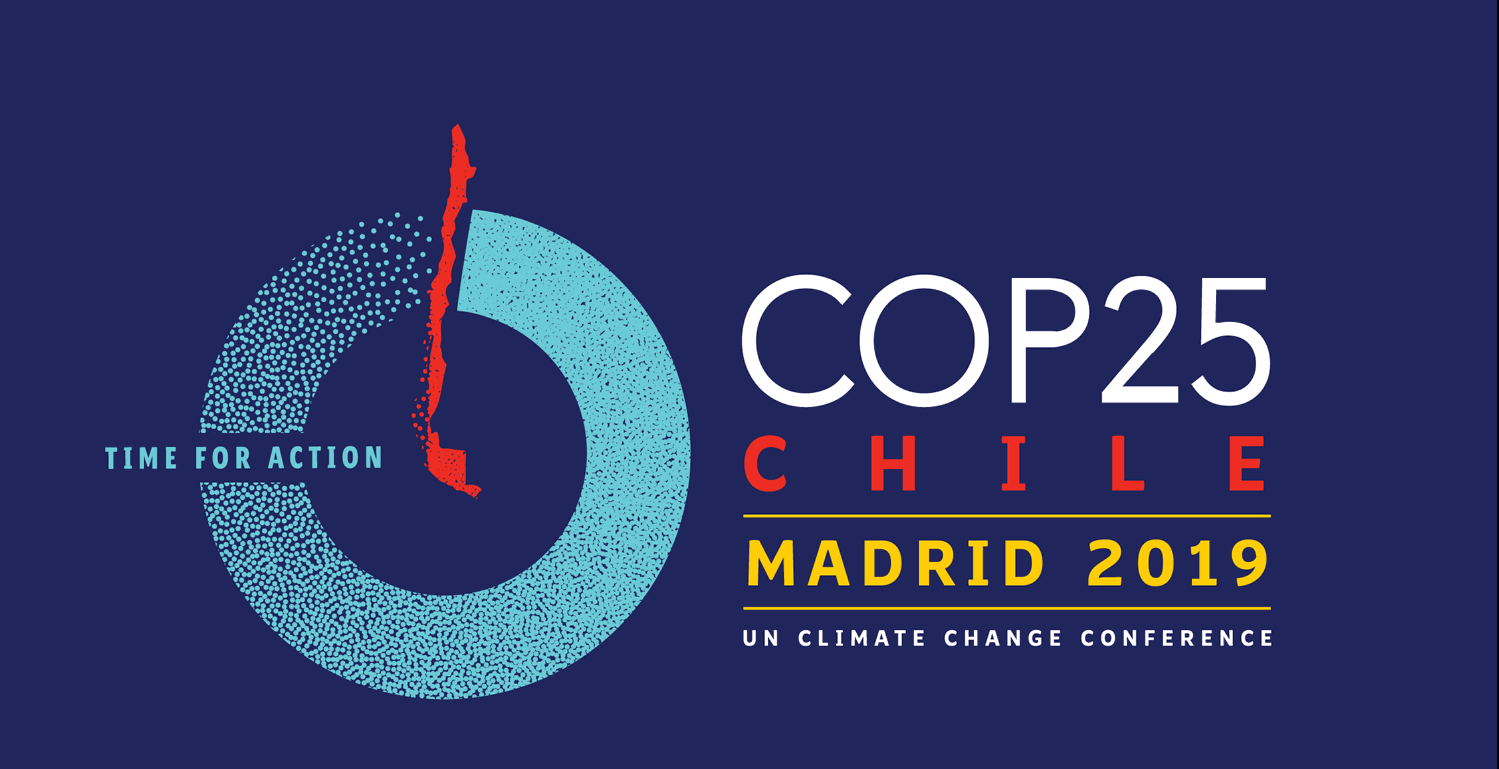 NAIROBI, 27 November 2019- The upcoming UN Climate Change Conference, COP25, is part of the UN's fight against climate change. The conference is designed to take the next crucial steps in the UN climate change process. Following agreement on the implementation guidelines of the Paris Agreement at COP 24 in Poland last year, a key objective is to complete several matters with respect to the full operationalization of the Paris Climate Change Agreement.
The UN Climate Change Conference COP 25 (2 – 13 December 2019) will take place in Madrid, under the Presidency of the Government of Chile and will be held with logistical support from the Government of Spain.
Climate action has become the game changer in virtually every country, city and community.
Every country is experiencing the drastic effects of climate change. There is no city or community that can ignore climate change any longer. Without urgent climate action, they won't thrive. Without urgent climate action, the Sustainable Development Goals cannot be achieved.
The time for urgent climate action has come in every city and community. Because the speed of urban growth is unprecedented and emissions are predominantly city-based, urban areas are on the front line and must be at the heart of climate action. Climate risks have pushed about a thousand cities worldwide to declare a climate emergency. Cities are under high pressure to rapidly decarbonize and adapt to escalating risks. Air pollution has become one of the top challenges linked to this crisis, currently responsible for nearly 8 million premature deaths every year, one of the main triggers being the lack of access to clean energy and the increasing levels of traffic in cities.
Local action brings results and transformative change on a global scale. Some 10,000 cities and local governments representing more than 800 million people have committed to climate action under the Global Covenant of Mayors for Climate and Energy, a powerful alliance for city climate action. Low-carbon actions in cities could reduce emissions by over half the amount needed to keep global temperature rise below two degrees Celsius. Implementing low-carbon measures in cities would be worth almost US$ 24 trillion by 2050 and could reduce emissions from cities by 90%, as confirmed by the 2019 Coalition for Urban Transition report.
Addressing the infrastructure gap in a climate friendly manner is critical. An estimated USD 93 trillion worth of infrastructure will be built by 2030, over 70% of which will be built in urban areas. The buildings and construction sector alone accounts for over 20% of global greenhouse gases emissions. Buildings operations account for 23% of energy related CO2 emissions globally, making them among the largest contributors to climate change. Addressing the infrastructure gap while cutting greenhouse gases emissions is becoming critical. This will require a high level of ambition and incentives in the critical coming years.
Transport is responsible for around a quarter of energy related greenhouse gases emissions and this will double by 2050 is no change is made in current approaches. In that respect, UN-Habitat is coordinating "Urban Pathways - Supporting Low Carbon Plans for Urban Basic Services in the context of the New Urban Agenda", in India, Kenya, Vietnam and Brazil to develop Low Carbon Plans for integrated urban mobility, energy and waste management services. At the same time, UN-Habitat and its partners have developed concrete pilot projects for upscaling, such as electric rickshaws in Kochi (India), or pedestrian zones in Belo Horizonte (Brazil) and Nairobi (Kenya). Also, UN-Habitat is constantly engaged in the adaptation and promotion of alternative building materials. Buildings and constructions account for more than one-quarter of all greenhouse gas emissions, through greenfield development, cement production, and the burning of fossil fuels such as oil, gas, and coal for construction purposes. UN-Habitat works through networks such as the Global Platform for Sustainable Housing and contributes to practical tools such as Sherpa, a user-friendly participatory application to self-asses the sustainability of housing projects.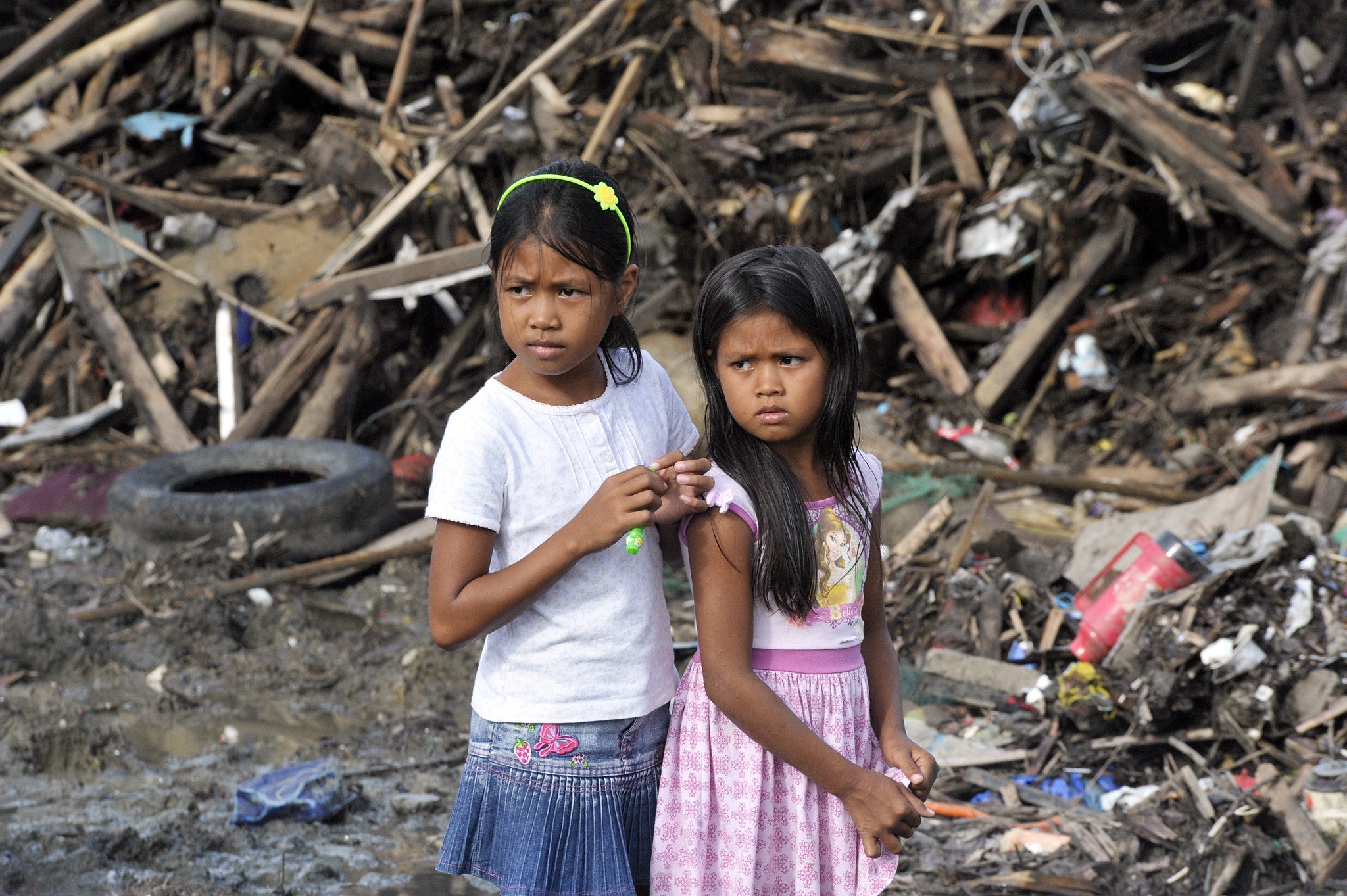 Two girls from Tacloban, Phillipines, stand in front of some of the damage and debris left by the Super Typhoon Yolanda, 2013.
[UN Photo/Evan Schneider]
Countries, cities and communities must work together to catalyze climate action.
Cities with ambitious climate action plans already help deliver tremendous emission cuts and start building resilience but sometimes do so in isolation since national processes are too weak to support them. This reduces the impact cities could have together to catalyze climate action and cut emissions. All cities need to wake up the urgency of climate action. UN-Habitat build capacity in cities and support them to develop integrated climate action plans. UN-Habitat works closely with several partners, centres of excellence, universities, private sector and NGO's in the design and delivery of various capacity building programmes. Last year UN-Habitat delivered a total of 50-days training per month.
Cities must to join hands in order to increase their impact. A multi-level level governance approach is essential to embrace climate action, in both mitigation actions to limit global warming and its related effects particularly through reductions in human emissions of greenhouse gases and adaptation which is the process of adjustment to actual or expected climate and its effects. Nationally Determined Contributions delivered by countries under the Paris Agreement generally lack a 'strong' urban content taking both mitigation and adaptation into account. In parallel, countries are only beginning to define their National Adaptation Plans and only some comprehensively address human settlements.
UN-Habitat promotes climate-proof planning approaches, assessing local vulnerabilities with communities, setting emissions reductions and adaptation targets, and outlining strategies and regulations to cut emissions and improving adaptation through innovative urban design and mobility plans. UN-Habitat support cities to prepare project proposals that can attract further funding for implementation, developing financing models for transformative local projects and linking these projects to potential funders. The Urban-LEDS project, in partnership with ICLEI, is an example of how UN-Habitat helps countries to make their fair contribution towards limiting global warming to 1.5 degrees, while preparing towns and cities for the impacts of 2,3 or even 4 degrees. UN-Habitat has been active in countries like Bangladesh, Colombia, Lao PDR, Rwanda Brazil, India, Indonesia and South Africa. Also, through Planners for Climate Action (P4CA), a collaborative initiative lead by UN-Habitat, Climate Action Studios supports planning departments to define low-emission and adaptation needs and approaches. The first Studio took place in Zanzibar, a small island at threat of the heavy impacts of climate change.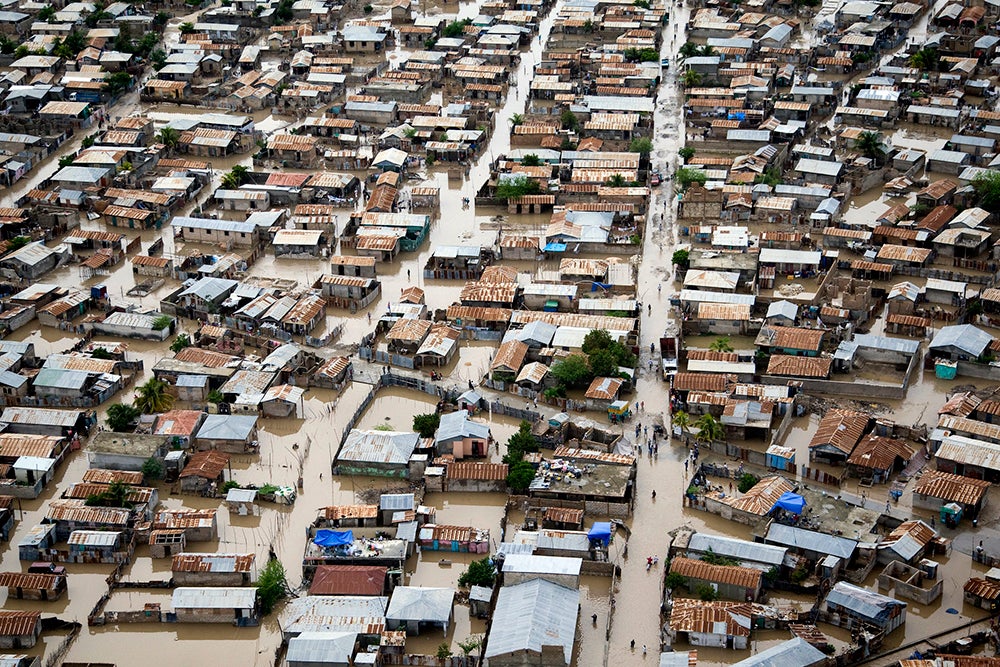 Streets and pathways are flooded after the passing of Hurricane Tomas in Gonaives, north of Port-au-Prince, Haiti, 2010.
[UN Photo/UNICEF/Marco Dormino]
UN-Habitat is engaged in addressing climate action for the urban poor first. Urban slums and informal settlements are the most exposed to climate change. About 70 percent of the 880 million living in informal settlements, that is about 600 million people, are highly vulnerable to climate-related impacts. UN-Habitat possesses unique skills to work with urban communities on the ground with about 30 years of experience in order to instill pro-poor climate action at the community level. For instance, the global Participatory Slum Upgrading Programme now includes climate action protocols decided with communities. UN-Habitat and the Technical Centre for Disaster Risk Management, Sustainability and Urban Resilience (DiMSUR), have also developed the City Resilience Action Planning, or CityRAP, tool to facilitate resilience planning at the city level in Southern Africa. It has helped supporting displaced communities after cyclone Idai which has severely impacted Mozambique in 2019. UN-Habitat provided technical assistance to a World Bank-funded 15 million USD school reconstruction and retrofitting programme. Almost 1,100 classrooms were rehabilitated or re-built in Central and Northern Mozambique using a mix of conventional and local building materials by this project.
A new ambitious flagship initiative has been developed and presented at the Climate Summit on 'Building the Climate Resilience of the Urban Poor' to 150 million vulnerable slum-dwellers adapt to climate change. Lead by the Governments of Kenya and Brazil it engages 14 partner organizations meant to work in 140 hotspots cities in 50 developing countries. The initiative is meant to support climate smart resilient spatial planning, infrastructure improvement and enhance livelihoods. The initiative falls under the Infrastructure, Cities and Local Action Track lead and UN-Habitat and supported by about 40 partners organizations engaged in four areas of action zero carbon buildings, climate friendly transports, urban climate investment and building climate resilience of the urban poor.
UN-Habitat helps to mobilize funds to support building resilience and adapting the most vulnerable communities. Through the Adaptation Fund UN-Habitat has mobilized US$ 37 Million for countries in Asia-Pacific and Africa (Lao, Fiji, Solomon Islands, Mongolia, South-eastern Africa). An additional eight projects are in various formal stages of endorsement by the fund for a total of about US$ 82 Million.
UN-Habitat seeks to promote people centered and driven solutions to the climate change emergency. Greta Thunberg and her Friday for Future movement has brought over 11 million people in over 6,500 cities and 222 countries into the streets to peacefully rally for urgent climate action. UN-Habitat has worked closely with some of the youth leaders who have grown from the movement, looking to increase their capacity so that they can further work in their own communities, focusing on the most marginalized communities of young women, indigenous people and those living in the Global South.
UN-Habitat is in a unique position to work at the forefront of climate action with communities, cities and all levels of government by guiding urban transformations. The agency helps national and local governments deal with radical changes in the way they plan, design, build and manage cities but also in core industries dealing with infrastructure, housing and energy, the ingredients for cities to function and thrive differently. UN-Habitat has recently redefined its focus to include climate action as one of its four domains of change to promote transformative change through knowledge, policy advice, technical assistance and collaborative action. Its motto is to leave no one and no place behind, an ambition that should drive all efforts to address the climate crisis.