Digital technologies continues to transform the means human rights are exercised, protected and promoted. As technology can also affect people and communities worldwide in unforeseen or unintended ways, which sometimes can be harmful, enhanced models of governance are needed by cities to manage opportunities and risks.
In the New Urban Agenda, Member States committed to "adopting a smart-city approach that makes use of opportunities from digitalization, clean energy and technologies, as well as innovative transport technologies.
In response to the Member States' commitments, UN-Habitat's People-Centered Smart Cities flagship programme supports national and local governments with their digital transition, applying a multi-level governance strategy to help build skills and capacity to develop, procure and effectively use digital technologies in an ethical, and inclusive and sustainable way to make sure that no one is left behind
Towards a digital rights governance framework
Digital technologies and internet access have a tremendous potential to contribute to address inequalities, but also to exacerbate them when not well governed.
In this context, 'digital human rights' and 'digital rights' refer to human rights and digital technologies, including the implications of technology for the people, urban planning and the achievement of the Agenda 2030, either in real or online environments, for example. We interpret these 'rights' as existing human rights, that must be protected online.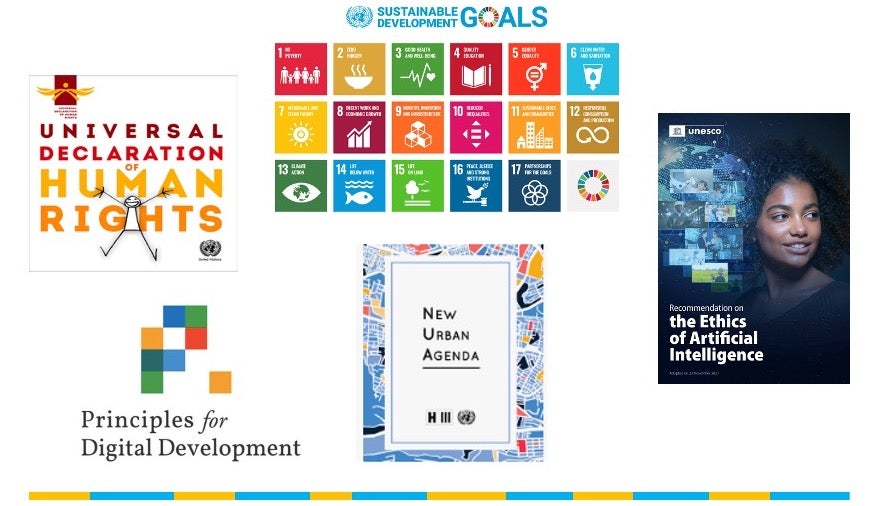 Examples of foundations of a digital rights governance framework
The digital rights governance framework focuses on the local safeguarding of human rights in the digital context of city-governments.
Specifically, it outlines how cities can uphold a human rights-based approach with regards to digital transformation strategies.
The thematic areas are composed of topics directly connected to human rights considerations in the digital context of cities as well as areas of work which influence the development and promotion of organizational culture able to respond to emerging trends in technology, innovation and its impacts on human rights. 

Themes in a digital human rights governance
The digital rights governance framework is the basis for the pilot project of a multi-stakeholder initiative aimed at identifying best practices and need for services to support the implementation of such a digital rights approach, with ambitions to build on lessons learnt and scale it to other contexts and regions.
Coming soon - the final version of the digital rights governance framework to be piloted will be published on June 1st.
Previous discussions: Digital rights in cities webinar: Lessons for Latin America and the Caribbean