The flagship programme supports local and national authorities in creating inclusive and non-discriminatory urban environments for all people. With a strong focus on promoting Human Rights, the programme aims to strengthen social cohesion and increase the inclusive access to housing, basic and urban services and livelihoods for host and migrant communities.
Inclusive Cities: Enhancing the Positive Impact of Urban Migrants (UN-Habitat's Flagship Programme)
News and Stories
URBAN AREAS ARE THE MAIN DESTINATIONS
for migrants, refugees, internally displaced persons, and other people on the move across the world.
IRREGULAR MIGRATION AND FORCED DISPLACEMENT
leave migrants vulnerable and negatively shape the public discourse.
DISCRIMINATION AND EXCLUSION
Women, children, and young persons and other disadvantaged groups are more vulnerable to mistreatment – and are specifically so "when on the move";
LACK OF SOCIAL COHESION
between host and migrant communities due to increased perception of competition for basic, social or urban services, jobs, land and housing or infrastructure.
2. How to respond to them?
The flagship programme "Inclusive Cities - Enhancing the Positive Impacts of Urban Migration" aims to support local and national authorities to create inclusive and non-discriminatory urban environments for all people, especially in situations where rapid influx of people has led to an urban crisis. It aims to assist countries and local governments to develop well-functioning urban systems that benefit both migrant and host communities. Urban migration, when well-planned and well-managed, has a positive impact on cities and communities, but non-discriminatory policies and systems that are responsive to population changes and ensure the rights of adequate standards of living for all urban dwellers, must be in place. Only by linking humanitarian and development efforts, those positive impacts can be achieved in the long run in forced displacement and urban crisis contexts.
The Programme targets countries and cities in need for UN-Habitat's expertise for area-based development, especially in the complex urban and urbanising contexts which UN-Habitat is specialised in. UN-Habitat's services come with its strong focus on promoting participation and social cohesion and the protection of Human Rights for all. Each programme activity will support countries to advance the United Nations 2030 Development Agenda commitment of Leaving No One Behind.  The flagship programme "Inclusive Cities - Enhancing the Positive Impacts of Urban Migration" is expected to achieve the following outcomes:
Strengthened urban and territorial systems to respond to rapid population movements, enabling social, cultural and economic development and migrants' inclusion in cities and reducing root causes of migration and displacement;
Strengthened capacity of local authorities for advancing inclusive cities, benefitting both host and migrant communities;
Strengthened social cohesion between host and migrant communities.
3. What have we achieved so far?
A) Rehabilitating Informal Settlements and IDP Communities in Iraq
Following the fall of Saddam Hussein, inter-ethnic tensions resulted in the internal displacement of 1.1 million Iraqis, most of whom found shelter in rented accommodation, facing the burden of disproportionately high rents. Some found shelter with host families while others lived in tents or makeshift shelters erected on land owned by host families' or on public land. After 2014, the emergence of the "Islamic State" compounded the situation further, forcing some 3 million Iraqis to become IDPs. In some major cities of Iraq, the number of IDPs exceeded the host population, placing a severe burden on inadequate public services and infrastructure.
Many families were vulnerable to forceful eviction without alternative accommodation. Women and adolescent girls were the most vulnerable due to the lack of privacy as many makeshift dwellings did not have lockable doors. Without adequate access to basic services, these women and girls also faced challenges related to hygiene, menstruation and the observance of cultural norms of modesty. Sexual harassment and verbal abuse of women and girls became so severe and commonplace that many of them withdrew from public view, further worsening their social isolation.
The project "Rehabilitation and Regularization of Informal Settlements and IDP Communities in Iraq" provides internally displaced people with adequate shelter, improving their overall living conditions, and supporting them to become self-reliant. It focuses on promoting social cohesion as a means of improving the capacity of cities to accommodate growing populations, improve living conditions for Internally Displaced Persons (IDPs), and reduce tensions between host communities and IDPs.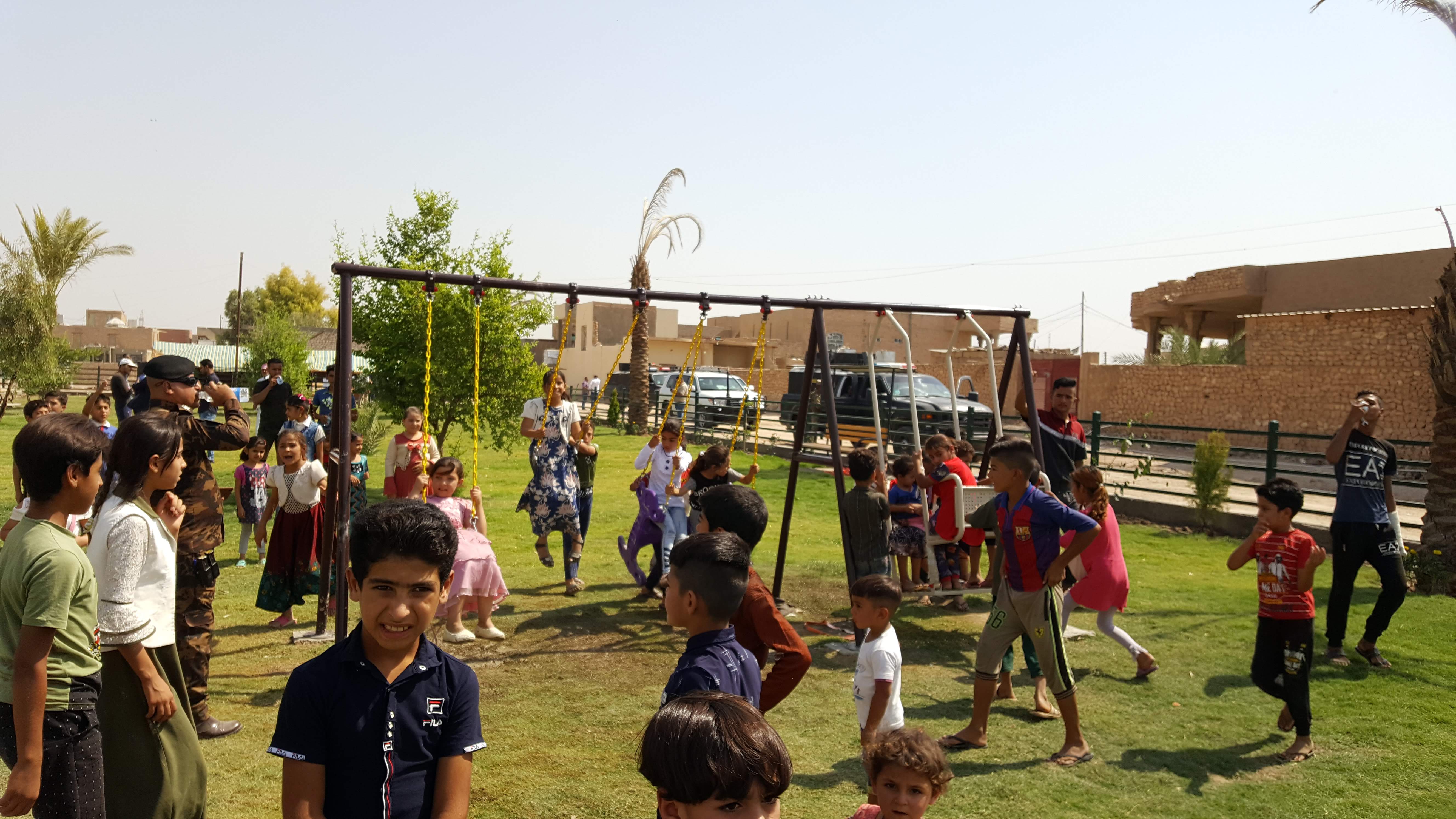 "I am really thankful for the assistance provided by UN-Habitat. The agency has contributed to restore the community stability in Ramadi and accelerated the return of the families in this neighbourhood. (Mr. Raji Aied Assaf, displaced to Baghdad with his family and returned to Tameem after his house was rehabilitated by UN-Habitat)"
The project supports local and national institutions to implement long term shelter solutions for IDPs and returnees. The initial pilot project provided 900 internally displaced families with secure land tenure and improved their living environment through government-financed settlement upgrading. Access to clean water and waste collection services has been improved in informal settlements in Mosul, Ramadi, and Basra, partly by engaging unemployed members of local communities. The project has reduced tensions between internally displaced migrants and host communities
The initiative has grown into a comprehensive national programme anchored on four critical pillars – the legal, institutional, financial and technical pillars. The legal pillar focused on intensive revision of relevant regulations to enable implementation of the required technical interventions, while the institutional pillar has been the platform for building national and local capacities to undertake surveys, engage communities in participatory planning processes, integrate informal settlements into city master plans, and implement measures to improve tenure security and access to basic services and livelihoods for IDPs.
The technical pillar undertook community-led upgrading and resettlement projects and developed guidelines and tools for interventions in informal settlement/IDP areas. The last pillar assessed available financial mechanisms and developed a roadmap to attract private sector financing for urban upgrading.
SHURA: Sustainable Human settlements in Urban areas to support Reintegration in Afghanistan
Afghanistan is experiencing a surge in the return of both registered refugees and undocumented Afghans from neighbouring countries. Sporadic conflict, shifting regional relations and other political factors have culminated in a rapid decrease in the protection space for Afghan refugees in Pakistan and Iran. In 2016, over one million Afghan returned to Afghanistan from Pakistan and Iran. According to the Internal Displacement Monitoring Centre (IDMC), as of December 2018, a total of 2,598,000 IDPs reside in Afghanistan (IDMC 2019). Besides, the IOM predicts at least 620,000 returnees from Iran and Pakistan in 2019 alone (IOM 2019). The current IDPs and returnees mostly reside in unplanned urban information settlements in city regions across Afghanistan with minimal access to land.
Following a brief pause during the winter months, returns resume. Simultaneously in Afghanistan, deteriorating security, economic and environmental conditions continue to generate record levels of internal displacement, with the majority of new and protracted IDPs being drawn towards the relative safety and economic opportunities of urban areas; current estimates place the total number of IDPs in Afghanistan at approximately 1.3 million.
Historical approaches to reintegration of returnees and the displaced have been characterised by resettlement to purpose-built, detached 'townships' created under the Land Allocation Scheme (LAS) or a focus on return to the place of origin as the most preferred durable solution. The majority of townships, however, were in unfeasible locations, lacking access to livelihoods and basic services and the LAS is now widely acknowledged to have largely failed. In the case of protracted IDPs, some who have been living in their locations of displacement for more than two decades, evidence suggests the overwhelming majority intend to stay and integrate locally, and it has become clear that return to the place of origin is not likely or feasible in the current context.
Integrating lessons learned from the past decade of approaches to displacement in Afghanistan, UN-Habitat proposed an approach based on the allocation of well-located land in proximity to suitable livelihood opportunities as the foundation for self-reliance and integration. Following the identification of vacant, state-owned land in appropriate locations, a rapid assessment and rapid allocation process will facilitate the parallel delivery of humanitarian assistance and permanent development interventions, to augment self-reliance and avoid the humanitarian/development 'gap'.
The project "Sustainable Human settlements in Urban areas to support Reintegration in Afghanistan (SHURA)" in continuation to the "Local Integration of Vulnerable, Uprooted and Excluded People (LIVE-UP)" continues to work towards ensuring adequate, permanent access to shelter and basic services in target areas and to provide a foundation for returnees and protracted IDPs to become self-reliant, resilient and productive citizens of Afghanistan.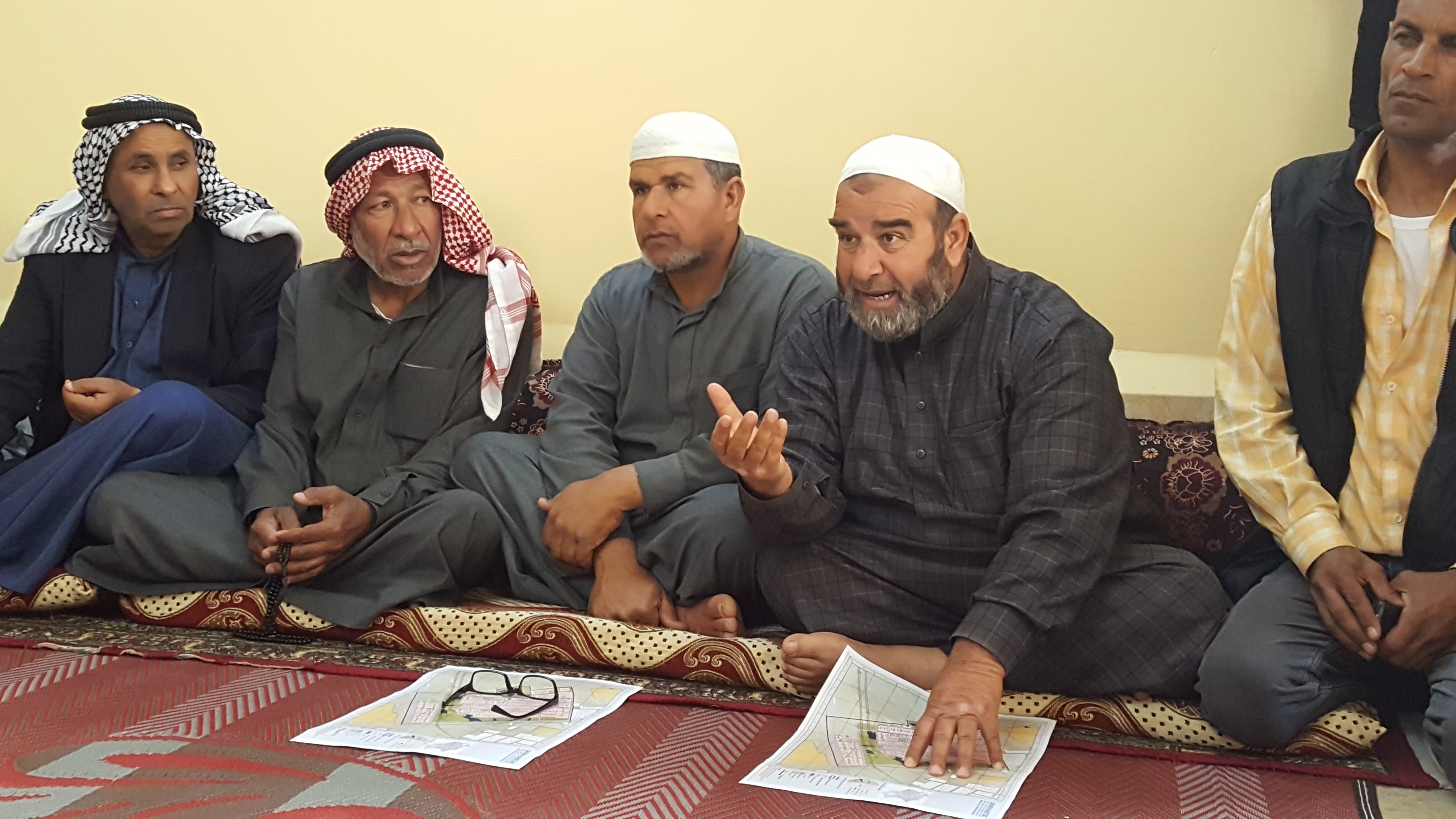 "Continuous war deprived me and my family from living with dignity –migrated to Iran, forcedly returned. Wanted to the place of my origin, no chance to survive, Said Mr Hassan, a displaced person from Ghor.
What hopes can you bring to your family when, you cannot afford a basic shelter for them. Indeed, nowhere to go and no place to live!
Until recently, the government of Afghanistan with technical support from UN-Habitat registration of land applicants for the IDPs and Returnees. I referred and registered myself as land applicants and presented all my documents before the eligibility criteria at the registration centre. I am grateful for the assistance provided by UN-Habitat. The agency has contributed to revive my hopes to live with dignity."
The program for support to Afghanistan Independent Land Authority (ARAZI), is structured in collaboration with UN-Habitat for development of Land Bank & Tasfiya Activities. It is embedded in the Sustainable Human Settlements in Urban areas for Reintegration in Afghanistan (SHURA) programme. It registered 4.5 million Jerib[1] land in 28 Afghanistan's provinces to support Afghan returnees, internally displaced populace and vulnerable hosting communities to sustainably reintegrate in urban areas to become productive, self-reliant and resilient citizens of Afghanistan.
Some of the registered and inventoried lands already been allocated to IDPs and returnees. In Kabul, Eltifat Townships and Herat, Saadat Township have been planned and was kicked off. Through it, the programme started to build and construct over 3,500 plots supporting 245,000 IDPs, returnees and martyrs/vulnerable hosting communities' families. The programme aims at enabling vulnerable returnees, protracted IDPs and landless Afghans to sustainably re-integrate into inclusive urban areas and become productive citizens within the urban areas of return in Afghanistan. The provisions of this programme are supported by is the revised presidential decree.
SHURA programme continues to support the government of Afghanistan in reintegration of Afghan vulnerable returnees, IDPs and families of martyrs/vulnerable hosting communities, as a feasible durable solution, by enabling the access to land, proximity to livelihood opportunity, secure tenure and fundamentally enhancing the carrying capacities of the urban neighbourhoods hosting the programme target population. Following the presidential decree 305, SHURA has officially launched in Herat, the technology-based system of the Beneficiary Registration and Selection on 8th December 2019.
The programme supports local and national institutions to implement the Presidential Decree 305 where the government of Afghanistan fully committed to bring durable solution for IDPs and returnees' re-integration in the country. The pilot phase covers two of the major cities which most of the IDPs and returnees placed in, Kabul and Herat. It addresses the emergent needs of about 4,000 IDPs and returnees' families by providing secure land tenure for them.
The project (LIVE-UP) provided 11,250 Households approximately 84,375 people in Kabul, Jalalabad and Herat with an improved access to basic services, infrastructure and adequate housing through people's process to IDPs' families. The project enhanced social cohesion between internally displaced migrants and host communities. It will be continued with more systemised and technology-based approaches furtherly equipped with legal, institutional, technical supports. 
Midnimo: Durable solutions for protracted displacement in South West State and Jubbaland in Somalia 
The Midnimo programme is designed to enhance local leadership capacities to facilitate the sustainable return, recovery, social integration and peaceful co-existence of displaced persons, returnees, other migrant groups and host communities in Jubaland and South West States. Both states of Somalia are dealing with a protracted displacement crisis, with over 2 million displaced persons due to conflict and recurring natural disasters. The project aims to increase institutional capacity at local level on different urbanization issues and enhance the ability of host communities to absorb the large number of additional populations.
'Midnimo' is a peacebuilding project that addresses displacement challenges in a comprehensive way - working to support governments in rebuilding public trust, enhancing social cohesion and delivering priority construction works for communities that contribute to durable solutions for displaced populations. With almost 2.6 million women, children and men living in displacement since the beginning of 2017, Somalia faces one of the world's largest displacement crises. Conflict and climate-induced crises have confronted Somali authorities with significant challenges, causing an unprecedented increase in the numbers of displaced persons migrating to cities. Due to the unforeseen numbers of additional people and already limited resources, the situation in Somalia's cities has continuously deteriorated, making the coexistence of host and migrant communities tenuous.
IDPs and refugees in Somalia face extreme marginalisation and the possibility of ending up in protracted displacement. Marginalisation and social exclusion have in many instances in Somali history led to conflict with unclear land use plans, and absence of land rights and tenure security often become ground for disputes - with displaced populations being particularly exposed to conflict, eviction and risks of rights violations.
Midnimo aims to foster durable solutions for displacement and host communities by supporting government-led but community-driven initiatives to resolve conflicts, improve livelihoods, and enhance social cohesion, through supporting municipal authorities and government departments responsible for accounting for the needs of the entire community in target districts.
The programme contributes to longer-term government priorities for peace and state building, including employment creation and strengthening rule of law - particularly in land legislation and land conflict resolution. Local governance is enhanced through participatory urban planning and settlement upgrading. Capacity building activities have not only built a relationship between the host and displaced communities but has also planted the seed to rebuild trust between state institutions and citizens. By bringing together community and customary leaders to collectively craft Community Action Plans and envisioning urban development, tenure security has been strengthened for all.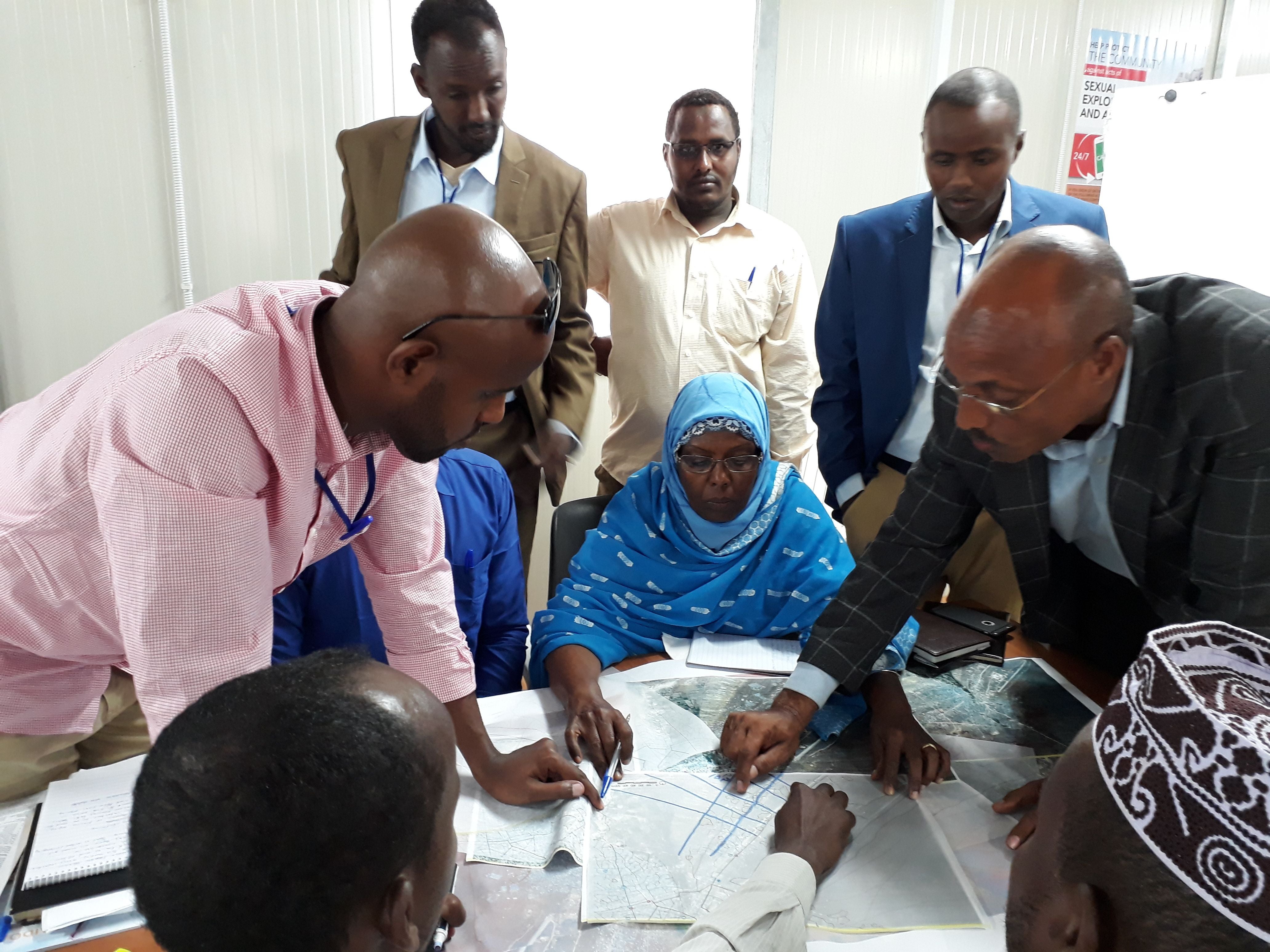 "These projects help IDPs; they have access to schools, health centres and feel safe as well. On other hand, the people get employment during the construction of infrastructure such as schools . (Afmadow)"
4. Partners and Beneficiaries
Target group: National and local authorities; civil society, academia, private sector.
Beneficiaries: Representatives of migrant communities; women and youth.
Partners:  IOM, UNHCR, UNDP, UNICEF, the World Bank among others.