Beirut, Lebanon, 31 December 2021 - This year, the United Nations Human Settlements Programme (UN-Habitat) marks 15 years of work in Lebanon. Established in 2006, the UN-Habitat Lebanon Country Programme has supported Lebanon's response and recovery efforts to several crises, including the 2006 July War, the Syrian displacement crisis, the COVID-19 pandemic, the Beirut Port explosion and the ongoing protracted socio-economic crisis. These emergency efforts have been undertaken in parallel to applying UN-Habitat's mandate of promoting socially and environmentally sustainable towns and cities – at both national and local levels.
Nearly 90 per cent of Lebanon's population lives in urban areas. However, Lebanon has long failed to address the challenges that are associated with rapid urbanization. This is where UN-Habitat's technical know-how and expertise has been of particular importance. Since 2006, UN-Habitat has implemented more than 50 projects, totalling around USD 80 million, focusing on multi-sectoral approaches to the cities and urban communities in Lebanon. This ranges from neighbourhood upgrading, housing reconstruction, shelter provision, basic services upgrading to urban planning, innovative public space projects and climate change mitigation.
A participatory community driven approach is applied to all UN-Habitat's projects, from inception to design and execution, with local governance but also laying the foundation for long term sustainable urban solutions.
An area-based approach coupled with a strong evidence-based focus on local and national urban planning is central to UN-Habitat's methodology and interventions in Lebanon. To support plan-led interventions with local and national authorities and stakeholders across Lebanon, UN-Habitat has developed detailed neighbourhood and city level profiles across the country.
"UN-Habitat Lebanon ensures that communities are engaged throughout the design, implementation and sustainability phases of its projects and our work in Maraach is a prime example. Through this approach we are able to target our interventions so that specific community needs, and challenges are addressed while fostering community ownership of the projects," said Taina Christiansen, Head of UN-Habitat Lebanon.
"It was great how UN-Habitat has worked with the community and listened to the communities' needs to make sure that the project addressed them," said Mari Grepstad, First Secretary, Royal Norwegian Embassy of Beirut.
Many of UN-Habitat's projects are implemented based on needs identified through the UN-Habitat-UNICEF Neighbourhood Profiling project. This project developed profiles for 28 disadvantaged neighbourhoods in Lebanon featuring data on different sectors including the built environment, health, education, water and sanitation, local economy and livelihoods, among others.
A project underway in Maraach, Bourj Hammoud is the direct outcome of a profile and its outlined key needs and challenges. Through Polish Aid funding, five alleyways are being transformed to be greener through renewable energy and urban gardening; safer through improved mobility and organised electrical wiring; and, equipped for emergency response through the delivery of a rapid intervention firefighting vehicle suited for the narrow streets of Bourj Hammoud.
"The upgrading of the street has granted us hope for a better tomorrow," said Fathi Serhan, resident and beneficiary of UN-Habitat implemented project in El Jazzar Street, Sabra.
UN-Habitat Lebanon places innovation at the core of its interventions.
Encapsulating several "waste wise" projects to promote climate action, UN-Habitat has also pioneered initiatives to manage solid waste, from rubble and debris left by the Beirut Port explosion or plastic and glass waste. The initiatives are implemented through Project Zero, a partnership established by UN-Habitat with multiple private sector companies including Nestlé, Diageo, IBI Group, PepsiCo and Development Inc. to address plastic pollution in Lebanon and several other countries across the Arab region.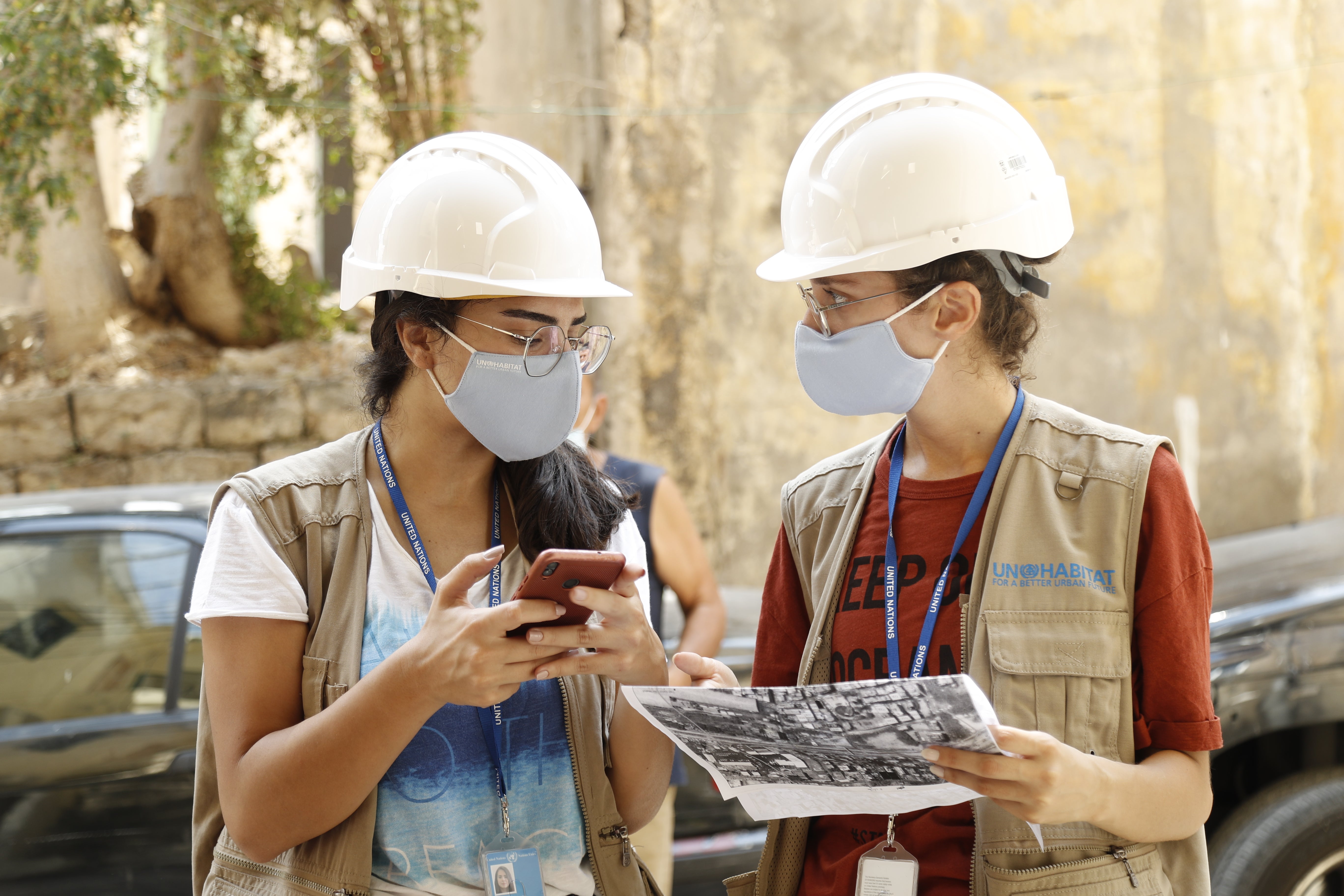 UN-Habitat staff on a building-level damage assessment in Beirut following the 4 August 2020 port explosion.
[OCHA/Farid Assaf]
"Lebanon has continuously faced varying crises over the years and despite it all has shown exceptional resilience and solidarity. During my visit to Lebanon in June 2021, I was glad to see the nature of partnership between UN-Habitat, local authorities and non-governmental organizations, and donors in urban recovery efforts following the explosion," said Maimunah Mohd Sharif, UN Under-Secretary-General and UN-Habitat Executive Director.
UN-Habitat develops long-standing relationships with national and local authorities, civil society and other stakeholders. Their engagement ensures that the Country Programme's projects and interventions are targeted, needs-based and sustainable.
"UN-Habitat's support to Beirut in responding to the port explosion was vital. The Country Programme was among the first entities to reach out to us and support in recording the vast building-level damages across Beirut and implementing shelter rehabilitation and temporary shelter provision projects. The Municipality of Beirut thanks UN-Habitat for its consistent commitment, expertise and partnership in working to respond to the needs of Beirut's residents," said Judge Marwan Abboud, Governor of Beirut.
The 2021– 2023 Habitat Country Programme Document (HCPD) sets forth the guiding principles for UN-Habitat to support Lebanon – within the wider frameworks for the work of the United Nations family – In creating liveable urban areas that are effectively planned and managed, environmentally sound, financially viable and competitive, and socially cohesive through good and inclusive governance and equitable distribution of resources.
UN-Habitat's continued commitment to Lebanon, its citizens, and its residents in improving urban well-being remains. Urban challenges have only increased in Lebanon, considering the multiple ongoing crises in the country – including, how unplanned and poor urbanization has contributed to the daily struggles of communities across the country. UN-Habitat will continue to advocate for sustainable and well-managed urbanization as it has the potential to lift people out of poverty and address their basic needs – including housing, energy, transport, water and more.