Cancun, Mexico, 26 October 2021 – To counter increasing urbanization caused by tourism and the booming hotel industry, this south-eastern Mexican city has developed Cancun's largest public space project that promotes Sustainable Development Goals (SDGs) while providing green space.  
Equity Park was designed and implemented in line with SDG11 and has been recognized as an SDG Good Practices project. It was conceived through a highly participatory planning process that integrated stakeholders from a wide range of social sectors, with a particular emphasis on local inhabitants.  
The Parque de la Equidad (Equity Park) initiative works to provide public and universal access to a safe, inclusive, and accessible green area for all age groups across socio-economic conditions. The park will provide a common space for cultural exchange and growth in the community, as well as access to a new greenspace at a time when the COVID-19 pandemic has highlighted the vital importance of parks to healthy urban environments.  
Promoted by the government of the state of Quintana Roo through the Strategic Projects Agency (AGEPRO), Equity Park project is part of Cancun's comprehensive urban plan that seeks to place public space as the central element for the sustainable development of the city. Equity Park was developed in collaboration with UN-Habitat, in line with UN-Habitat's Flagship Programme Inclusive, Vibrant Neighbourhood and Communities which focuses on urban regeneration. 
Enhancing urban vitality and creating socially connected spaces is a key goal for the flagship programme, which promotes the transformation of strategic urban locations into socially and economically vibrant areas. These participatory processes also enable the creation of multi-stakeholder partnership and future community action, a strategic objective of the flagship programme's work. 
The project is developed within the United Nations Cooperation Framework for the Sustainable Development of the United Mexican States for the period 2020-2025. 
"I think that this park will be a way to connect and meet your neighbours, or people you have never seen before," said young Jessica Hao, who is part of a local skating school, during one of the multiple participatory processes that have been carried out for the design of Equity Park.  
Added another neighbourhood young participant: "I think that it's good that kids are  asked how we imagine our ideal park. We all have something to say!"  
In recent years, due to the increase in the tourism and hotel industry, Cancun has experienced an accelerated urbanization that has caused deep spatial and social inequalities. The park aims to become a safe, inclusive, accessible, green, and high-quality public space that integrates the city in spatial, social, economic, and environmental dimensions. 
"Equity Park fosters inclusion, creates a space for human coexistence, and fulfils the main objective of promoting environmental care within a culture of peace and citizen protection," said the Governor of the state of Quintana Roo, Carlos Joaquin. 
The project will be carried out along three main avenues of the city and in total will regenerate more than 16 linear kilometres with an extension of 62 hectares, improving the conditions of infrastructure, services, and facilities for more than 200,000 people. 
The project includes four components to ensure its sustainability: A master plan for urban regeneration, mechanisms to capture land-value, conceptual design for public space and an open participatory process that has been implemented with authorities, the private sector, academia and especially with the people who live and work near the area of intervention. 
The participatory actions included targeted activities for specific groups such as students, women, families and neighbours through itinerant modules, collective events, and social media with the help of Fundacion Hogares as a partner. UN-Habitat has also carried out several virtual approaches such as online workshops with diverse local stakeholders.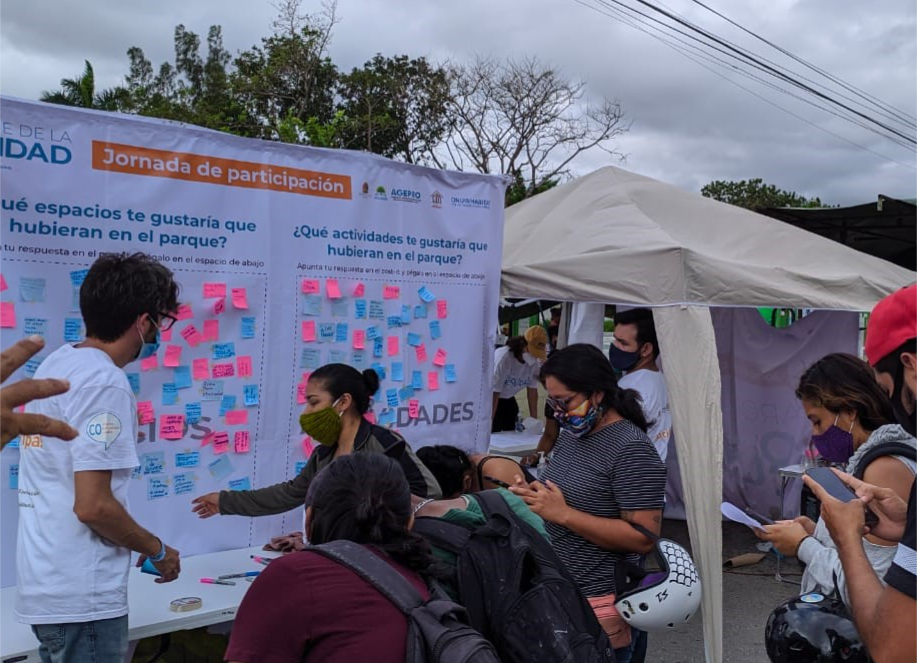 Participatory activities with local communities.
[UN-Habitat/MexicoOffice]
Those involved in the project hope that the Equity Park will become a symbol for the city at large and the backbone of its green and social regeneration process, in alignment with the goals and objectives of the 2030 Agenda and the principles of the New Urban Agenda.  
"We are very happy to have the experience of UN-Habitat in the implementation of this project, that is born and arises from society," said Eduardo Ortiz Jasso, Director of the Agency for Strategic Projects of the State of Quintana Roo (AGEPRO).