From Left: Minister of Public Health, H.E. Dr. Hamad Hasan; UN-Habitat Executive Director, Ms. Maimunah Mohd Sharif; Ambassador of Sweden to Lebanon, H.E. Ms. Ann Dismorr and Governor of Beirut, Judge Marwan Abboud at the inauguration of the National HIV and TB Centre that underwent rehabilitation by UN-Habitat after it was severely damaged by the Beirut Port explosion.
[UN-Habitat]
During her meetings with Government officials, Ms. Sharif emphasized the importance of immediate, scaled up support to reinforce the capacities of local institutions and authorities who have a front-line role in responding to the needs of the people.
She also urged national and local urban development stakeholders, to place adequate and affordable housing at the centre of current and future recovery efforts.  
The projects implemented by UN-Habitat visited during the official mission included two in the Municipality of Bourj Hammoud - a community-led multisectoral urban upgrading project underway since 2019 that is funded by Polish Aid and the Government of Japan and implemented with the Polish Center for International Aid and a shelter rehabilitation project for homes damaged by the Beirut Port explosion funded by the International Islamic Charity Organization.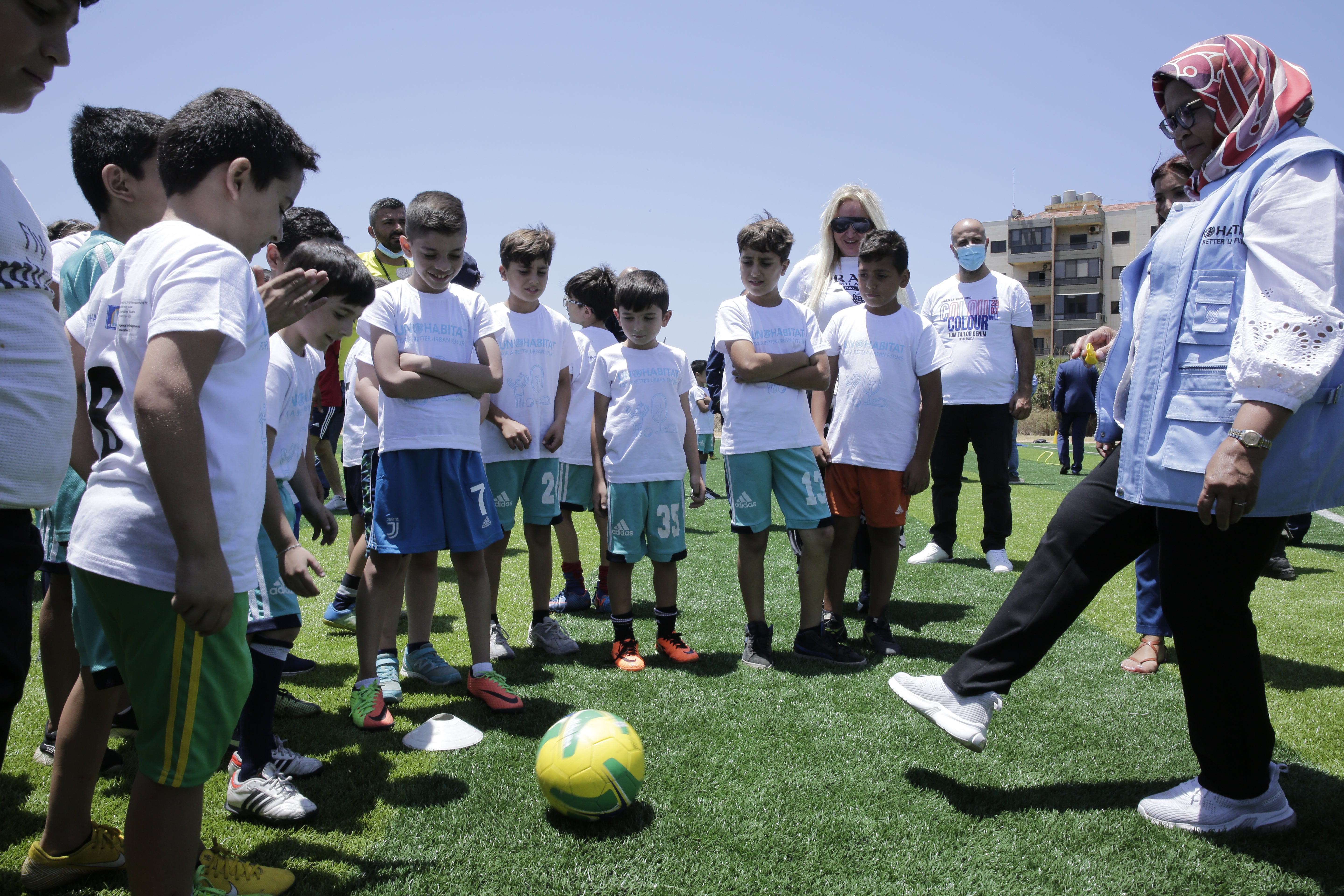 UN-Habitat Executive Director, Ms. Maimunah Mohd Sharif inaugurates the first football game played on the UN-Habitat implemented football field in Mina, Tripoli. The field forms one of 9 activities under this UN-Habitat project funded by the Swiss Agency for Development and Cooperation.
[UN-Habitat]
The Executive Director also visited a neighbourhood in Mar Mikhael severely affect by the Beirut Port explosion to see more than 10 multistory residential heritage buildings being repaired by UN-Habitat with funding from the Government of Japan.
"The UN-Habitat Executive Director's visit to Lebanon follows a visit she made to Iraq. As the two countries are facing complex challenges, there are some similarities that can be adopted in terms of the response and recovery of the two nations – ensuring that efforts within each of these countries address their peoples' respective needs," said Dr. Erfan Ali, UN-Habitat Regional Representative for Arab States
Ms. Sharif launched UN-Habitat's Beirut City Profile which features valuable data and analysis on Lebanon's capital to inform programming, including recovery plans, and encourage coordination among state and non-state actors. The Beirut City Profile builds on UN-Habitat Lebanon's two city profiles on Tyre and Tripoli and 28 profiles on disadvantaged neighbourhoods across Lebanon that were developed together with UNICEF.  
"UN-Habitat remains ready to support the Lebanese people and local authorities technically and operationally, in implementing future reforms that have an urban bearing. We  will continue to support local authorities and communities across Lebanon through targeted urban interventions such as our work in rehabilitating the National HIV and TB Centre damaged by the Beirut Port explosion and our multisectoral urban upgrading project in Mina, Tripoli that we inaugurated during the visit of Ms. Sharif," said Ms. Taina Christiansen, Head of UN-Habitat Lebanon Country Programme.