The Global Land Tool Network (GLTN) is an alliance of more than 75 global, regional and national multi-sector partners. The Network was launched in 2006 in response to gaps in land governance and administration approaches, tools and systems which hinder the delivery of land tenure security at scale.
GLTN partners work together to improve tenure security for as many people as possible with a specific focus on women, youth and vulnerable groups. The core function of GLTN is the development and dissemination of inclusive land tenure approaches supported by practical, fit for purpose, gender responsive and innovative tools that promote sustainable development by leaving no-one behind and alleviating poverty.
The large-scale adoption of these tools by an increasing number of GLTN partners and countries are essential for achieving the United Nations' Sustainable Development Goals (SDGs). The GLTN tools are also recognized by the New Urban Agenda and are influencing land policies in GLTN's pilot countries. Through GLTN, UN-Habitat continues to work with partners, including governments, international civil society organizations, international finance institutions, international research and training institutions, donors and professional bodies towards achieving land and tenure security.
Find out more on the Global Land Tool Network website below or visit the GLTN website at gltn.net
Images
Image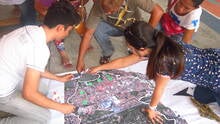 Image