#WeAreClimateChange Photography Competition
The United Nations Human Settlements Programme (UN-Habitat) — is pleased to announce the winners of the #WeAreClimateChange photography competition culminating at the 2017 United Nations Climate Change Summit, COP-23 in Bonn, Germany 6 – 17 November 2017.
UN-Habitat invited young photographers to visually represent efforts to combat climate change in their communities.
The award recognizes individual youth who have made photo submissions in the last month showcasing positive climate change initiatives in their city or town.
The winner of this contest is sponsored to a fully funded trip to Bonn, Germany to present their work.
UN-Habitat received hundreds of photo submissions that were screened out by a panel of four high level judges in the photography industry and UN-Habitat climate change and youth teams.
To arrange interviews with the competition participants, contact:
Faderr John, UN-Habitat
Email: faderr.johm@unhabitat.org
Twitter: @UNHABITAT|@UN-Habitat Youth
Facebook: @UN-Habitat | @UN-Habitat Youth
Instagram: @UNHabitat | @UNHabitat_Youth
LinkedIn: UN-Habitat
UN-Habitat youth climate change photography competition #weareclimatechange Top 24

 
1. Hanna Pintusava.
A city that floats: Floating structures can help us cope with sea level rise and changes in tidal patterns. #weareclimatechange – Rotterdam, The Netherlands
 
2. Elorm John Amengor.
'Climate Smart Schools': Student tree planting projects raises awareness about climate change and increase carbon sinks. #weareclimatechange – Kumasi, Ghana
 
3. Danial Taghavi.
Renewables on the horizon: Harnessing the wind is a way to reduce emissions from power supply.  #weareclimatechange – Mashhad, Iran
4. Oyelowo Eyitayo Abiodun.
Solar view: Solar street lighting is a feasible
low-carbon solution for cities in developing countries. #weareclimatechange – Ilorin, Nigeria
5. Avijit Ghosh.
E-recycling: Recycling of electronic parts can reduce methane emissions while improving the environment. #weareclimatechange
– Kolkata, India
6. Emmanuel Nduwayezu.
Clean cooking system: Fuel-pellet cookers can reduce indoor air pollution and CO2 emissions associated with wood and gas cookers. #weareclimatechange – Kigali, Rwanda
7. Behshad Mohajer Iravanloo.
Solar-mobile: An Iranian citizen uses a climate- and disability- friendly transport, a solar-powered wheelchair. #weareclimatechange – Tehran, Iran
8. Mohanan Raji Raghul.
'Science Express': Educating people especially young people ensures that future generations are better prepared to protect the earth. #weareclimatechange – Gondal, India
9. Farsid Raihan.
Solar Irrigation Pump: Solar powered peri-urban farming reduces greenhouse gas emissions and improves food security. #weareclimatechange – Dhaka, Bangladesh
10. Jennifer Lizeth Bocanegra Díaz.
Active travel: Infrastructure for active travel
can encourage a shift in travel modes and associated reductions in greenhouse gases. #weareclimatechange – Dusseldorf, Germany
11. Mitra Davam.
Clean transit: Public transit powered by clean electricity can help reduce greenhouse gas emissions. #weareclimatechange – Gothenburg, Sweden
12. Emil Skaria Abraham.
Solar airport: Cochin International Airport has integrated renewable energy solutions to help reduce air-travel-related greenhouse gas emissions. #weareclimatechange – Kochi, India
13. Monica Kulkarni.
High-rise solar power: Providing for more compact urban development, together with solar roofs, offers a more sustainable urban planning strategy. #weareclimatechange – Mumbai, India
14. Hassan Masour:
Historical Sana'a is going green: Integrating clean energy into an historical urban fabric can help reduce urban emissions in many cities with historical cores. #weareclimatechange – Sana'a, Yemen
15. Michelle Low:
Separation @ source: Source separation of household waste can contribute to reduced greenhouse gas emissions. #weareclimatechange – Johannesburg, South Africa
16. Majid Hajizadehmirkoohi:
The clean choice of travel: Per passenger kilometre, bicycles and buses emit fewer greenhouse gases than
petrol-powered cars. #weareclimatechange – Tehran, Iran
17. Grace Kendi:
The scenery along Bundesautobahn 4: Wind power is 17.2% of Germany's total electrical supply as of October 2017 (https://energy-charts.de). #weareclimatechange – Hockenheim, Germany
18. Muhammad Usman Jamshed:
Clean energy parking lots: Integrating solar energy production and parking can help power the surrounding buildings. #weareclimatechange – Lahore, Pakistan
19. Anish Kumar Pandey:
Solar Heating: Solar water heaters can reduce demand for energy from conventional sources and associated greenhouse gas emissions. #weareclimatechange – Indore, India
20.Chad Osorio:
Wind turbine forest: Clean energy reduces greenhouse gas emissions. #weareclimatechange
– Quezon City, Philippines
21. Nicolás Monteverde Bustamante:
Bicycle space: Bicycle riding produces no direct greenhouse gas emissions, and offers health benefits through an active lifestyle. #weareclimatechange – Lima, Peru
22. Tony Toikan:
Public-private partnerships for clean energy: Mobilizing private investments in renewable energy is an effective mitigation tool. #weareclimatechange – Nairobi, Kenya
23. Elijah Mburu:
Solar lit night: Integrating renewable energy into existing infrastructure reduces 'dirty' energy. #weareclimatechange
– Nairobi, Kenya
24. Iako Randrianarivelo:
Bicycling under the baobabs: Reducing greenhouse gas emissions now can reduce the cost of adaptation in the future. #weareclimatechange – Antananarivo, Madagascar
Images
Image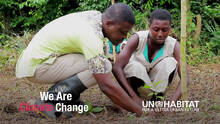 Image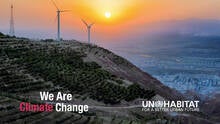 Image
Image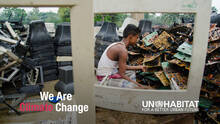 Image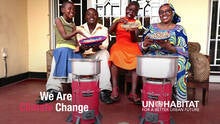 Image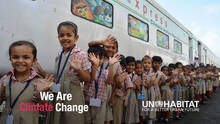 Image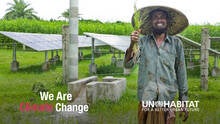 Image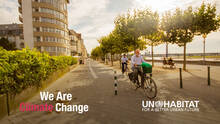 Image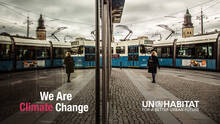 Image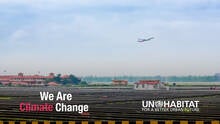 Image