Context and purpose of the UN-Habitat Report on Cities and Pandemics
Since its emergence late in 2019, the COVID-19 pandemic has spread rapidly, forcing governments to take drastic containment measures to curb the spread of the virus and mitigate its direct and indirect impacts. The largest global public health crisis in a century, it also has immense social and economic impacts. The duration and scope of these are yet to be determined.
It is nonetheless clear that the current crisis is highlighting and reinforcing existing challenges. Job and markets, the economy at large, are heavily impacted and have led to a major global recession. The virus and its associated responses have disproportionate effects on physically and economically vulnerable populations, deepening existing socio-economic inequalities and increasing risks of social divisions. The use of social and physical space has been severely affected, questioning the traditional models of spatial organization in cities. The governance systems at large are facing daunting challenges for which few governments had prepared.
As both arenas of disease outbreaks and major socio-economic engines, the world's cities are at the centre of the crisis and responses to it. Cities' responses are critical to protecting the people, curb the pandemic and set the scene for resilience and recovery. This is an opportunity to depart from business-as-usual while embracing transformative change to achieve a new sustainable urban realm. 
However, the direction of the change needs to be based on proven policies and actions. The UN-Habitat Report on Cities and Pandemics is an opportunity for UN-Habitat to anticipate major transformations in cities and formulate responses needed to guide all stakeholders in action.
The report will serve as a study of COVID-19 response from an urban perspective with a focus on four central themes that are critical for the future in cities: urban morphology, urban economy, urban inequality and urban governance. The report digs deep into the most important impacts of COVID-19 thus far to provide analyses on the challenges and opportunities facing sustainable urban development affected by pandemics. It aims to bring evidence and clarity to commonly debated assumptions on the impacts of and decision-making on the pandemic in urban areas. The report also promotes strategic, scaled responses in urban areas based on new data and means to measure the success of recovery and regeneration efforts in the future.
For UN-Habitat, this publication aims to position the agency in the vivid global debate on the impacts of COVID-19 on the future urban way of life.
COVID-19 pandemic has emerged as a cross-sectoral phenomenon. UN-Habitat's ambition is to develop a report with consolidated yet sharp content, relevant not only to urban practitioners, city leaders and decision-makers but also to professionals from sectors such as economists, health and other services planners, public policy experts and to the general public interested in urban sustainability.
The first consultation with stakeholders on the analytical directions of the report took place in the form of an Expert Group Webinar in June 2020. This tested the validity of the chosen report themes and related guiding questions. To validate and finalize the report's recommendations, another stakeholder engagement will be organized during November – December as a series of thematic webinars. These will debate the recommendations of draft Discussion Papers through moderated discussion between experts and the wider audience. The Discussion Papers will, once fully completed and added with joint Introduction and Concluding sections, constitute the final UN-Habitat Report on Cities and Pandemics.
The thematic data and analyses have produced with the following draft findings and recommendations:
Discussion paper 1 on "Spatial Patterns and Dynamics in the Face of the Pandemic"
- Integrate health into urban planning. Urban health and wellbeing are key factors influencing the effects of COVID-19. Persons with pre-existing medical conditions or comorbidities faced greater risk and mortality rates. Urban form can play a key role in improving health and wellness by providing access to healthy food, clean air, water and sanitation and through infrastructure that supports walking, cycling and other forms of physical activity. 
- Plan for adequate density, not overcrowding.  Density has not proven to be a deciding factor in COVID-19 morbidity or mortality rates. It is important to recognize the difference between overcrowded conditions (such as in informal settlements) and well-planned density, with sufficient standards of living, access to adequate basic services, public facilities and open spaces. While overcrowding can make certain neighbourhoods more vulnerable to infection, adequate density can contribute to a more equitable distribution of resources necessary for treatment and recovery.
- Plan for 15-minute neighbourhoods. Planning and design at the neighbourhood level have proved to be crucial in times where lockdowns restrict residents' movements across the city and communities rely heavily on services available within walking distance. Designing mixed-use and compact neighbourhoods with equitable access to services including healthcare facilities, public transport and ample public space can encourage walkability, reduce car dependency and foster local production and consumption patterns, while also strengthening social cohesion and local economic development. 
- Expand sustainable mobility options. Cities reporting better air quality (as measured by PM2.5) before the pandemic observed lower COVID-19 death rates. Unsustainable travel patterns, including high levels of private car usage, are typically a vector of air pollution. Infrastructure and provisions for sustainable travel, i.e. public, collective and non-motorised transport such as walking and cycling, can contribute to environmental health by improving air quality. Simultaneously, sustainable mobility brings benefits for personal health by supporting active lifestyles and helping reduce spatial inequalities related to access. Supporting public transport systems that are suffering from reduced ridership during the pandemic and implementing stricter hygiene measures can help keep public transport as an essential service for the people who depend on it.
Discussion paper 2 on "Rebuilding the Urban Economy"
- Local economic recovery, especially in developing countries, is threatened by regulatory frameworks which dampen local development and investment.
Many cities, especially in the developing world, cannot plan nor implement support measures, such as fiscal stimuli for their companies.
Adverse regulations and systems cause longer-lasting economic downturns and expand risks to public and private sectors while constraining local investment.
Due to adverse regulatory frameworks, cities and regions are at risk to miss opportunities to support a green, inclusive, gender-equal and sustainable local recovery.
Cities need to invest in innovation to make cities and human settlements inclusive, resilient, safe and sustainable.
The pandemic has shown the need to close the digital divide, not only to expand economic development but also as a means of increasing resilience.
Building back better will require urban structural transformations, requiring urban productive sectors in cities to adopt more sustainable business practices.
The pandemic is a wake-up call to review progress on the Addis "Finance for Development Agenda", to reduce financial and governance constraints on cities and local governments, to create more stable fiscal transfers, to promote capital markets and to expand private sector investment.
- Cities operating in the frontline of the pandemic are in dire need of multilateral support.
Cities, being on the frontline of the COVID-19 response, are struggling to maintain fiscal stability.
Without fiscal stability and strength, cities and local governments cannot protect inhabitants, support health care, implement tracing schemes and ensure basic services delivery.
Where there is a threat, or worse, of fiscal deficits, layoffs in the public sector and bankruptcies of municipal service bodies, people and places will be left behind badly.
Vulnerable groups need both housing support and social safety nets.
Cities and local governments have a key role to play in a New Social Contract.
With universal basic income being a possibility and universal health care expanding in countries, cities would have a prospect of building more resilient budgets and fiscal frameworks in support of local service delivery and local economic development.
Integrated action is needed by local governments, countries, and multilateral organizations, in line with the commitments of the Addis Agenda.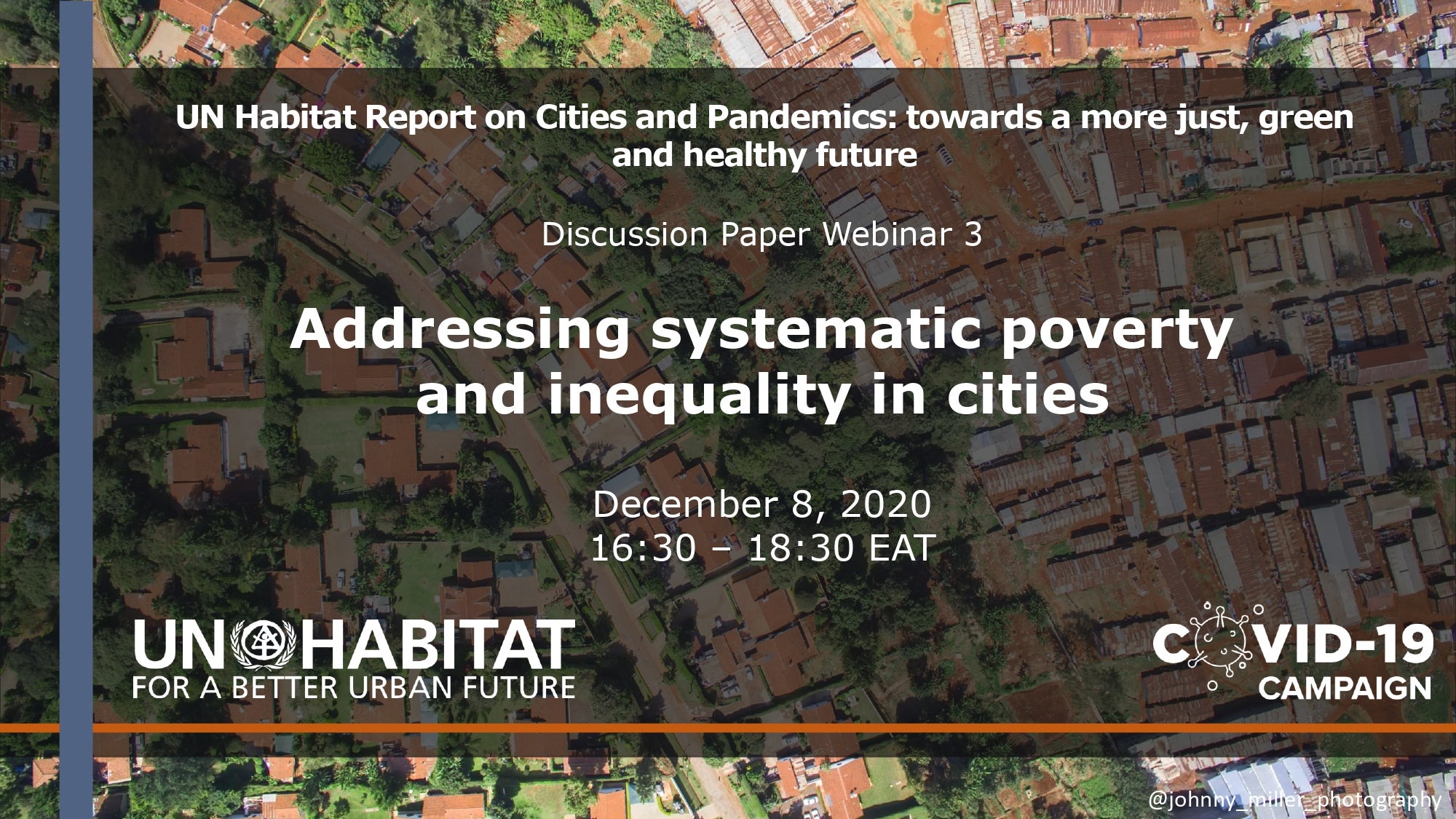 - In marginalized communities, the spread and impact of COVID-19 have been more severe.
Poor and marginalized residents are not always able to comply with the recommended prevention measures due to the inadequate living conditions of poor and spatially excluded areas where they tend to live:
Housing overcrowding appears to be a key driver of COVID-19 transmission between household members (TBC with full data).
Population groups with limited access to safe transportation modes rely heavily on often unclean, overcrowded paratransit systems, which have been a major risk factor for spreading the infection.
Many households, schools and neighbourhoods in already deprived urban areas are not able to access remote education, telemedicine and teleworking due to weak, absent, or unaffordable internet connectivity or lack of computers and digital literacy.
- The pandemic is reversing decades of progress on poverty reduction and human development. Lockdowns and curfews are having catastrophic effects on informal workers and those who do not benefit from social protection coverage. Cities with a higher level of income inequalities tend to be more vulnerable to COVID-19 spread due to larger share of the population which tends to be more subject to the negative economic impacts of mobility restrictions, such as loss of livelihood, forced evictions, domestic violence and food scarcity.
Discussion paper 4 on "Rethinking Policy, Legal and Governance Responses to COVID-19"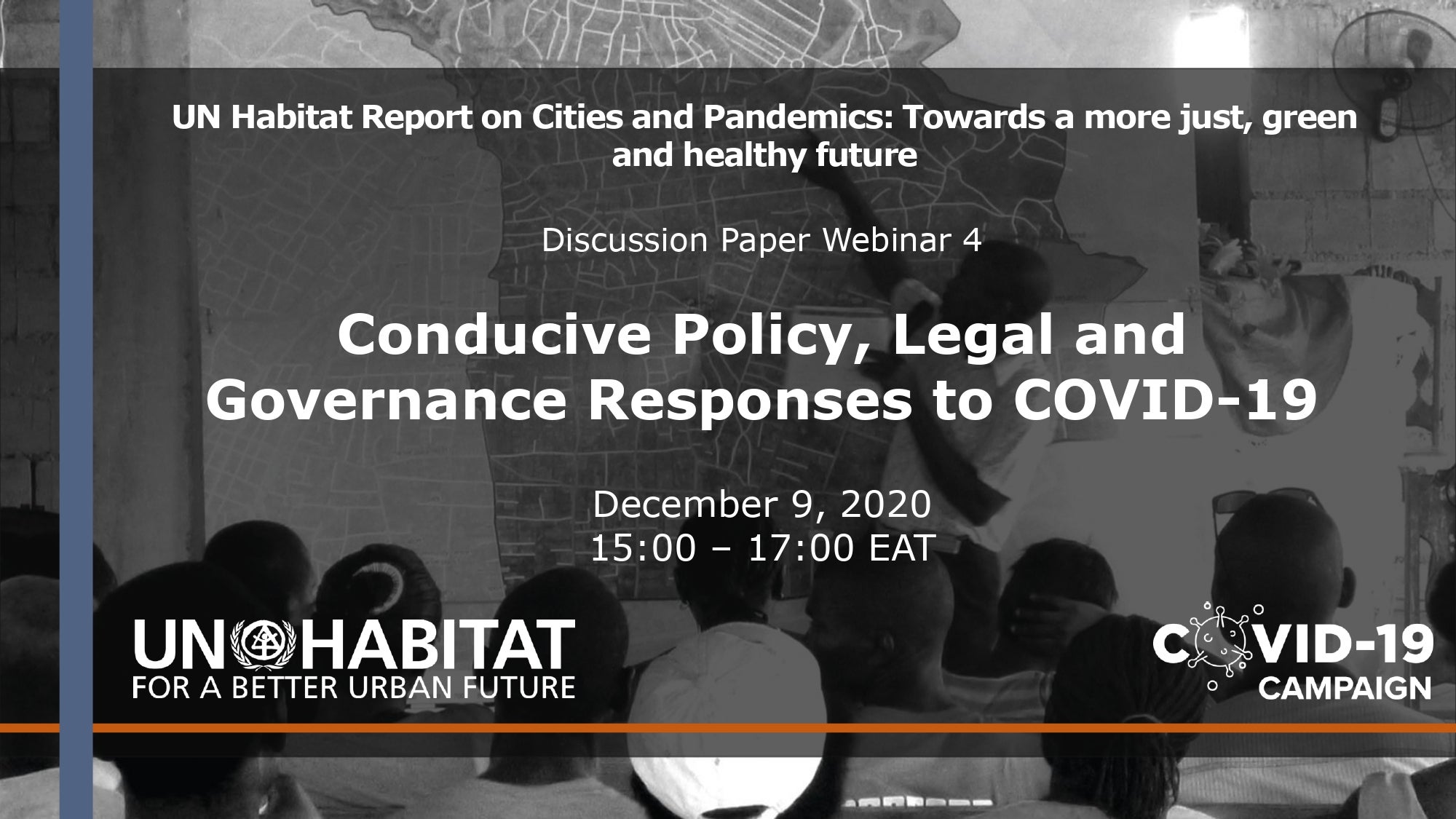 - Rebalancing of power among levels of governments. In some countries, the failure of national leaders to respond quickly has reinforced the influence of subnational governments. In other countries, additional powers have also been transferred voluntarily from national to sub-national levels of governments to address the epidemic at the local level. On the contrary, in other countries, the national governments have taken the lead in certain instances recentralizing some powers from subnational governments.
- The importance of a coordinated response. Where there is leadership, coordination and stringent responses across different level of government, policy measures are more likely to achieve results. Where there is competition among levels of governments and fragmentation of the political scene, institutional conflicts and legal disputes over responsibilities are more frequent.
- The covid-19 epidemic has accelerated the digital transformation in local governance with innovations at the local level in terms of policy design, communication strategies, public participation, e-government practices and on-line public service delivery.
- Return of the State/public sector. Cities are playing a fundamental role in managing the crisis and mitigating the pandemic's effects on residents implementing recovery measures, social support measures and increased delivery of basic services. Yet, their capacity to do this varies greatly and may often be inadequate after decades of underfunding, reduced investment in staffing and in social spending and increased outsourcing of service delivery. This is being accompanied by larger fiscal spending and relaxation of austerity measures with the support/authorization of national governments.