NAIROBI, 22 November 2019 – It is lunchtime and a crowd of curious people gathers around the small wooden model of a town with a moveable light overhead at the United Nations Office. The buildings have solar panels on the roofs and a row of LED indicator lights which outside showing the flow of renewable energy into or out of the homes. When a solar panel is blocked, the LED lights change direction, as a home becomes a consumer instead of a distributor of energy. The town is a self-contained, community-driven microgrid where the homes trade renewable, affordable energy between each other.
In mid-October 2019, a team from SPACE10 was invited by UN-Habitat to the United Nations compound in Nairobi to present their project Solarville. Solarville is a playful research project exploring the possibility of making clean, reliable electricity widely available through blockchain distribution and solar energy. The project aims to showcase that, when combined, technologies such as solar panels, micro-grids and blockchain open new opportunities for off-grid systems—allowing people to leapfrog traditional grid electricity. This innovation could help over 1 billion people around the world who have little or no access to electricity.
"This is a very good example of how the linkages between sustainable energy, access to energy, environmental issues, economic and social issues, can be demonstrated through a prototype," noted Raf Tuts, UN-Habitat's Director of Programme Division. "This is at the heart of UN-Habitat's work."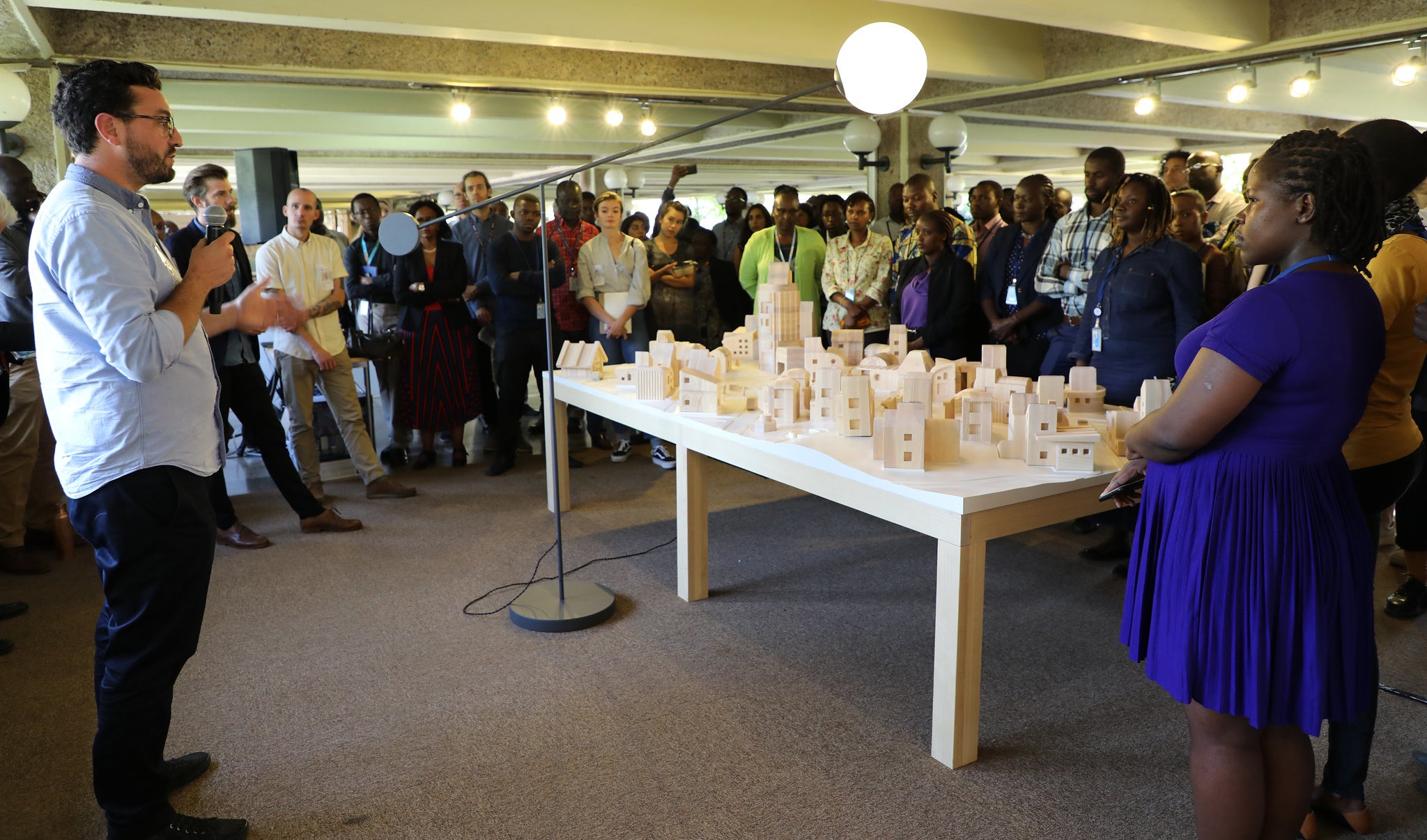 [UN-Habitat/Ivy Mutisya]
While in Nairobi the team from SPACE10 visited UN-Habitat's partner projects in the slum of Mathare and met sustainable urban planning specialists from UN-Habitat.
"We often say that if you are the smartest person in the room, you are in the wrong room," explains Jamiee Williams, SPACE10's Architectural Lead. "To spend the day with experts and policy makers in fields that directly impact the lives of people all over the world was immensely humbling. We consistently found ourselves in the right rooms, with the right people, having conversations that both challenged and inspired us to look at our research in a different light."
By 2050, 90 per cent of the world's urban growth will occur in less developed regions, such as Asia and sub-Saharan Africa. UN-Habitat seeks to include the use of digital technologies and innovations to solve urban challenges and boost sustainable urban and regional growth.
SPACE10 is a research and design lab on a mission to enable a better everyday life for people and planet. Based in Copenhagen and Delhi, SPACE10, which is supported by IKEA, explores fields like urbanization, sustainable energy, digital fabrication and artificial intelligence.
"Even though we are just a team of thirty, we know we would never be able to internalise all the competences needed to be as ambitious as we want to be when facing the challenges presented to us, as well as the opportunities." explains Guillaume Charny-Brunet, SPACE10's Strategy Director. He describes innovation as a two way interaction, similar to that of a pitcher and catcher, "No matter how good the pitch or innovative an idea is, it won't make for a very interesting game if no one is ready to catch it, nurture it and scale it. In this case being able to interact with local communities and UN-Habitat is an invaluable chance for ideas to maybe graduate into a solution someday."