NAIROBI, 3 December 2019 — Despite yesterday's rain, a high-level team cycled through Nairobi's streets to popularize cycling as a credible non-motorised transport option for the thousands of commuters who move through he city each day. The Nairobi Governor, Mike Sonko, UN-Habitat Executive Director, Ms. Maimunah Mohd Sharif, as well as Ambassador Nikolas Nihon from the Belgian Embassy, led the fleet of cyclists on the 5 kilometre ride from Popote Gardens to the Serena Hotel.
Greater awareness and acceptance of cycling as a sustainable mode of transport is necessary to integrate cycling as an essential part of transport plans and investment decisions by government officials. The aim of the event is to provide a safe "real-life" experience of cycling to participating officials and foster a discussion on the benefits of cycling.
Among the high level officials that took part were Nairobi Women Representative, Ms. Esther Passaris, Mr. Michael Ochieng representing Principal Secretary for Housing Charles Hinga, Rose Kiringi representing Kenya's Mission to UN-Habitat, officials from the Kenyan Urban Roads Authority (KURA) and the Nairobi Area Metropolitan Transport Authority (NAMATA).
During his address, Mr. Ochieng said the government of Kenya was keen on promoting non-motorised transport and expressed optimism that all the participating entities would be ready to lend their support to the government. In the following remarks read by Ms. Kirinyi, Kenya's Permanent Representative to UN-Habitat, Ms. Njambi Kinyungu said the cyclists in Nairobi faced two problems - safety and lack of cycling lanes.
In his speech, Governor Sonko emphasized that a new rule was already in effect in Nairobi where all contractors are required to include cycling lanes in any new road project being undertaken. He said his government was keen on developing non-motorised transport to decongest the roads and promote better health.
The Belgian ambassador elaborated on how cycling had been popularized in his country and said Kenya could do the same.
Ms. Sharif explained that during her tenure as the mayor of Penang in Malaysia she was a great advocate of cycling. "Soon most of my senior staff and mayors were also cycling," she said.
The Executive Director said UN-Habitat is supporting Nairobi Urban Regeneration and said she is looking forward to a continued engagement with the city and county to promote safe walking and cycling and better streets for all.
The event ended with lunch, during which Ivan Feys, Deputy Ambassador, Embassy of Belgium, provided an inspirational speech on the benefits of cycling and emphasized that around 60% of urban residents in almost any city in the world would cycle if safe infrastructure was provided.
The event was organized by the Kenyan Government, UN-Habitat through its Urban Pathways project, the Belgian Embassy, UN Environment and the Institute for Transportation and Development Policy, with support from Critical Mass Nairobi, Elite Bike Shop and Limitless Outdoors.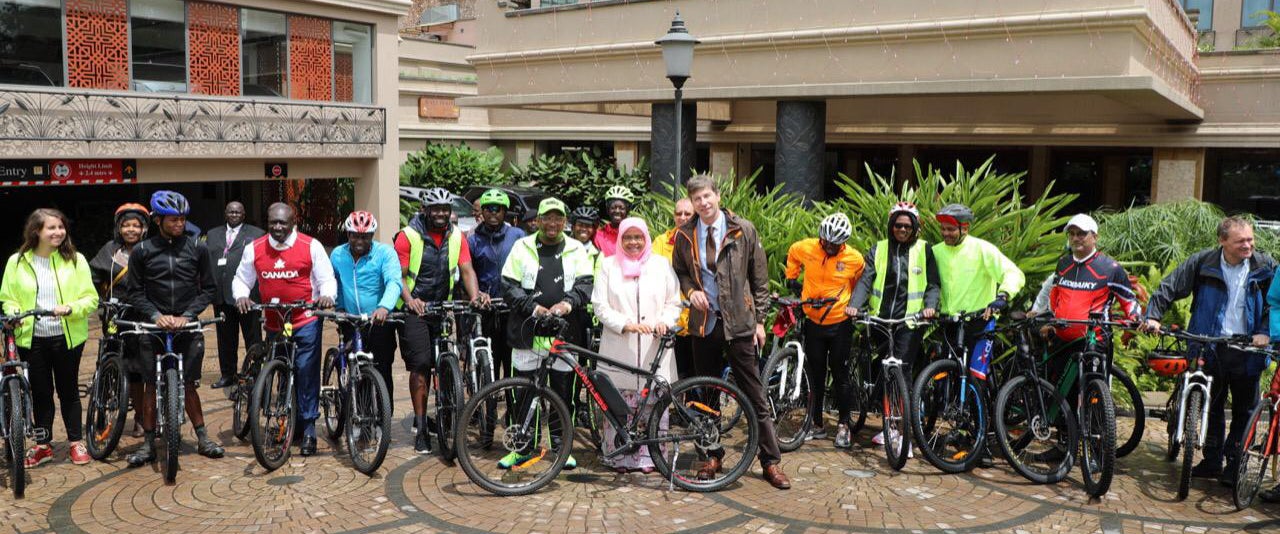 Arrival of the high level cycling group at Serena Hotel
[UN-Habitat]