MADRID, 8 December 2019 - The Climate Change Conference concluded its first week with the local governments making a strong presence to discuss how cities can better mitigate emissions and adapt to the challenges of climate change.
Declared the Local Government and Cities Day of the COP25, Saturday 7 December was a highlight starting with a high-level opening at the Capacity-Building Hub.
UN-Habitat Executive Director set the tone with bold remarks emphasizing the role of cities and citizens in climate action, by saying, "We can't have smart cities without having smart leaders and smart people." She stressed the importance of capacity building, adding, "Capacity-building is about preparing cities and communities to adapt, better plan and design cities. We need to address the needs of all local governments in order to enhance shared prosperity of cities and regions. We need to empower people and prepare smart citizens. For that, we need data, analysis and the right tools. We also need to support countries to prepare their Nationally Determined Contributions so that they also address urban issues."
Simone Raskob, Deputy Mayor of Essen, once the biggest coal mining city in Europe but in 2017 was declared European Green Capital, explained the power of transformation 'from grey to green' in two generations.  Emani Kumar, ICLEI Deputy Secretary General, explained new avenues of capacity-building to help link local action plans to financing and the importance of relying on strong communities of practice and knowledge brokering mechanisms. Martin Frick, UNFCCC Senior Advisor, stressed the current complexity of climate action and the need to empower people with a shared narrative engaging everyone for a shared future.
At the Capacity-Building Hub, Ms. Maimunah Mohd Sharif also moderated a very lively panel of Young Women as Climate Change Makers activists reflecting the leadership role they have played in the climate emergency movement. "Youth leaders are leaders of today and tomorrow," she noted. UN-Habitat was keen to bring young people in the conversation around city climate action, to help them voice their urgent concern and explain how they have started impacted their communities on the ground.
The second half of the event featured a panel of Governments and local authorities representatives, with Deputy Mayor of Madrid, Begoña Villacís, and Mohamed Mezghani, Secretary General of the Association of Public Transport (UITP), who focussed on the topic of reducing air pollution and low-carbon pathways for the provision of basic services to meet the climate emergency. The Deputy Mayor outlined how the city had developed air quality plans focussed on improving public transport and public spaces. Mohamed Mezghani honoured UN-Habitat Executive Director by nominating her a "Friend of Public Transport" in support of the "One Planet" initiative launched by UITP to promote the major role that public transport plays on both local air pollution and climate change.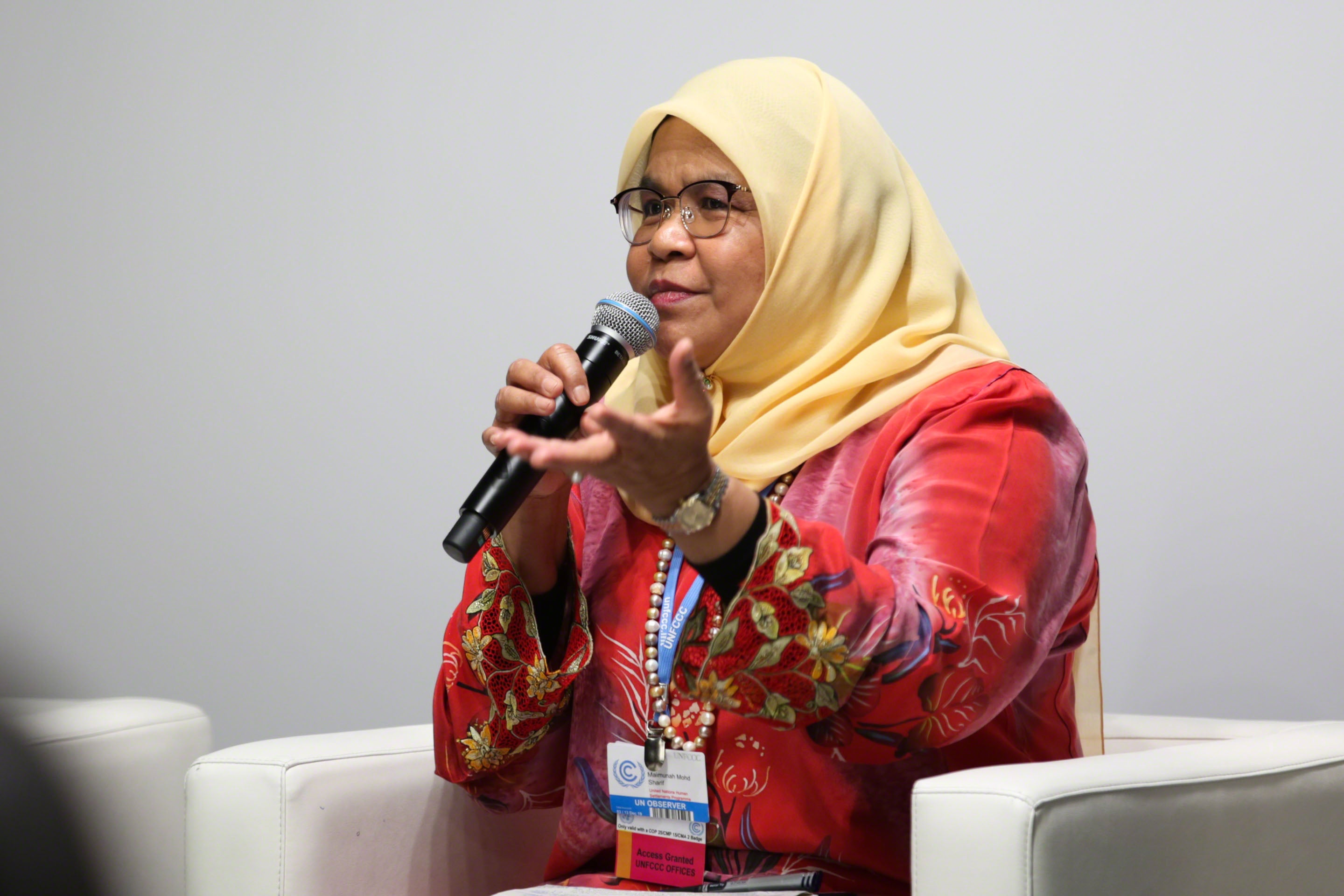 [IISD/Kiara Worth]
Under the Marrakech Partnership for Global Climate Action, two Action Events were held on transport, and human settlements in which UN-Habitat played a key role next to strong partners. The Transport Action Event showcased efforts made by various transport stakeholders to create the building blocks for a low carbon, sustainable pathway to 2050. UN-Habitat's Executive Director participated in the fourth segment on Creating Momentum Beyond COP 25. Ms. Maimunah Modh Sharif emphasised the magnitude of the situation and the need for robust partnerships. "With 75% of infrastructure is yet to be built by 2050, we cannot do it alone," she said. "We need to continue working together on the Infrastructure, Cities and Local Action Track and transports in particular to assess progress to accelerate change. We need data and connect them to policies, to implementation and finance."
Liu Zhenmin, Under Secretary General, UN DESA, Maruxa Cardama, Secretary General, SLoCaT and Gonzalo Muñoz, High-Level Climate Champion, stressed the importance of an integrated and coordinated multi-stakeholders approach to address the climate emergency.  Private sector and civil society partners have to be part of the equation.
The Human Settlements Action Event was an essential apect of the Local Government and Cities Day, gathering more than 20 key speakers to address local and national commitments towards decarbonizing building and cities and scaling the transition. Ms. Maimunah Mohd Sharif, made a plea to participants by recalling the fundamental role of multi-level governance, bringing all levels of governments and including communities, emphasizing the role of smart investments for decarbonisation and resilience in cities while driving social equity. "I believe in UN-Habitat's human rights approach," she said. Adding, "The importance of addressing the most vulnerable first. These are poor communities most at risk from climate change, young people whose future is at risk, women who are more often than men home-based when disasters hit homes. In short - we propose to harmonize climate action with our global commitment on sustainable development – to leave no one behind – and make climate action equitable and just."
This first week of the COP25 has concluded with negotiations on 'common time frames' and future climate country pledges, in particular the Nationally Determined Contributions (NDC) due by the end of next year. Delegates have postponed negotiations on Article 6 (market and non-market mechanisms) until Monday 9 December. Uncertainty remains about what elements could be decided on at COP 25. In the meantime, UN-Habitat gathered experts and national governments on 6 December to seek advice on a new guide to support countries to integrate human settlements issues into their NDCs. Concerns are that human settlements have been underplayed so far in the majority of NDCs. Given the strong role that cities could play in increasing emission cuts and adaptation actions, NDCs would highly benefit from including urban issues in order to raise their ambitions. The new guide will be rapidly created and deployed in a number of countries in early 2020.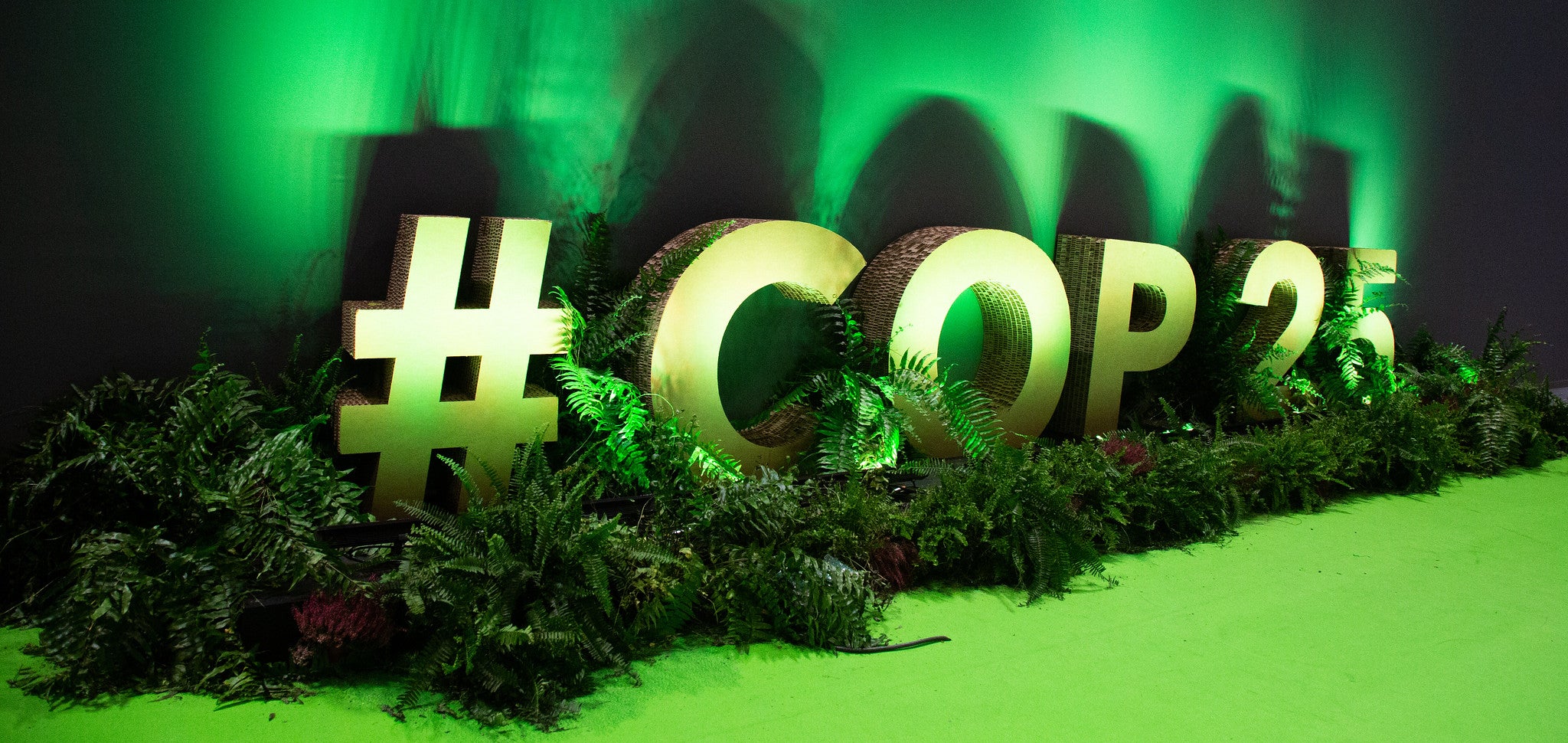 [UNFCC]