Download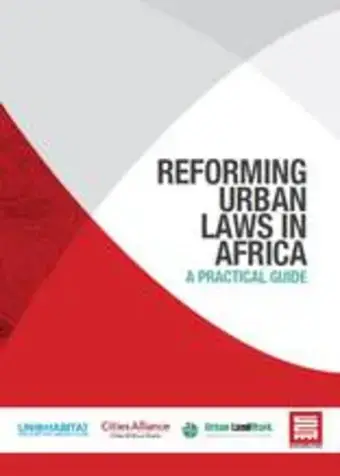 Share
Publisher
ACC | Cities Alliance | UN-Habitat | Urban LandMark
Reforming Urban Laws in Africa: A Practical Guide
This guide aims to create and strengthen law-making processes that build and secure the legal rights of all people living in all urban areas to be governed fairly, live safely, earn a living and participate fully in the economic and cultural offerings of cities. It does not aim to address all the problems of African cities. Rather, it focuses on strengthening efforts to improve the legal framework within which urban areas are managed, planned, governed and financed to create cities that are more sustainable, inclusive and efficient.
The most effective urban laws are those that are developed where they are to be applied, by the people that will abide by and enforce them. They need to be shaped by what is needed and possible there. Difficulties arise when laws are developed – often by outside advisers – without properly considering the relevant context.
This guide helps urban legal reform initiatives within African countries and enables government officials, local experts and members of civil society and the private sector take part in developing effective urban laws. It is also a resource to help international advisers think about different ways of supporting urban legal reform to create cities that include all citizens – established and new – in a more just and more sustainable urban future.