According to the recently completed Integrated Phase Classification – Lebanon Acute Food Insecurity Analysis, led by the World Food Programme, in 2023 the number of people projected to be food insecure will increase by 13%, with more people expected to move from a food crisis situation to one of emergency. The projected acute food insecurity for Lebanon (all population groups) for January to April 2023 will see 2.26 million people, or 42% of the population facing high acute food insecurity and in need of urgent action. 
The project aims to promote urban farming and adequate water and renewable solutions within the urban community of Shalfeh located in Abou Samra, Tripoli, while alleviating resource pressure and contribute to reducing rising tensions among communities. This is expected to be achieved through a multi-sectoral and activity integrated approach that will address specific needs while empowering community groups to respond to increasing challenges in a sustainable manner. 
The intervention involves skills development of women and youth in urban farming, provision of clean water and renewable energy to public facilities such as schools and a health dispensary, raising community awareness with regards to cholera prevention, and practicing the gained skills and knowledge to improve food security within the community and at home, hygiene, and sanitation of vulnerable population groups residing in the neighbourhood of Shalfeh. The interventions also aim to enhance climate change awareness and introduce simple yet impactful behaviour changes to nature-based solutions at the city level.
Funding amount: US$ 900,000

Donor: Japan Supplementary Budget (JSB)

 

Duration: January 2023 to December 2023
Location: Shalfeh, Tripoli
Status: Active
Number of beneficiaries: 100 women, 50 youth, two public schools (1244 students and 96 staff), one health dispensary (3000 patient monthly)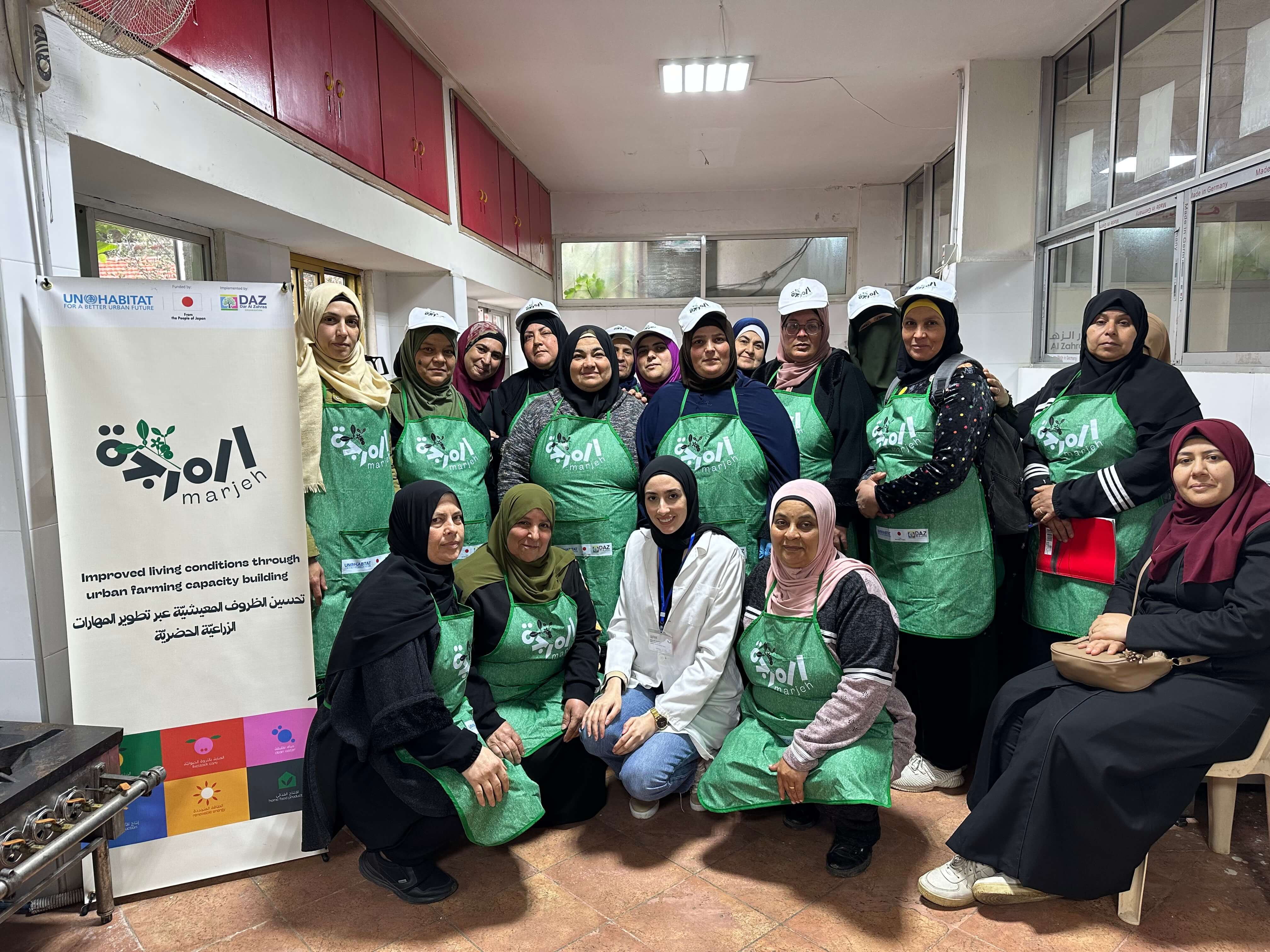 | | |
| --- | --- |
| 100 women and 50 youth have gained proper skills to undertake urban farming activities. | Develop the skills of selected women and youth on urban farming. This involves multiple topics including urban farming techniques, proper planting, watering, harvesting, composting, packaging, and marketing. The selection of beneficiaries will be based on clear and transparent criteria. |
| Inhabitants of the targeted community, mainly children and women, enjoy improved hygiene through the access to clean water in schools and health facilities and raised awareness on proper hygiene practices | Supply and install water filtering and solar energy systems within 2 public schools (Samih Mawlawi PS, Hay El Nozha PS) and one health dispensary (Hay El Nozha dispensary) located within the community. |
Impact
Right
"I benefited a lot from this project. If I want to open a start-up project, I have the necessary experience, and if I decide to raise livestock, I have the experience to care for them.
If I implemented my start-up project, I will improve my livelihood because of these difficult circumstances, I will achieve self-sufficiency and secure income for myself and for my husband and children."
Related Sustainable Development Goals
Donors and partners
UN-Habitat conducted a detailed assessment of the neighbourhood of Shalfeh to profile different sectors of Shalfeh, Shok and Hay Nozha, where Dar Al Zahraa (DAZ) Agria farm was identified through the assessment. The farm consists of a 12,000m2 area bordering Abu Ali River and the plot includes an orchard, vegetable gardens, space for livestock (cows, sheep and chickens) and a training centre. Through the partnership with DAZ, UN-Habitat will rehabilitate and equip the training facilities located in DAZ agricultural land and the project will build the capacities of 100 women and 50 youth on good practices related to urban farming and agriculture production. 
The project will also provide technical support to trained women and youth to practice gained urban farming skills and techniques on small plots of land offered through DAZ or in other areas (balconies, roofs, open spaces). It will also link interested women and youth with institutions that provide advanced training on urban farming including food processing and agri-businesses. Successful trainees will be provided with urban farming toolkits that will help them continue advancing on different tracks post-project and will be connected with potential local catering or food industries to ensure continuation of urban farming activities.