| | |
| --- | --- |
| Funding amount: US$ 893,176 | Donor: Royal Norwegian Embassy in Beirut |
| Duration: 2018 - 2021 | Location: El Jazzar Street, Sabra, Beirut |
| Status: Closed | Number of beneficiaries: 1,066 |
With the aim of improving quality of life and supporting stability in the most vulnerable neighbourhoods of Beirut, UN-Habitat in coordination with the Municipality of Beirut and other subnational authorities is
implementing several multisectoral works focused on upgrading 22 buildings, rehabilitation of water,
stormwater and electrical networks of El Jazzar street, and sanitation and hygiene improvement, and mobility to alleviate poverty and enhance living conditions of residents living in Sabra.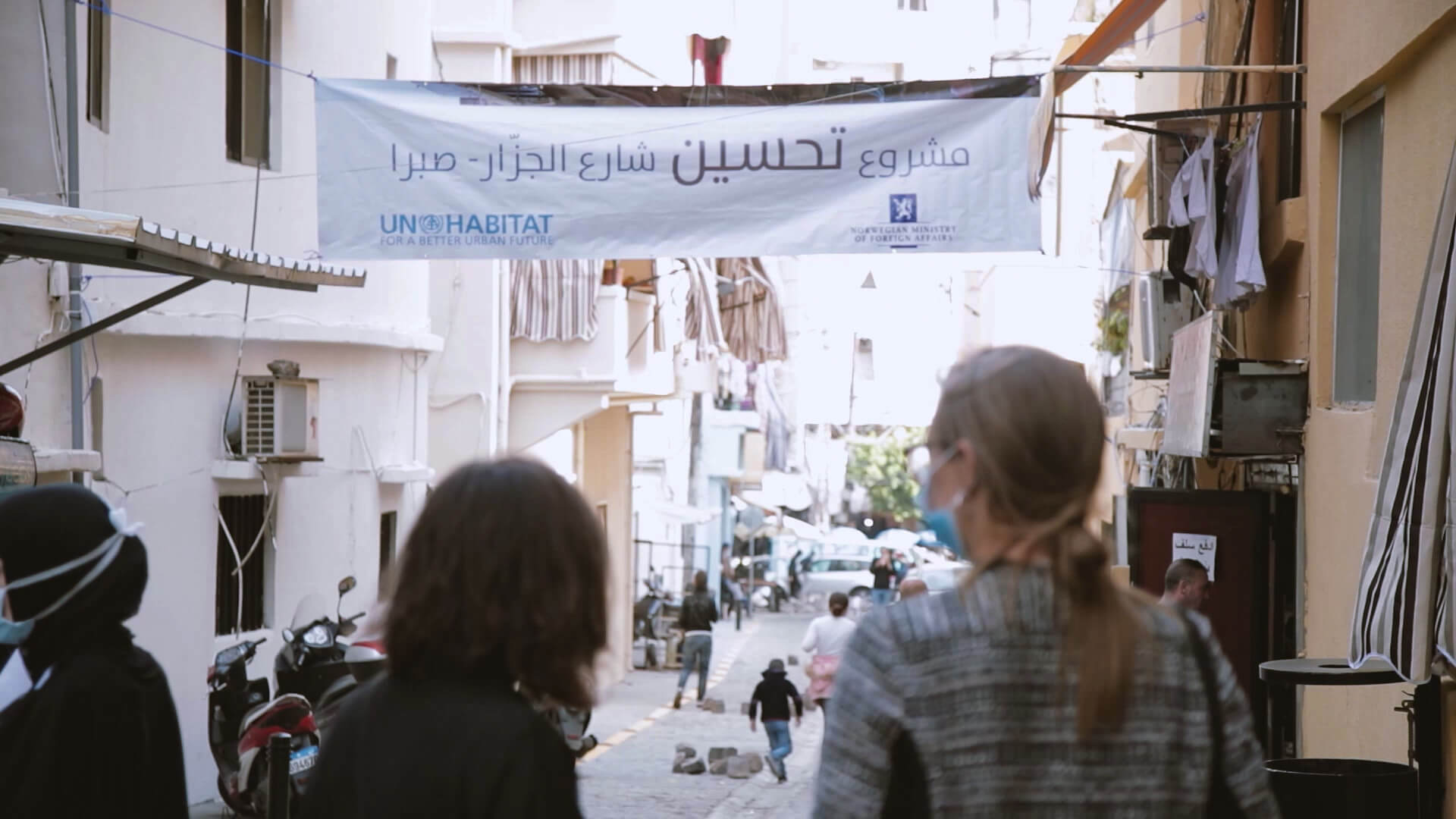 Sabra is a densely built area composed of three Palestinian gatherings and informal settlements characterized by substandard living conditions and high density which has increased as a result of the Syrian refugee crisis. El Jazzar street is considered as one of the most vulnerable sub-neighbourhoods within Sabra spreading over 0.016 Km 2 and composed of 49 buildings and accommodating a mixed community of more than 1,000 inhabitants who are mainly Lebanese, in addition to Syrian and Palestinian refugees. This sub-neighbourhood is characterized by vast socio-economic and infrastructure challenges such as overcrowding, bad housing/shelter conditions, deteriorated infrastructure, and weak local economy.
The project uses participatory planning methods and community-based decision-making processes to promote an integrated response that secures benefits of interventions to all residents.
Throughout the project's planning, implementation and monitoring phases, the neighbourhood's residents are actively involved in participatory and community-based decision-making processes. This dialogue platform is one of the major outcomes of the project, whereby host communities and Palestinian and Syrian refugees were exchanging opinions on project activities and impact, which enhanced the sustainability and sense of ownership towards the project.
1,066 residents benefitted at street level
477 residents benefitted at building level
Donors and partners
Municipality of Beirut
Electricité du Liban (EdL) 
Beirut and Mount Lebanon Water Establishment (BMLWE)
Norwegian Refugee Council (NRC)
Save the Children (SC) 
The popular Aid for Relief and
Development (PARD)