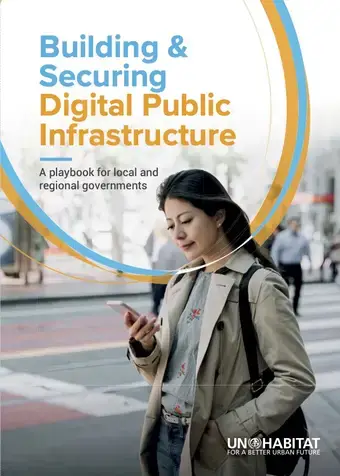 Launched in 2020, UN-Habitat's flagship programme 'People-centered Smart Cities' acknowledges the transformative potential that digital technologies can have for sustainable urban development. Through the people-centered smart cities flagship programme, UN- Habitat provides strategic and technical support on digital transformation to national, regional and local governments.
'Building & securing digital public infrastructure' is one of the new playbooks which are key normative components of UN-Habitat's people-centered smart cities flagship programme. This new serie of playbooks aim to empower local governments to take a multi-stakeholder approach to digital transformation that realizes sustainability, inclusivity, prosperity and human rights for the benefit of all. To that end, local, regional and national governments will find pragmatic guidance for how to develop smart city strategies that are more inclusive, sustainable, and aligned to the actual needs of residents.
Traditionally, infrastructure has referred to physical systems like roads, sidewalks, and power grids that underpin daily life in cities. Today, local and national governments are facing a new layer of public infrastructure that is taking precedence over how cities control, manage and understand the systems they operate: digital infrastructure. In the context of this playbook, digital infrastructure refers to the tools and systems required to make digital life function in cities.
Regarding the implementation of robust digital public infrastructure, stakeholders need to ensure that digital public infrastructure, and the data that supports it, is secure. Cybersecurity threats to local and national governments have
become increasingly prevalent in recent years, further emphasising the need for cities to act. However, cybersecurity laws and policies have a direct impact on human rights, such as the right to privacy, freedom of expression, and the free flow of information. While cybersecurity laws focus on introducing policies to protect sensitive information, they can also introduce provisions that threaten citizens' privacy or increase censorship. City governments should take care to educate residents on cybersecurity issues, be transparent about adopted cybersecurity policies or laws, and take a human-rights approach to a cybersecurity strategy.
This Playbook is broken down into three activities that support the Infrastructure and Security pillars of the people-centred smart city approach by UN-Habitat. Each activity includes core values and strategic goals that organizations can adopt to drive forward their people-centred smart city approach. For each goal, UN-Habitat outline a series of actions, recommendations and case studies. Finally, each activity ends with a policy toolkit.