NAIROBI, 31 May 2019 - The final session of the first UN-Habitat Assembly ended on a high note with five Resolutions as well as a Ministerial Declaration being agreed in the concluding session. These will help frame the global urbanization agenda in the upcoming years, and become global norms and policies to guide how cities and communities are planned, managed and governed.
The vibrant five day gathering, opened on Monday by Kenya's President Uhuru Kenyatta, had close to 4,000 attendees, with senior representatives from 127 Member States. Over 100 plenaries and sessions brought together Heads of State and Government, Ministers, mayors business leaders, NGOs and academics. At these lively sessions participants highlighted major trends and international best practices related to cities and communities and sustainable urbanization. Leaders in their fields proposed innovative solutions to the challenges facing many cities such as urban poverty, marginalization, unemployment and climate change. These included the computer game Minecraft for inclusive urban planning, recycling food waste for fuel, and using spatial data to effectively respond to urban incidents. There were 27 city stage and press centre events, a youth tent, photo exhibitions and on Thursday evening a concert inside the UN complex at the same time as others in informal settlements around Nairobi.
One of the recurring themes was how cities and communities could leverage the opportunities of sustainable urban development to drive innovation to achieve a lasting and sustainable impact on communities. The bustling Urban Solutions Exhibition which was open all week showcased leading innovative products and designs to address global urban challenges.
In the opening session Ms. Martha Delgado from Mexico was unanimously elected President of the UN-Habitat Assembly, and the Executive Board was elected from the gathered Member State representatives. The UN-Habitat Assembly is the highest-level decision-making body focused on sustainable urbanization and human settlements which also provides strategic guidance to UN-Habitat in its work.
During Wednesday's Partnership and Pledging Conference, USD 152 million was pledged by 21 countries namely: China, Colombia, France, the Gambia, Germany, Ghana, India, Japan, Kenya, Madagascar, Malawi, Morocco, Nigeria, Norway, Poland, Republic of Congo, South Africa, South Sudan, Sweden, Switzerland and Zambia.
At the closing session, the UN-Habitat Executive Director Maimunah Mohd Sharif said they all shared a common drive to improve cities and communities. "The issues that symbolize our common fight and that bring us together, whether it is extreme poverty, inequalities, slums, social exclusion and marginalization, gender-based discrimination, humanitarian crises, conflicts, climate change, or high unemployment, deserve more attention than our differences," she said.
The next UN-Habitat Assembly will take place in four years' time from 5 to 9 June 2023.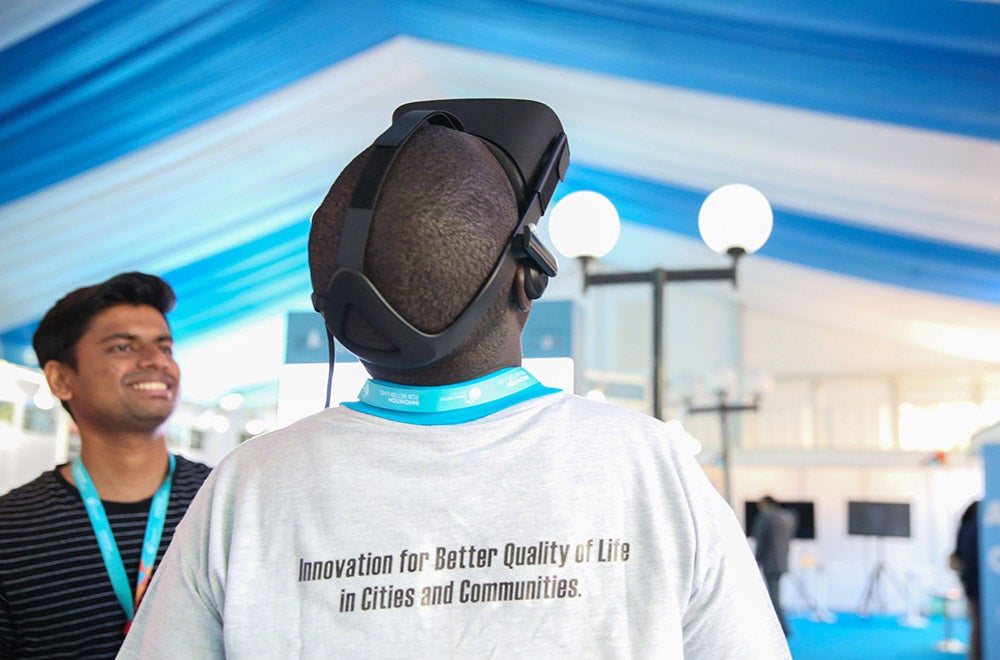 A delegate tests out a virtual reality headset to explore the 10th World Urban Forum to be held in Abu Dhabi, UAE.
[IISD/ENB/Kiara Worth]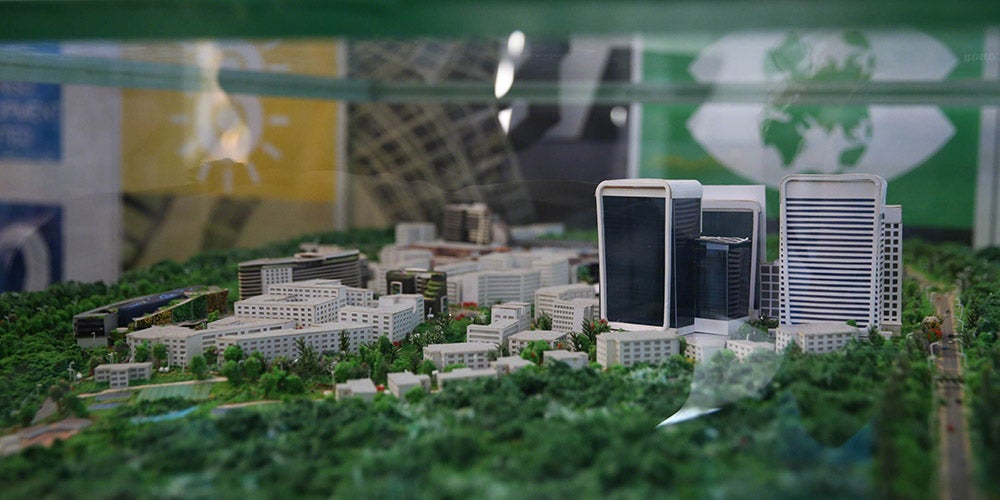 A model of urban design in Kenya at the Urban Solutions Expo - Photo by IISD/ENB | Kiara Worth