Lalitpur City, Nepal, 31 March 2022 – Nepal's Katmandu Valley is home to seven world heritage sites and over 50 heritage settlements -- old towns characterised by a typical pattern of compact row housing of three to four floors, brick houses clustered around courts, stone paved streets and narrow alleys. They are peppered with temples and open spaces usually with traditional water sources such as stone spout, wells and pond.
Dating back centuries, these settlements hold historical and architectural significance and rich cultural values, in addition to their contribution to Nepal's tourism industry.
In 2015, an earthquake severely damaged many of the houses and monuments in several heritage settlements. With physical damage came ruin to the economic vitality that many of these settlements enjoyed from year-long international tourism.
UN-Habitat project
In a project that started in 2018, UN-Habitat project Sustainable Tourism and Green Growth for Heritage Settlements of Kathmandu Valley Project worked to rebuild the heritage settlements of Bungamati and Pilachhen, the latter a farm community on outskirts of Lalitpur, which is also known as city of craft.
The project was funded by European Union's Switch Asia Initiative.
These households still depend on agriculture, although many community members have shifted to regular jobs and business. In the reconstruction project, UN-Habitat provided technical assistance to use typical traditional technology and restore Newar settlement morphology in which the houses are planned around courtyard with streets and underpasses leading to interconnected open spaces.
In addition to technical assistance, the project supported in restoring the rest house and the traditional pond in Pilachhen, which has around 139 houses for a population of about 700 people.
Ponds in such heritage settlements have ecological, religious and socio-cultural significance. They help enhance micro-climate, fulfill water demand in the dense settlements, and contribute to in ground water recharge and storm water management.
The Pilachhen pond after renovation
[UNHabitat/Srijan_Shrestha]
Handover ceremony
The culmination of the UN-Habitat project was marked at a ceremony earlier this month at the Pilachhen to inaugurate the pond and demonstrate both tangible and intangible cultural and tourism promotion contributions of the project.
Speaking in the event, the European Union Ambassador Nona Deprez emphasized the relevance of these initiatives to enable transition of heritage settlements towards the green economy by strengthening the institutional capacity of local governments and communities.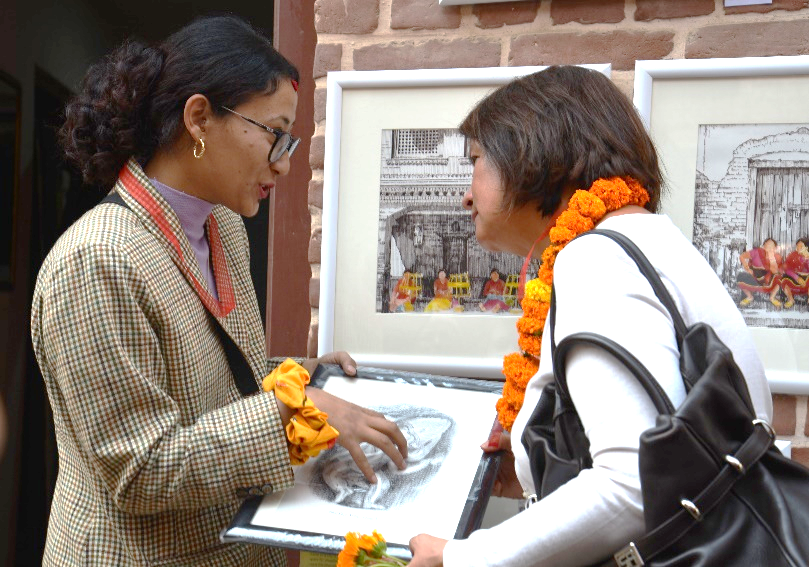 Priyanka Maharjan, project beneficiary and a young artist, explaining her arts to the EU Ambassador
[UNHabitat/Sagar BC]
Pragya Pradhan, UN-Habitat Programme Manager in Nepal, emphasised that "the project serves as a replicable model that integrates physical rebuilding of heritage settlement with economic recovery of the communities through building their entrepreneurship skills and establishing enterprises to revitalize the tourism sector."
She added: "We foresee its relevance even more today as we commit to green recovery of the sector after COVID-19, and building sustainable economy based on local resources and competitive advantages such as heritage tourism.
At the ceremony, the local officials handed over to the national government Heritage Recovery Plans and Tourism Development and Entrepreneurship Development Plans that were prepared through community processes and intensive consultations.
Local and national authorities could now use those plans for needed vertical collaborations to ensure additional logistical, programmatic, and local investment details are carried out based on the prioritization of initiatives framed in the Heritage Recovery Plan.
Moving forward
Nepal's Under Secretary of the Ministry of Culture, Tourism and Civil Aviation and the Director of the country's Tourism Board highlighted the significance of the project and committed to provide further capacity building in other areas as needed.
The UN-Habitat project also provided trainings to the women and youth on tourism and skills development linked to intangible heritage, local handicraft, food and hospitality.
The training sessions benefitted 600 individuals, of whom 60 were from Pilachhen and later showcased their products for ceremony exhibition.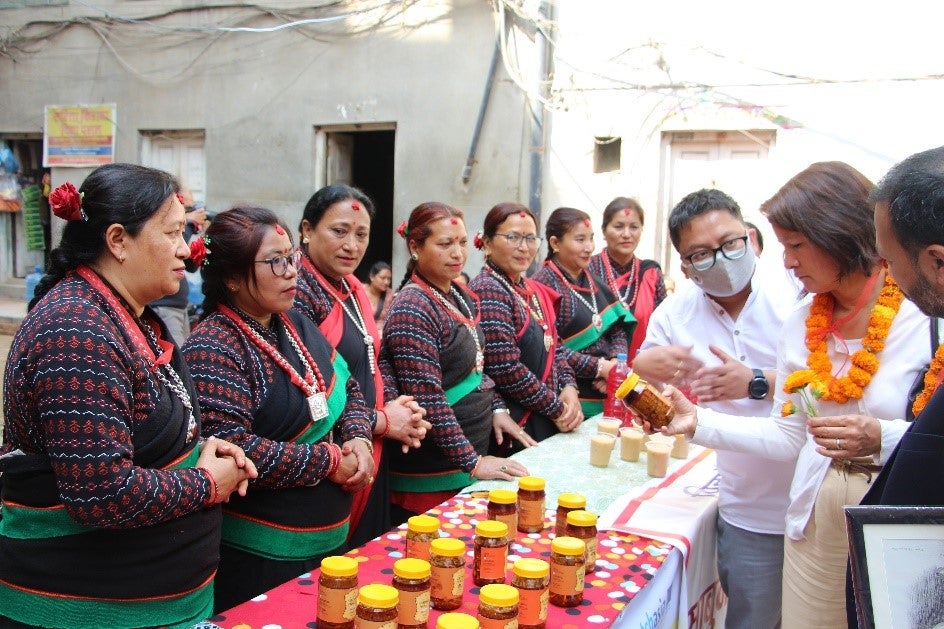 Women-led enterprises showcased their products during the ceremony
[UNHabitat/Bishaz_Shiwakoti]
In his closing remarks, Mayor Chiri Babu Maharjan reiterated his commitment to prioritising green development through conservation and promotion of the heritage settlements. He highlighted various initiatives that have been undertaken by the municipality to reconstruct monuments, preserve and reclaim public open spaces and green mobility to connect the heritage sites.