Quelimane, Mozambique  30 August 2022 - For several years, Quelimane, a coastal city in the central region of Mozambique, has been amongst the few urban authorities to place cycling at the heart of its urban transportation system.  Cycling is so much a part of the fabric of the city that during its 80th celebrations the Municipality of Quelimane invited UN-Habitat and the Institute for Transportation Development and Policy (ITDP), in coordination with the Ministry of Transport and Communications to launch the "Reclaiming the Streets for Pedestrians and Cyclists in Africa" project. The multifaceted launch incorporated tactical urbanism interventions focused on road safety, a mural painting, a bike march, a photography exhibition, and a panel discussion on road safety.
Funded by the United Nations Road Safety Fund (UNRSF), "Reclaiming Streets" aims to improve road safety for pedestrians and cyclists with a special focus on children's needs in 5 project countries. Despite being home to one of the first bicycle lanes in Mozambique and having a strong cycling culture, cyclists and pedestrians in Quelimane are exposed to numerous risks due to a lack of infrastructure and increasing motorization. According to a new report released by UN-Habitat and partners, in 2019, 58% of road fatalities in Mozambique were pedestrians, and a further 5% were cyclists.
The main seminar and launch event at the city's 80th celebration aimed at exchanging experiences among public institutions, civil society organizations, and national and international experts on the right to road safety. Stakeholders analyzed policy development for active mobility at the national and municipal levels and discussed the challenges and opportunities to encourage non-motorized transportation, considering all road actors, and a special focus on women and children. The event was followed by a cycle tour led by Quelimane's Mayor, Dr. Manuel de Araújo. The Association of Bicycle and Motorcycle Taxi Drivers of Zambezia (ATAMOZ) joined the activities, in order to raise awareness on the importance of non-motorized transport and the role that it plays in the livelihoods of many young people in Quelimane.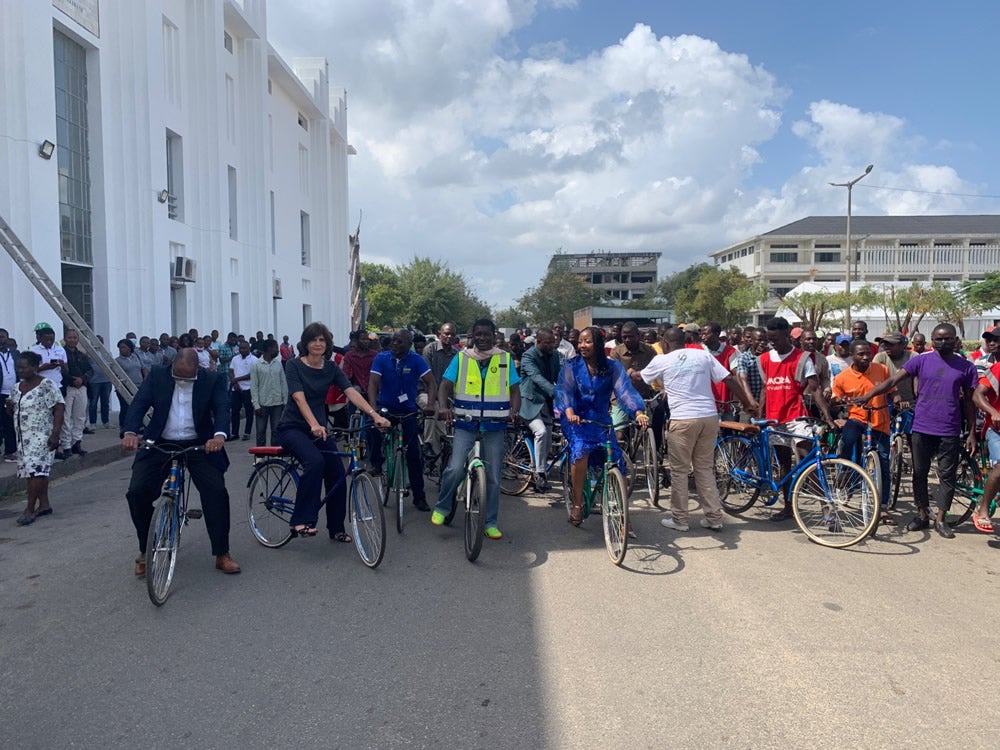 (left to right): Dr. Costa Tembe, Ministry of Transports and Communications; Dr. Sandra Roque, UN-Habitat Mozambique Head of Office; Dr. Manuel de Araújo, Mayor of Quelimane; Dr. Ivone Soares (Politician and Journalist).
[UN-Habitat/Mozambique]
In tandem with the celebrations, a road crossing with high accident rates was identified in coordination with local authorities and CSOs for a temporary tactical urbanism intervention. In a collaborative street design exercise, an intervention aimed at turning the crossing into a safer, more attractive, and inclusive space for all, especially pedestrians, cyclists, and other vulnerable groups such as children, the elderly, and people with disabilities was designed and implemented.
"We will make sure that drivers, cyclists, and pedestrians learn how to navigate according to the proposed design." said Mr. Lima Saue, the Municipal Traffic Police Chief. "It will indeed help reduce the accidents in this crossing and keep our children safe"
The activities in Quelimane involved engaging with several stakeholders and young activists too. A photography contest was open to all citizens and, consequently, a photo exhibition was organized to reflect on the role of active mobility in urban and rural settings. The exhibition promoted photography as a tool to catalyze a change in behavior on core issues surrounding accessibility in cities and the safety of those who move on foot or by bike.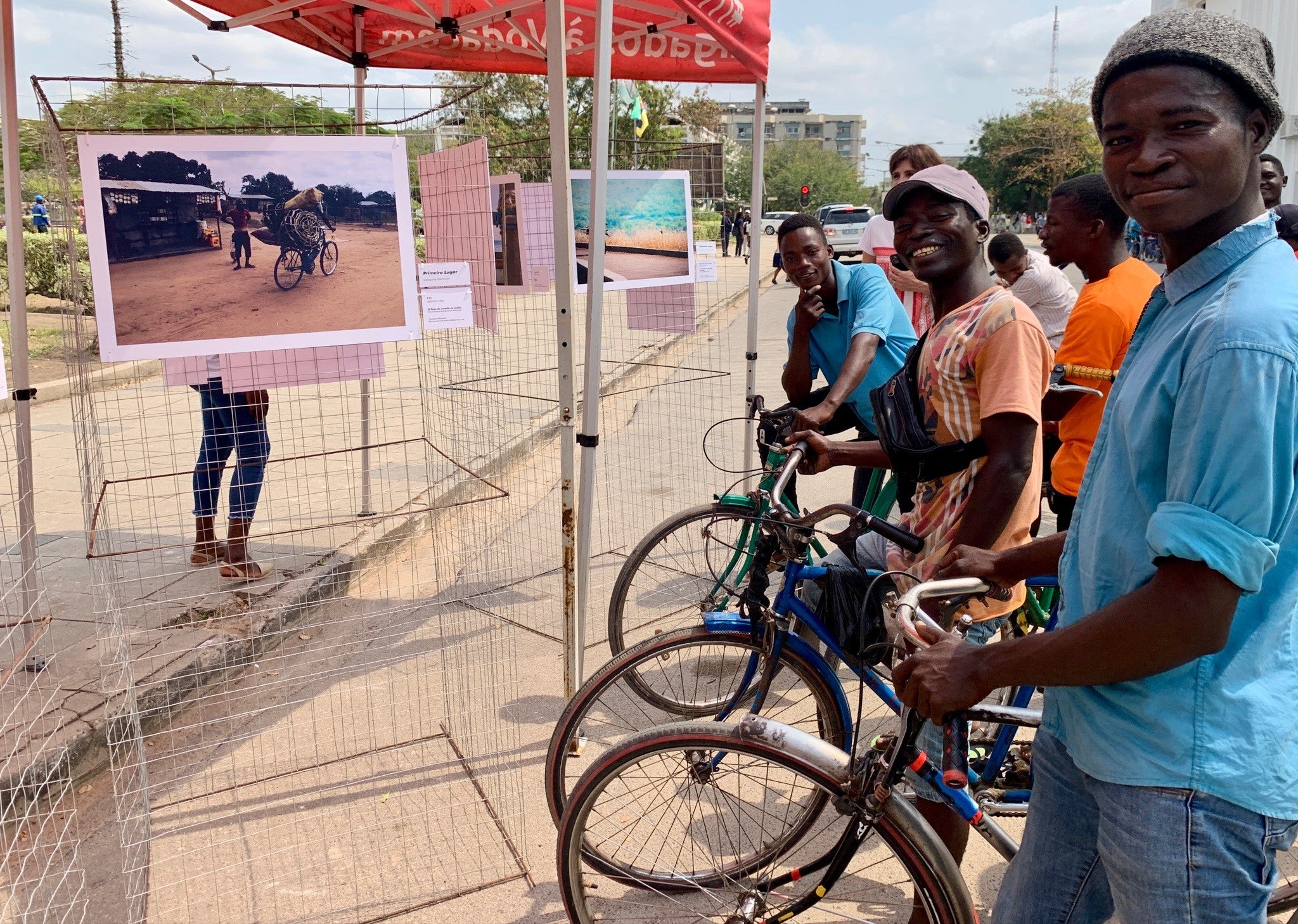 Cyclists posing while appreciating the road safety and active mobility photo exhibition at Quelimane's Culture and Handcraft Fair.
[UN-Habitat]
With the help of the activists and a local artist, the project launch and message of the initiative will have a lasting impact in Quelimane.  A mural communicating key messages on road safety for all will remain in the city long after the celebrations. The mural "will help us teach citizens, especially children and elderly how to reduce the risk of getting into an accident on the streets." said Mr. Elias Levene, Chief Deputy of the Mozambican Association for Victims of Road Insecurity (AMVIRO) in Zambézia. "It is an open-air school that is already catching everyone's attention".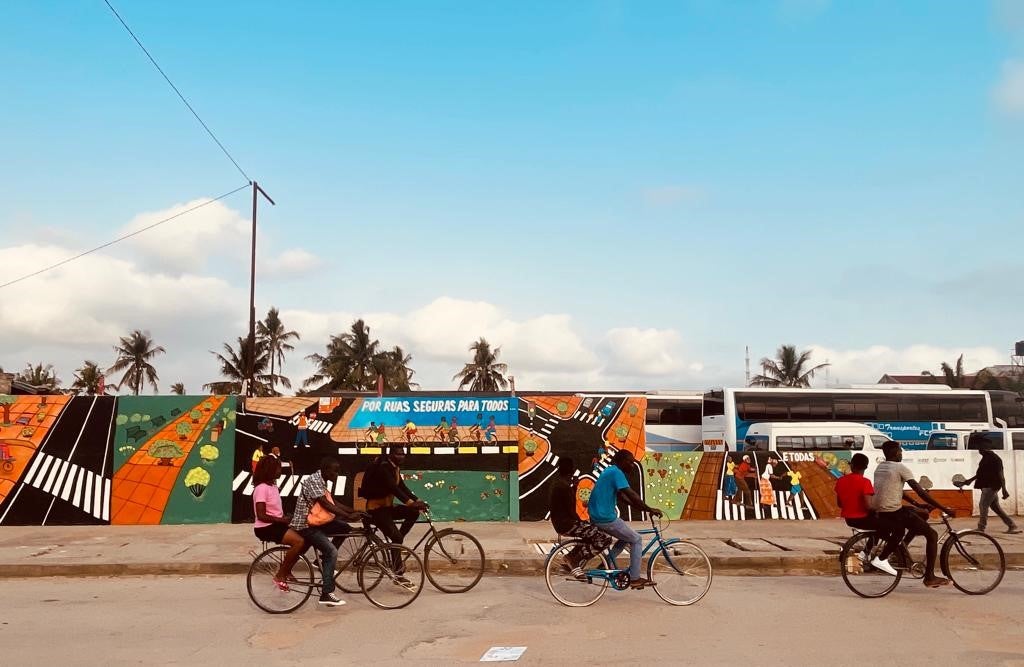 Mural painting with key messages on road safety painted on Eduardo Mondlane Avenue, Quelimane as part of the Reclaiming Streets Activities.
[UN-Habitat]
"Sustainable mobility is a development issue" said Dr. Fernando Ouana, Director of Transports and Security, Ministry of Transports and Communications who indicated that non-motorized transport must be a priority. "The road environment must be redesigned to allow citizens to walk and ride with safety."
The week of participatory activities and celebrations with the engagement of decision-makers and citizens helped to demonstrate that providing safer streets for all can save lives, improve well-being, and encourage more people, especially decision-makers, to embrace active mobility as an essential and valuable transport mode.  UN-Habitat, ITDP, and other Reclaiming Streets project partners will continue to work in partnership with the local authorities in Mozambique, Guinea, Ethiopia, Rwanda, and Kenya in the coming years to improve street design standards for people that walk and cycle and encourage the development of safer and more inclusive cities in Africa.