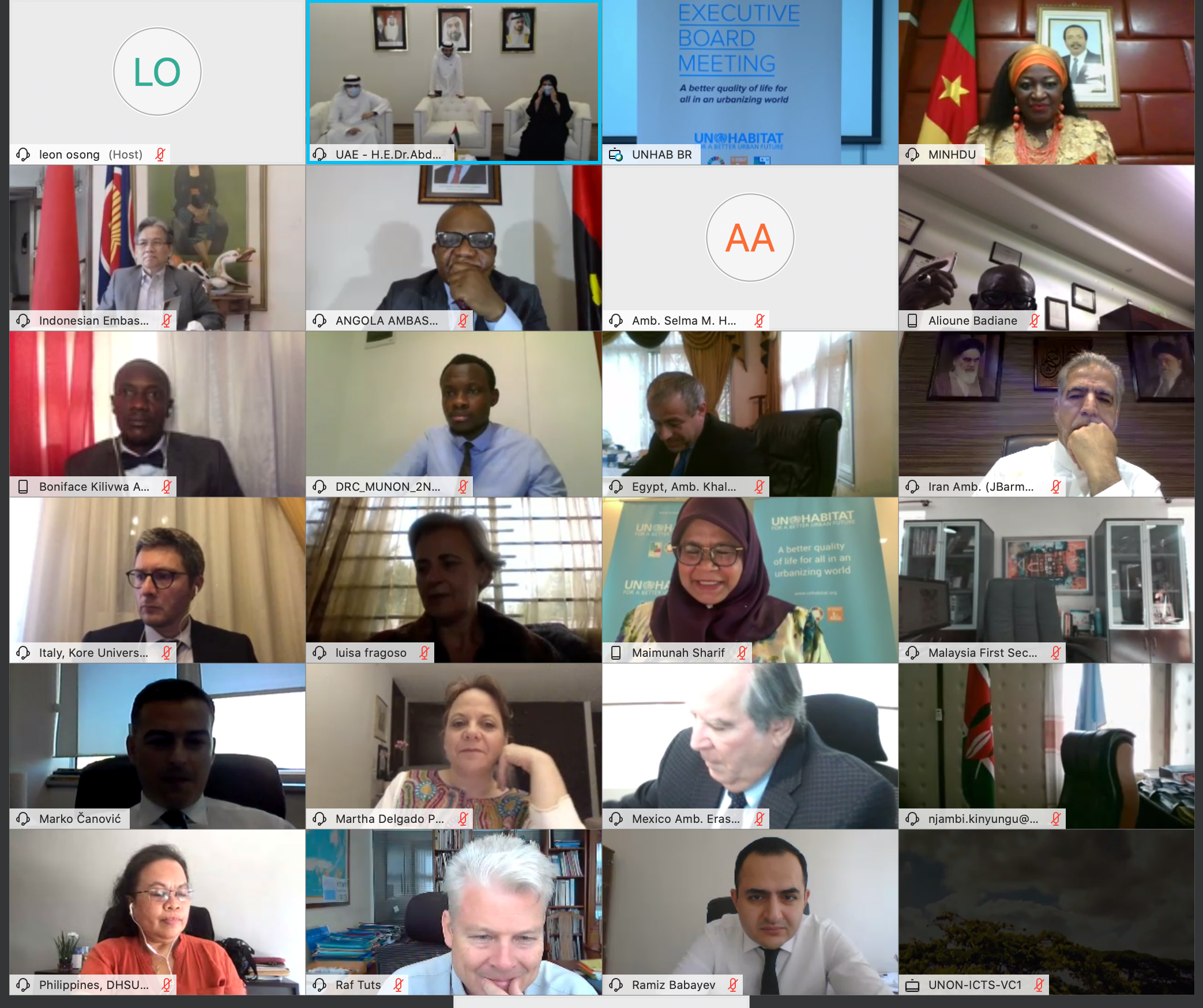 Nairobi 29 June 2020—The First Session of the UN-Habitat Executive Board this year was held virtually due to the COVID-19 pandemic.
Over 330 participants registered for the Session, which was chaired by the United States, including  representatives from the 36 members of the Executive Board and other observer countries, civil society, UN agencies and others.
In her opening speech, the Director General of the United Nations Office in Nairobi (UNON)  Zainab Hawa Bangura congratulated the delegates for their commitment to the Board despite the challenges posed by the pandemic, they could still meet virtually to conduct the business of the Executive Board of UN-Habitat.
The President of United Nations Habitat Assembly (UNHA) Martha Delgado reminded the participants that the unprecedented challenges posed by COVID-19 required a renewed effort to  surmount the obstacles.
Ms Delgado, who is Undersecretary of Multilateral Affairs and Human Rights at the Mexican Ministry of Foreign Affairs, highlighted that the pandemic was not only a health challenge  as it had also reshaped economies, transformed work and living spaces, mobility needs, and even the way people interacted and impacted the most marginalized the most.
"I am happy to see that, despite being a relatively small international agency, UN Habitat has been working diligently to ensure that the urban dimension, as well as urban-related solutions, have been well-positioned amongst the key actions of the wider UN system COVID-19 relief efforts," she said.
Throughout the last six months, the mandate of UN-Habitat is more important than ever," she added. "I strongly urge all Member States to support them by making contributions that allow UN-Habitat to continue carrying out and fulfil its obligations and mandate."
UN-Habitat Executive Director Maimunah Mohd Sharif told the meeting that although there was no return to how the world was before the pandemic, there was every opportunity to address underlying inequalities and renew efforts to build sustainable, inclusive, and safe cities and UN-Habitat was playing a prominent role in the overall UN Response.  
Overall the Executive Director said that UN-Habitat was managing 268 on-going projects two thirds of them in field offices and had a presence in over 70 countries worldwide.
The Permanent Secretary for Ministry of Transport, Infrastructure, Housing, Urban Development and Public Works of Kenya Charles Hinga, called for Member States to update their contributions given the work ahead facing UN-Habitat.
The meeting also looked at the implementation of resolutions and decisions adopted by the UN-Habitat Assembly at its first session in May 2019. The Director of the Global Solutions Division, Raf Tuts outlined the progress made on various resolutions including the United Nations System-Wide Guidelines on Safer Cities and Human Settlements, enhancing capacity-building for the implementation of the New Urban Agenda and the urban dimension of the 2030 Agenda for Sustainable Development, gender equality and enhancing urban-rural linkages for sustainable urbanization and human settlements.