April 2020 - Ministers of housing and urban development from Latin America met in a virtual Forum to exchange ideas on responding to COVID-19 and alleviate the impact, particularly in informal settlements.
The meeting was convened by Minister Jonathan Malagon of Colombia currently President of the Forum of Ministers and High-Level Authorities on Housing and Urban Development in Latin America and the Caribbean (MINURVI) and facilitated by the Urban Housing Practitioners Hub, a partnership that includes UN-Habitat, Cities Alliance, Habitat for Humanity, the Inter-American Housing Union (UNIAPRAVI) and other regional institutions.
The meeting brought together Ministers and Vice-Ministers from Argentina, Brazil, Chile, Colombia, Costa Rica, Ecuador, El Salvador, Honduras, Panama and Paraguay, as well as regional representatives from various UN agencies and the UN Regional Commission for Latin America, other intergovernmental organizations, regional political grouping and representatives from civil society organizations and the private sector.
The Forum called "Precarious settlements and social housing: impacts of COVID-19 and responses" focused on informal settlements, the informal economy and ensuring that the most vulnerable are not left behind.
The Regional Representative for UN-Habitat in Latin America and the Caribbean, Elkin Velásquez, highlighted the need to offer an integrated response to the challenge of the emergency and the transformation of informal settlements, with a view to the post-pandemic "new normal".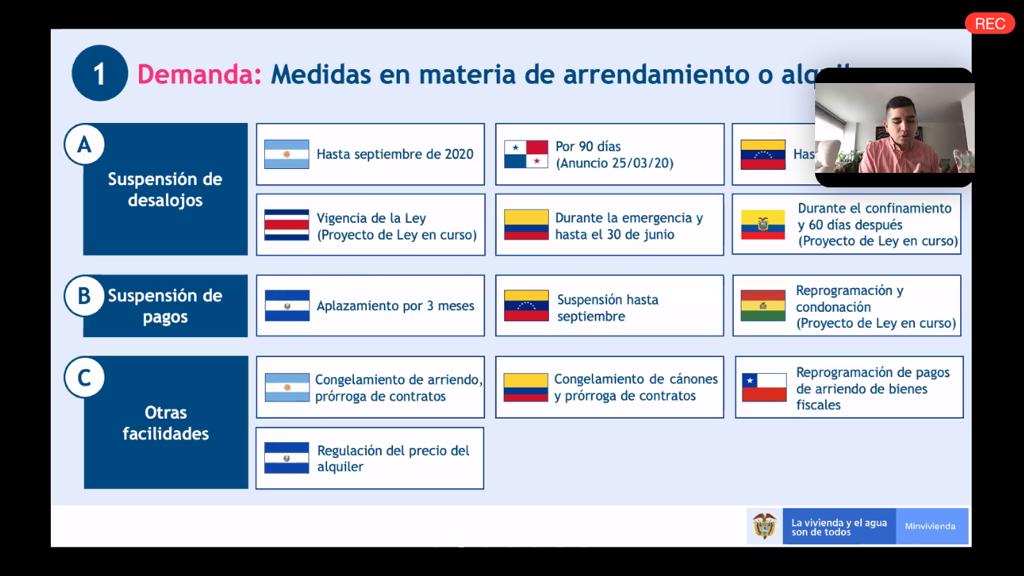 Colombia's Housing Minister Jonathan Malagon speaks during the virtual Forum on "Precarious settlements and social housing: impacts of COVID-19 and responses" involving Ministers and regional representatives from Latin America
The Ministers discussed various emergency measures including suspension of all evictions, water and energy continuity, renegotiation of mortgages and rent payments particularly for the poor, distribution of basic food and hygiene items and monitoring disease outbreaks in informal settlements.
The need to support small and medium sized businesses and the question of landlords who owned one property and relied on the income was also discussed. Minister Malagon spoke of the need to look also at "the supply side of the housing construction sector which provides a significant chunk of employment in the country". 
Participants agreed on the importance of regional integration and cooperation not only during the crisis but to ensure a resilient recovery based on promoting the housing and urban development sector as a key driver for an integrated socio-economic reconstruction.
Minister Maria Eugenia Bielsa from Argentina concluded by expressing the wish that the crisis helped strengthen solidarity and the fight against inequality in Latin America and the Caribbean.