Nairobi, 27 May 2019 - During the first day of the inaugural UN-Habitat Assembly, Ministers met to discuss Infrastructure, Cities and Local Action: Mobilizing Commitments for the SG's Climate Action Summit 2019.
Delegates focused on one of the nine tracks being discussed at the UN Secretary-General's Climate Action Summit in September namely Infrastructure, Cities and Local Action, which is co-led by Kenya and Turkey with the support of UN-Habitat. This includes transport, buildings and climate resilience of the urban poor.
The Prime Minister of Fiji,Frank Bainimarama warned Ministers and other delegates that "many vulnerable economies are only one severe weather event away from complete decimation" and called new financing mechanisms and new technologies to mitigate the risk
"Presently, our collective global commitments fall badly short of where they need to be, placing our planet on track for three degrees Celsius of warming above pre-industrial levels [which] is a nightmare scenario that we cannot allow to unfold," he said.
Mr. James Macharia, Cabinet Secretary, Transport and Infrastructure, Government of Kenya called for joint action saying: "we must recognize that individual states cannot by themselves mitigate the threat of climate change, international cooperation, shared responsibilities and solidarity are vital if we are to combat climate change and build climate resilience".
Prof. Dr. Mehmet Emin Birpinar, Deputy Minister of Environment and Urbanization and Chief Negotiator for International Climate Change Negotiations of Turkey advocated for urgent, transformative action to reduce emissions from buildings.
Ms. Svenja Schulze, Federal Minister for the Environment, Nature Conservation and Nuclear safety from Germany who was representing the 'Decentralized Climate Finance' sub-track highlighted one of the structural obstacles facing urban climate action as a lack of access to financing.
There were also remarks from the Ambassador of Brazil and representatives from Bangladesh, Pakistan, Costa Rica, the United Kingdom and the European Union.
This was followed by reflections from partners. Ms. Sheela Patel from Slum/Shack Dwellers international (SDI) emphasized SDI's role in "representing the people" and stated that SDI "are very proud that UN-Habitat has invited [them] to work very closely on" the emerging 'Building the Climate Resilience of the Urban Poor' Initiative.
The Mayor Mohamed Sefiani, Mayor of Chefchaouen (Morocco) and a Board Member of the Global Covenant of Mayors for Climate and Energy (GCoM), also emphasized GCoM's support for the 'Building the Climate Resilience of the Urban Poor' Initiative.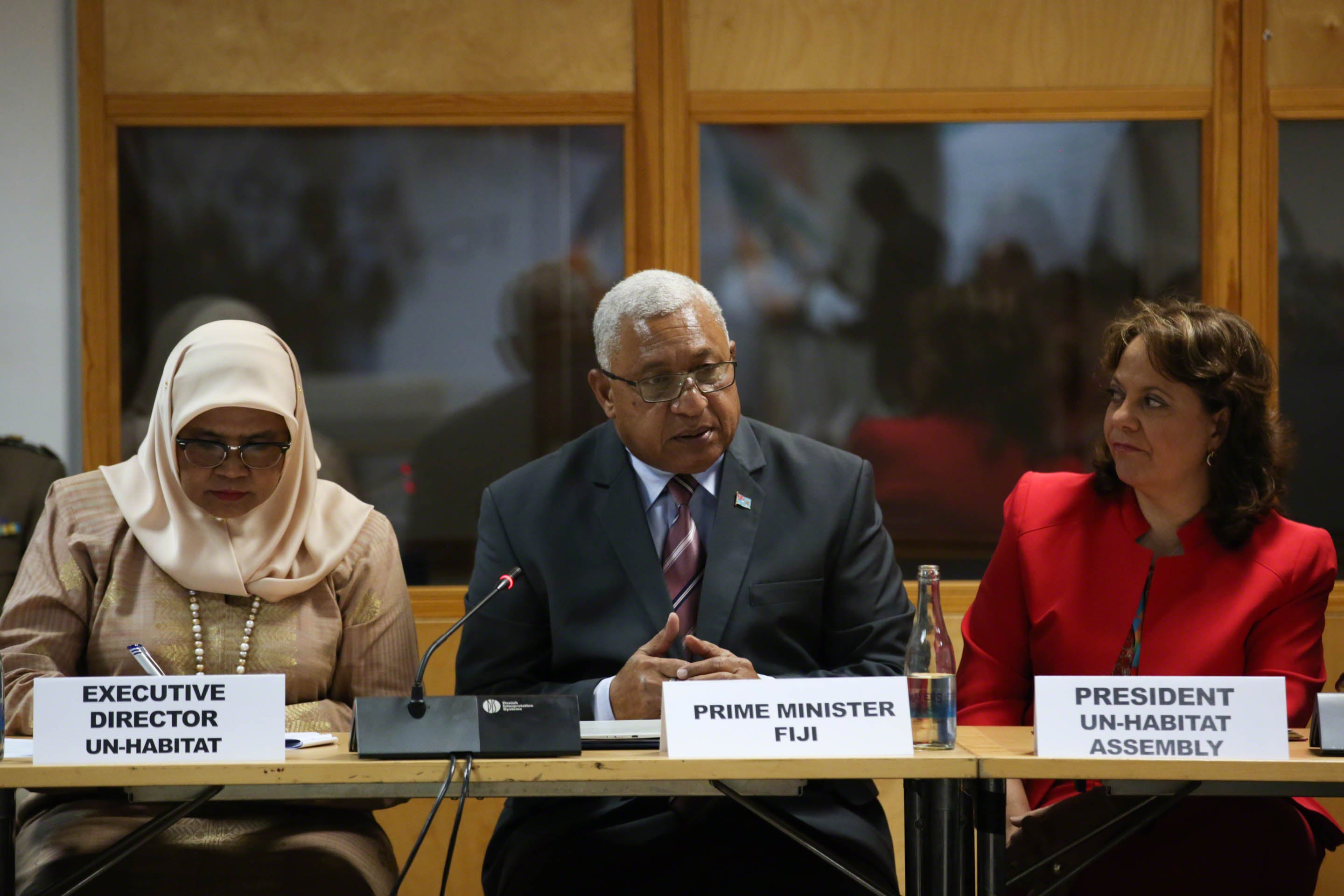 The UN-Habitat Executive Director Maimunha Mohd Sharif, the Prime Minister of Fiji, Frank Bainimarama and the President of the UN-Habitat Assembly Martha Delgado at the Ministerial Round Table on Mobilizing Commitments for the SG's Climate Action Summit 2019 [Photo by by IISD/ENB | Kiara Worth]