NAIROBI, 27 May 2019 – Ugandan Teenager and climate activist, Leah Namugerwa, urged young people to act immediately to prevent climate change at an interactive meeting of young women with adult leaders during the first UN-Habitat Assembly.
"Do not wait for anyone to tell you to inspire change in your community, tell yourself," said Ms Namugerwa who has led her classmates in Kampala in local clean ups and organized rallies against climate change. "Do not wait for tomorrow to start saving our planet, start now."
Her call to action was echoed by many of the young women at the meeting including Canadian student Emma Stevens, who became a youtube sensation singing in her native Miꞌkmaq language. She spoke about her work to save the language and to end violence against indigenous women.
"It saddens me to say that 4,000 indigenous women in Canada have gone missing or were murdered since the 1970s and many of these crimes have gone unsolved," she said. "I wear this traditional ribbon dress in red to honour these women and girls, and to pay tribute to their loved ones who have lost their daughters, sisters, and mothers."
Women leaders from Canada, the Gambia, Iraq, Saudi Arabia and Colombia shared their own experiences with the young women discussing the changes they have seen and the need to continue to strive for equality.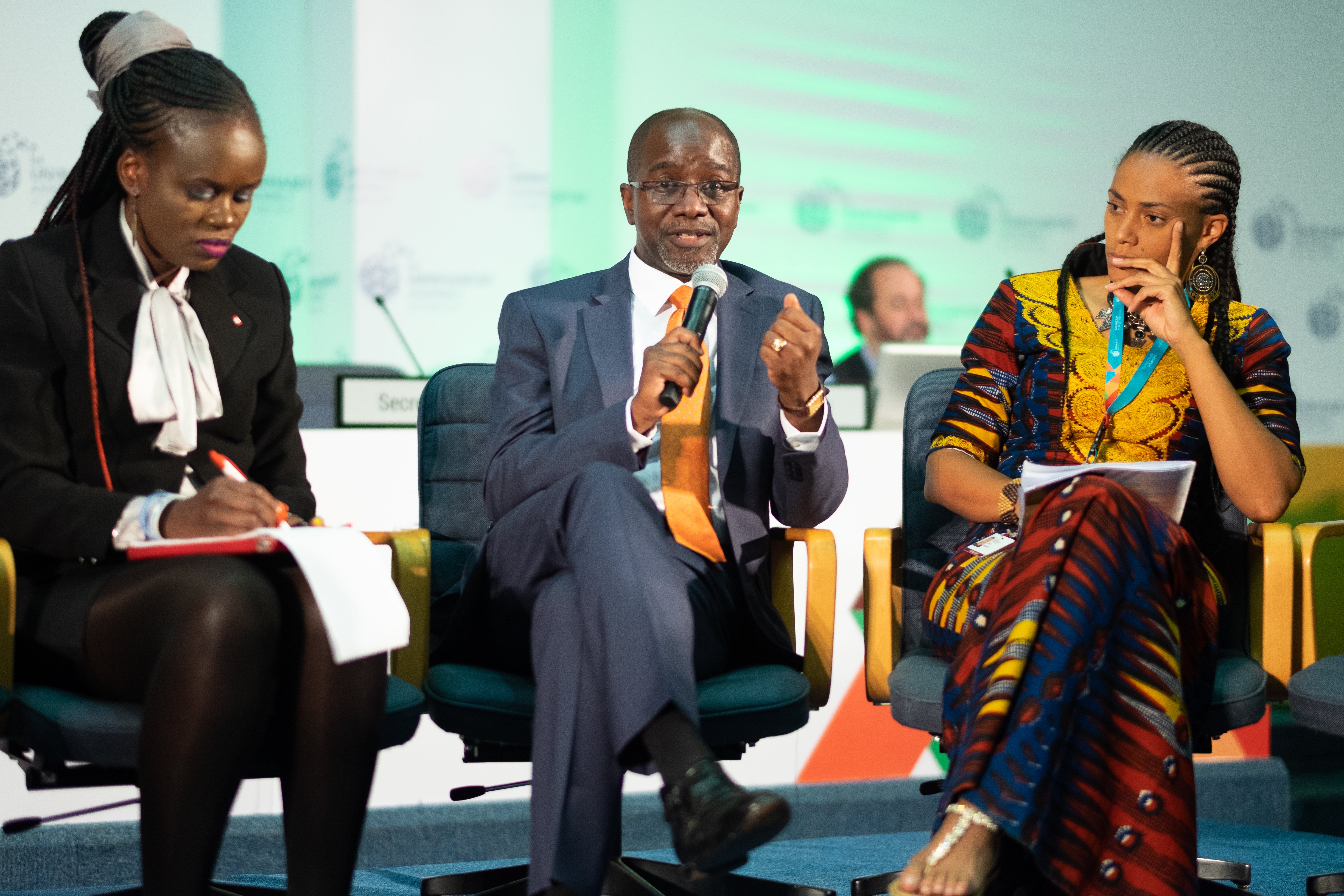 The event took place during the first UN-Habitat Assembly
[UN-Habitat/George Muriama]
Canadian environmentalist, Severn Cullis-Suzuki who made a landmark speech at the Earth Summit in Rio de Janeiro in 1992 when she was just 12, called for children and youth to both work with adults and challenge them to ensure intergenerational justice.
"Youth can speak truth to power. Youth can cut through the complexity that we adults use as excuses and speak to the simple truth - governments today are not working within the physical realities of earth. They are not acting in a way that says the future matters," she said.
Gambian musician and cultural advocate, Sona Jobarte, said she was inspired by the work of the young women who had addressed the meeting.
"You young women are my role models. The reason I do what I do is because if I can affect you even one per cent, you can carry this forward. Even now, when I see what you do, I am inspired and am able to keep going," she said
UN-Habitat's Deputy Executive Director of UN-Habitat, Victor Kisob spoke of the important role of families.
"Parents should play their role in nurturing young girls to get rid of fear instilled in them, especially around in gender-related roles. We need to build a stronger generation of women," he said.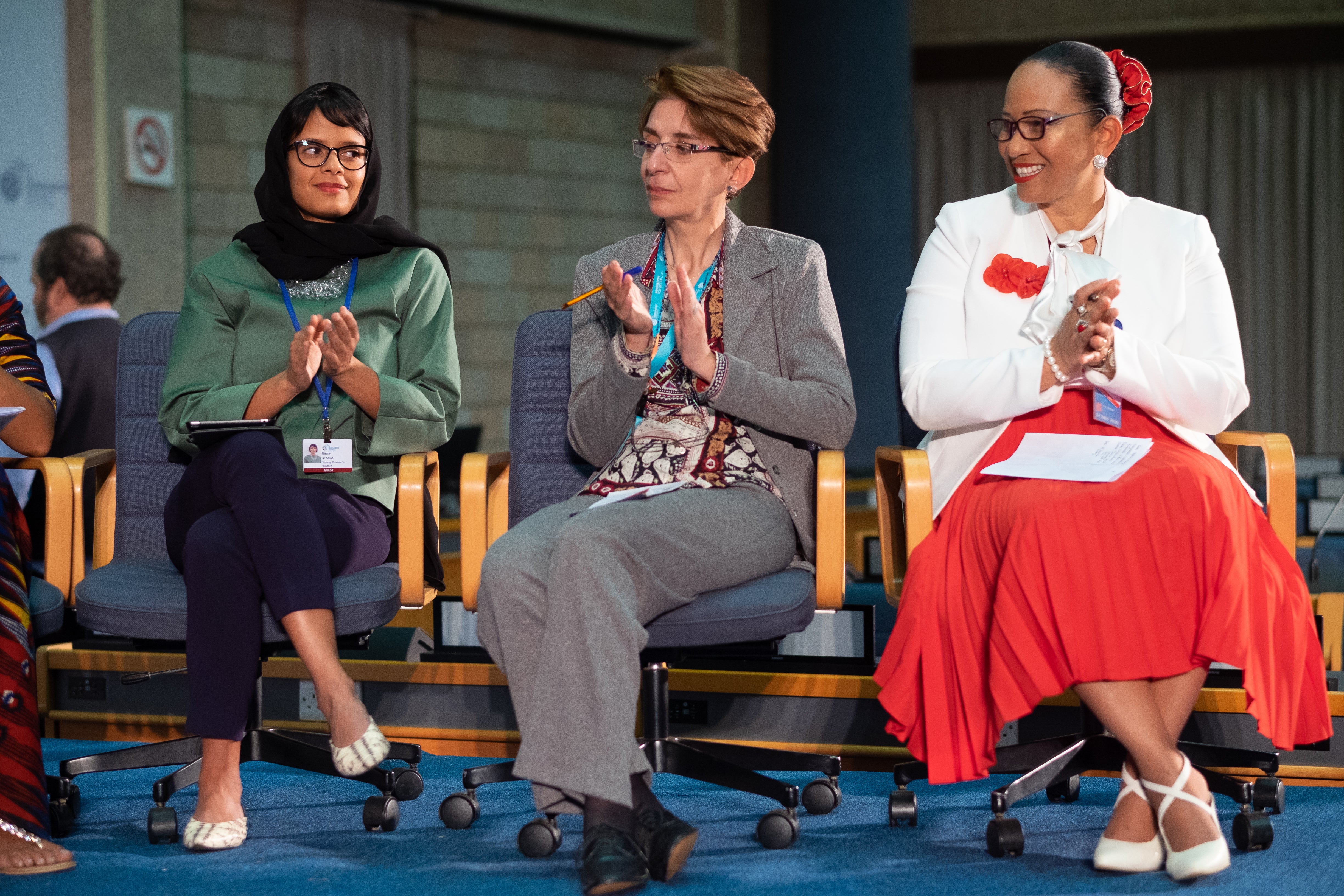 The meeting was an interactive discussion between young women and adult women leaders
[UN-Habitat/George Muriama]
Emma Steven's cover of BlackBird by the Beatles in Mi'kmaq, her Indigenous language, has gained over 400,000 views to 895,000 in Rota since the UN-Habitat Assembly. Paul McCartney and Canadian Prime Minister Justin Trudeau have both given strong praise to her version, sung to bring awareness of the UN International Year of Indigenous Languages that aims to raise awareness of the consequences of the endangerment of Indigenous languages across the world, with an aim to establish a link between language, development, peace, and reconciliation.