Fukuoka, Japan, 27 January 2021 - Since 2009, UN-Habitat Regional Office for Asia and the Pacific (ROAP) based in Fukuoka, Japan has been working closely with local institutions and enterprises to make their environmental technologies available to cities and towns in developing countries where practical and affordable environmental solutions are in great need. The unique setting to match the needs in the regions with Japanese low-cost and simple environmental technologies have resulted in various collaboration cases.
'Fukuoka Method' solid waste management is a well-known example which UN-Habitat has been deploying to various cities including Kiambu County (Kenya), Addis Ababa and Bahir Dar (Ethiopia) and Yangon (Myanmar). Underground rainwater harvesting tank "Tametotto" is another solution UN-Habitat has been implementing in collaboration with Fukuoka-based constructor Daiken.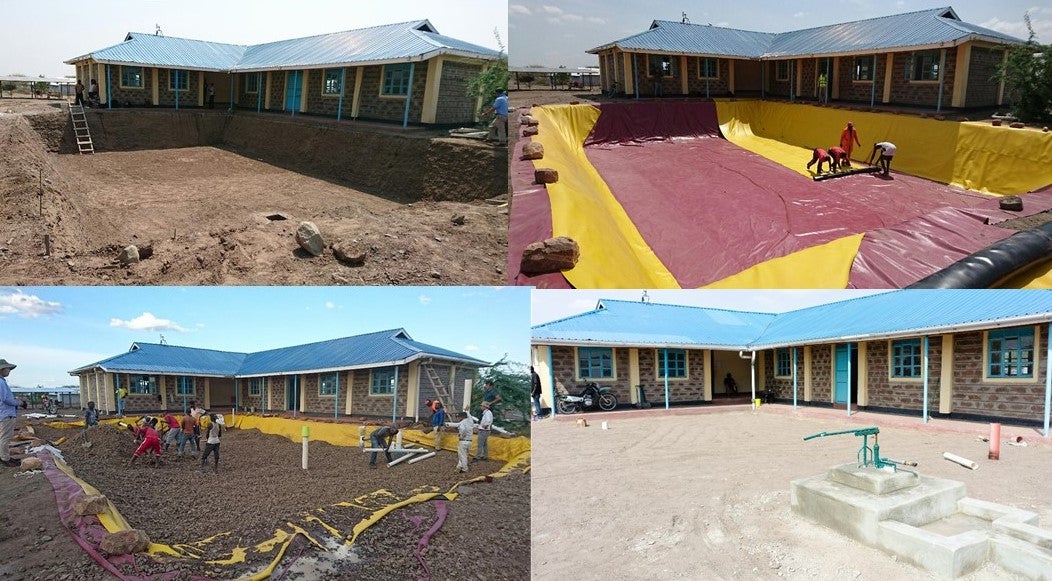 Underground rainwater harvesting tank in process at Kalobeyei settlement, Kenya
This simple technology allows large storage of rainwater, and has so far been deployed to Laos, Vietnam and in the Kalobeyei refugee settlements in Kenya, all 100+ tons, using intermediate and low-cost techniques with locally available materials, skills and labour, thus embedded in local communities and sustainable.
"We are happy if we can contribute to the countries and areas where access to safe and stable water is extremely difficult," said Mr. Norichika Matsuo, President of Daiken, who actually went to all countries and worked with people on the ground. 'The collaboration with UN-Habitat has brought us to parts of the world we had never thought we could be a solution to.'
A Symposium held in Fukuoka on 18 January 2021 demonstrated such examples including Daiken as an effective way that SMEs and individuals can contribute to SDGs while other promising solutions, such as local sewer network connecting to a communal sewer tank, were also proposed.
"It was an eye-opener and I now understand better how each of us have a role to play towards the achievement SDGs, said an editor of a local newspaper  in Japan
This story was well understood and appreciated by a wide Japanese audience who knows SDGs only too well in theory but find it difficult to practice in everyday life.