Nairobi, 27 April 2020 - Do cities have enough resources to meet the ambitious metrics of the Sustainable Development Goals (SDGs) by 2030? How much would it cost to deliver on the SDGs? How can cities establish a baseline cost to achieve Goal 11 on Sustainable Cities and Communities and realize the New Urban Agenda?
To answer some of these questions, UN-Habitat partnered with AidData, a research lab at the College of William & Mary in the United States. Together, they prepared a methodology for a two-phase effort to develop a systematic, replicable, and scalable approach to capture both the "hard" and "soft" costs to support sustainable cities in the lead-up to 2030. The initial cost estimates for Colombia, India, Bolivia and Malaysia are available as data visualizations. This takes a city-centric view of the costs of urban sustainability, as opposed to previous studies that have looked at costs on the national and global scale. Included in this city-centric approach are the costs of critical institutional infrastructure at the municipal level such as city planning and citizen engagement.
Data visualization of research results for Bolivia. Explore more on https://www.aiddata.org/sustainable-cities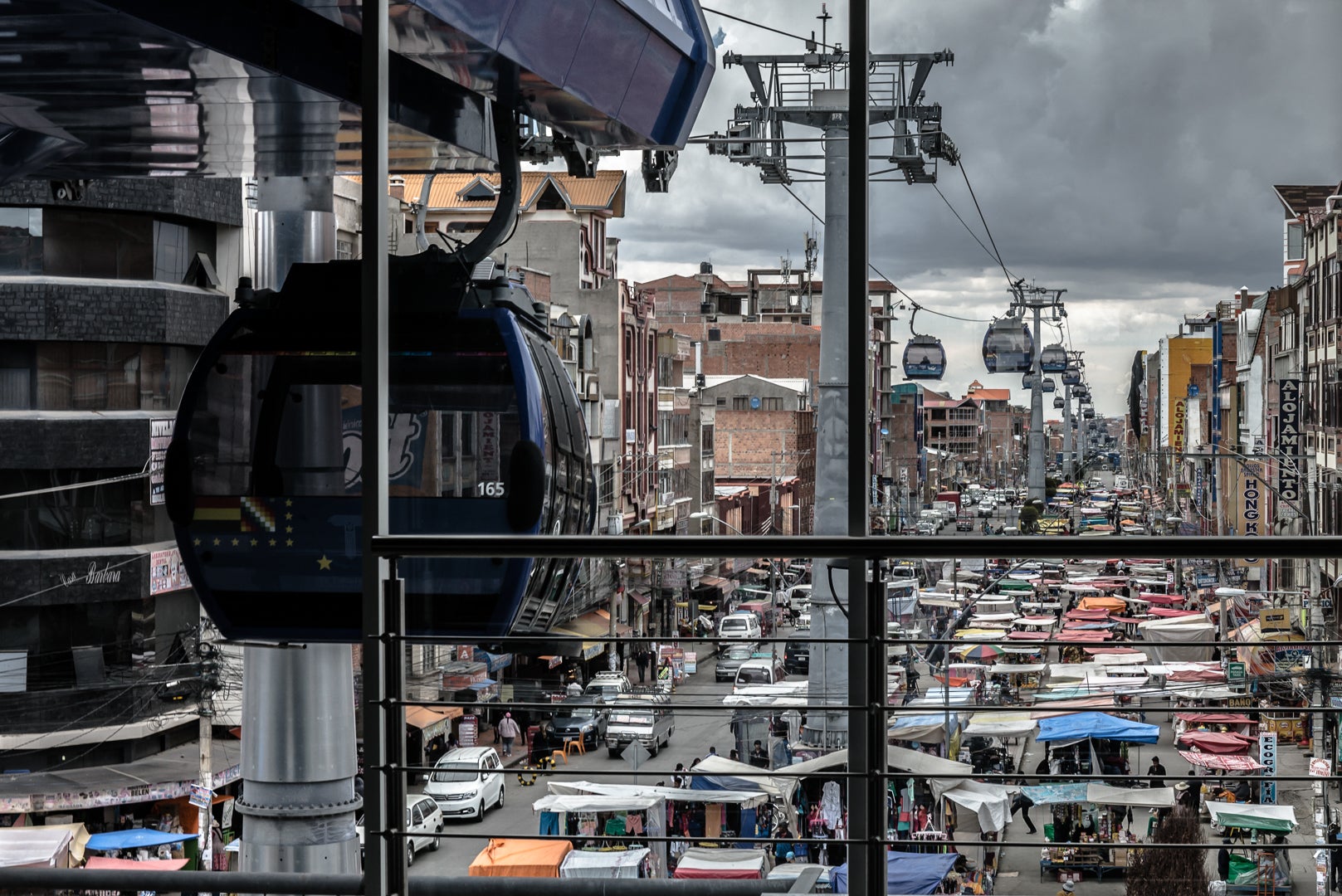 The aerial cable car transit system in Bolivia's second largest city El Alto
Eduardo Moreno
"Cities cannot underestimate the importance of investing in the necessary institutional infrastructure that is the cornerstone of municipal good governance," said AidData senior researcher Mihir Prakash.
In the absence of quantifiable information on the costs to implement the UN's urban sustainability goals, it is difficult for cities to accurately assess what resources are needed or identify shortfalls. This challenge is exacerbated for city leaders in developing countries who bear the burden of local infrastructure and service delivery, while operating in data constrained environments with limited resources at their disposal.
"Cities need to understand and quantify a cost baseline for local infrastructure and the SDGs in order to plan for investment and monitoring," said UN-Habitat Knowledge and Innovation Branch Senior Economist, Marco Kamiya. "The AidData study advances our answers to those hard questions."
The initial study includes average annual costs of achieving SDG 11 from 2019-2030 for 129 cities of varying size in four middle-income countries: Bolivia, India, Malaysia and Colombia. Cost estimates from the four sampled countries show that the total average annual cost for small cities to achieve SDG 11 ranges from USD 18 million in Malaysia to USD 54 million in Bolivia. For medium-sized cities, the total average annual cost ranges from USD 144 million in India to USD 516 million in Malaysia and for larger cities the total annual averages range from USD 645 million in Bolivia to nearly USD 5.3 billion in Malaysia.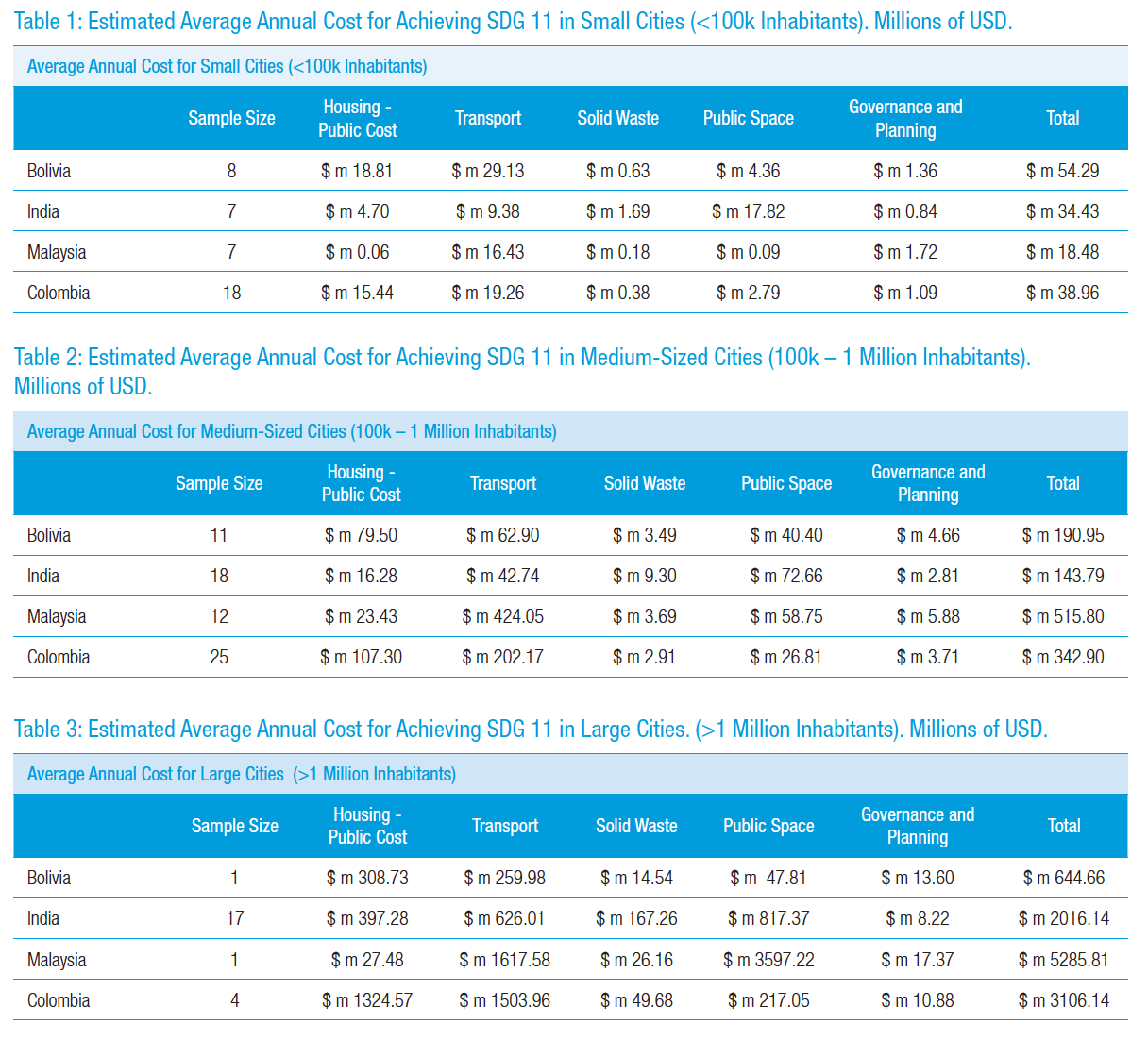 Research results on costs for cities to achieve SDG 11. Explore more on https://unhabitat.org/financing-sustainable-urbanization-counting-the-costs-and-closing-the-gap
The study points to the fact that different countries will have different investment needs depending on country-specific characteristics. However, results indicate that for a small city in a developing country, total average annual costs can be expected of around USD 20-50 million. For a medium-sized developing city like Bucaramanga, Cartagena in Colombia, Thiruvananthapuram in India, or Cochabamba in Bolivia, the costs range from around USD 140 million to more than USD 500 million. Large developing cities like Kuala Lumpur or Bogota can expect an average annual cost from around USD 600 million to over USD 5 billion.
For the four countries covered in the study, when the cities are small, the per capita costs of governance and planning are greater in relation to the total costs of hard infrastructure (less than 2.5 per cent in all small cities), while a smaller city has comparatively higher cost for governance than a larger city. As the methodology is refined and expanded, additional evidence will be shared to guide the formation of better policies that accelerate urban sustainability. Expanding the sample by covering more cities and refining the costs of governance and planning – with a better understanding of local government's mandates and budgets at a granular level – will allow precise baseline costs.
On AidData Website, College of William & Mary, Virginia, US
Additional resources
Financing Sustainable Urbanization: Counting the Costs and Closing the Gap
https://unhabitat.org/financing-sustainable-urbanization-counting-the-costs-and-closing-the-gap
Counting the Costs, Report
https://www.aiddata.org/publications/counting-the-costs
The data Visualization page