Nairobi, 25 September 2019--With transport accounting for a good percentage of energy-related carbon emissions, there has been a major concern in terms of temperature increase. Zero Urban Mobility is, therefore, a key aspect in achieving a sustainable future where global warming is no longer a threat to the existence of life.
With global encouragement to improve access to sustainable energy systems to ensure that efficient transport is achieved, urban mobility can effectively be improved to ensure carbon emissions are greatly reduced overall.
There are numerous opportunities that exist in cities to aid with the decarbonization of urban mobility. The investment in low-carbon solutions will help increase the use of public transport while also encouraging movement by walking and cycling.
People-Centered Public Transport
Cities developing transport with the stakeholders in mind is one such way to ensure that urban mobility is significantly improved. By making mass transit forms such as the light rail transit, and bus rapid transit easily accessible, affordable and reliable, this can greatly reduce the number of people choosing to drive to work and instead opting to use these means. This appeals to the masses in a way that encourages less use of personal vehicles while in turn reducing carbon emissions.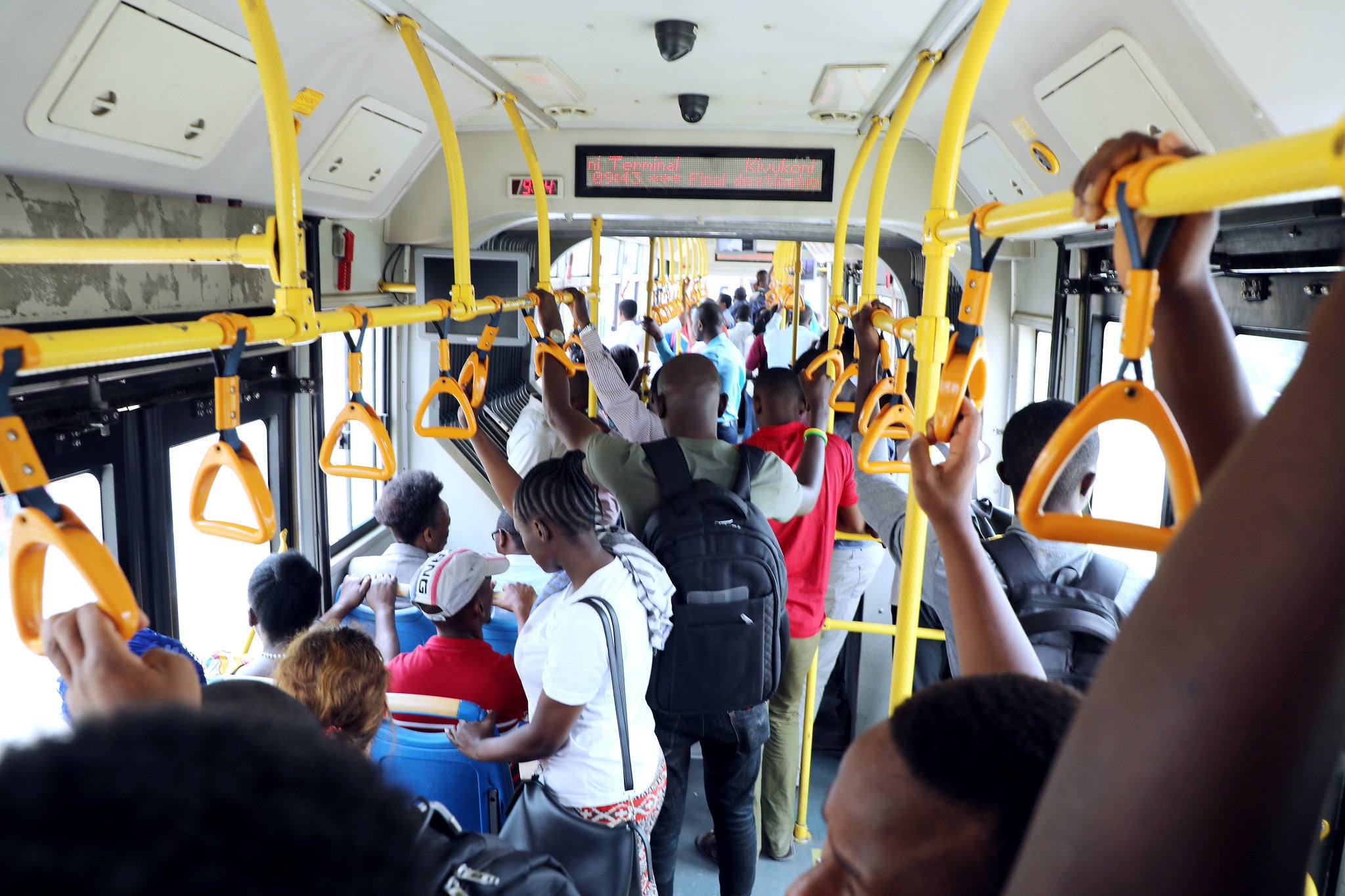 Passengers on the DART bus in Dar es salaam, Tanzania 2019
[UN-Habitat/Julius Mwelu]
New Mobility Services
Access to shared modes of transport on an as-needed basis ensures the efficient usage of vehicles and transport infrastructure. The data collected can help with better infrastructure planning which is ideal for urban planning. The use of bike sharing and car sharing applications where mobility is energy efficient and in tandem with Transport Demand Management (TDM) measures help with reducing emissions while also increasing efficiency.
Improved Non-Motorized Transport (NMT) Infrastructure
In a bid to promote a healthier lifestyle amongst people living in cities, non-motorized forms of transport come highly recommended. The use of bicycle sharing apps for example help with promoting cycling as an alternative means of movement. The investment in improving pathways to make them more accessible and safer is also one way of encouraging non-motorized movement. With more people shifting towards movement by cycling and walking rather than driving, decarbonization can be achieved. Kigali, Rwanda is famous for its car-free streets and monthly car-free day.
Electric Mobility
Strong recommendations and implementation of the deployment of capacitive car fleets to complement public transport have greatly helped with reduced carbon emissions. Electric mobility is responsible for ensuring lower emissions are realized in the long-term with comparison to the use of conventional combustion engines.
Avoid -Shift – Improve Framework
Avoid: Travel distances to work can be significantly reduced by people moving closer to their areas of work. TDM strategies allow for the redistribution of transport demand. With this strategy in hand, vehicle traffic becomes limited and users who opt for energy, space, and resource-efficient modes get to benefit the most.
Shift: The shift is oriented towards low emission modes. With affordable, easily accessible and reliable means of public and mass transit available, there will be a reduced need for individuals driving cars and the use of resource-efficient means of transport. If people do indeed have to travel, the idea is to make sure the means of movement consume less energy and resources. Improved urban planning and design that enhances movement by non-motorized means is one such way to make a shift in transit.
Improve: Encouraging the use of electric mobility through tax exemption, for example, is one such way of ensuring that a shift in movement takes place. The use of alternative fuels as promoted in India's Urban Green Mobility Scheme, for example, is one other way to improve urban mobility.
With cities working towards developing policies that support sustainable urban development while also encouraging the use of resource efficient and energy efficient modes of transit, zero carbon urban mobility will fast be on the rise.
Read the Declaration of Intent by United Nations Human Settlements Programme (UN-Habitat) to join Action towards Climate friendly Transport – ACT on the Decarbonisation of Transport and Strengthening of Sustainable Mobility
Street overview of the Jangwani terminal with a pedestrian walk way as well as a cycling lane, an example of an all-inclusive mobility street in Dar es salaam, Tanzania 2009
[UN-Habitat/Julius Mwelu]