La Paz, Bolivia, and Sao Paolo, Brazil, 24 October 2019 - "I have had a misconception that cable cars were only for touristic purposes, however, this experience in La Paz makes me understand the suitability of cable cars as a mode of public transport for this city."
This statement by Charles Mariki from Tanzania captured the contribution of the Academy to change mindsets of participating decision-makers towards sustainable mobility options.
Improving the quality of life is becoming increasingly important for all cities around the world while transport plays a fundamental role in achieving the city's objectives of economic competitiveness, social inclusion, human interaction and sustainable growth. Creating sustainable transportation solutions is one of the greatest challenges facing cities today but the good news is that there are various best practice examples out there, from which the world can learn from.
It is against this background that the Academy of Sustainable Urban Mobility (AoSUM) was established by a partnership between Doppelmayr Seilbahnen GmbH and UN-Habitat in April 2017 – illustrating a capacity building opportunity in which inspiring examples of mobility projects and solutions are being showcased. The objective of the Academy was set to equip global decision-makers with knowledge and tools to prepare feasible strategies and actions towards more sustainable, safe, accessible, and innovative mobility in their city.
After a successful launch in April 2017, the third edition of the Academy was recently held in La Paz, Bolivia, and Sao Paulo, Brazil. The event was organised in a partnership arrangement between UN-Habitat (through its Urban Pathways project) and private sector partners including Doppelmayr Seilbahnen GmbH, Molinari Rail, PTV Group, and Airbus.
"This year we have 22 participants from 20 different counties; this illustrates the great diversity and international scale that the Academy is able to tap into" said Stefanie Holzwarth, Urban Mobility Unit, UN-Habitat, during her welcome remarks.
The Academy in 2019 was flagged off by a visit to the Car-Free Sundays in La Paz as well as by experiencing the world's most spectacular cable car system in La Paz, where Charles quoted above made his observation.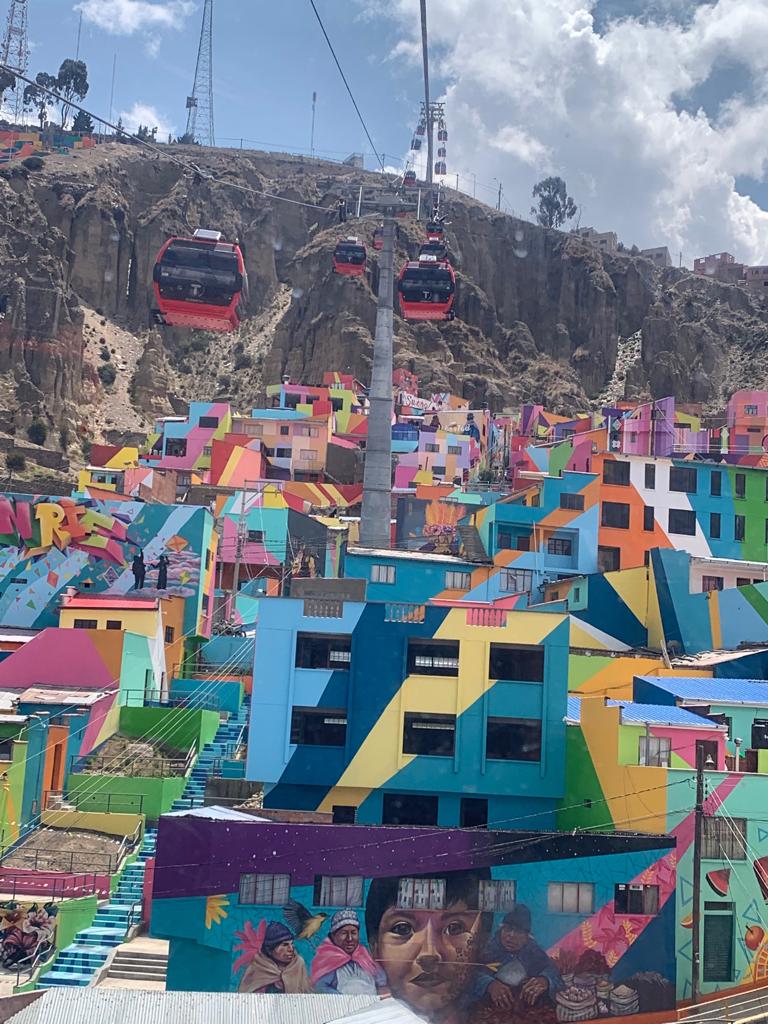 "Linea Roja" – the red line of the cable car system in La Paz, with a view to El Alto
UN-Habitat
One of the highlights was the visit to Las Cebras in La Paz, a group of young Urban Educators that promote a campaign of the Municipal Government of La Paz to evidence the crosswalks, or zebra crossings, and to help reduce road chaos in the city.
The programme provided a combination of theoretical lectures on transport and land use, transit-oriented development, Mobility in National Urban Policies, Urban Aerial Ropeways, Railway solutions, low carbon mobility, complete street design, road safety, Financing, public awareness and frontier technologies such as Mobility-as-a-Service as well as Urban Air Mobility. In addition, peer-to-peer learning was facilitated through interactive sessions, in which participants shared their own cities' experience and developed sustainable city visions for the future of mobility.
In the second part of the week, participants moved from La Paz to Sao Paulo, where the Academy continued and culminated in a visit to the city's Bus Rapid Transit System as well as in a bike ride on Sao Paulo's most famous bicycle lane at Avenida Paulista.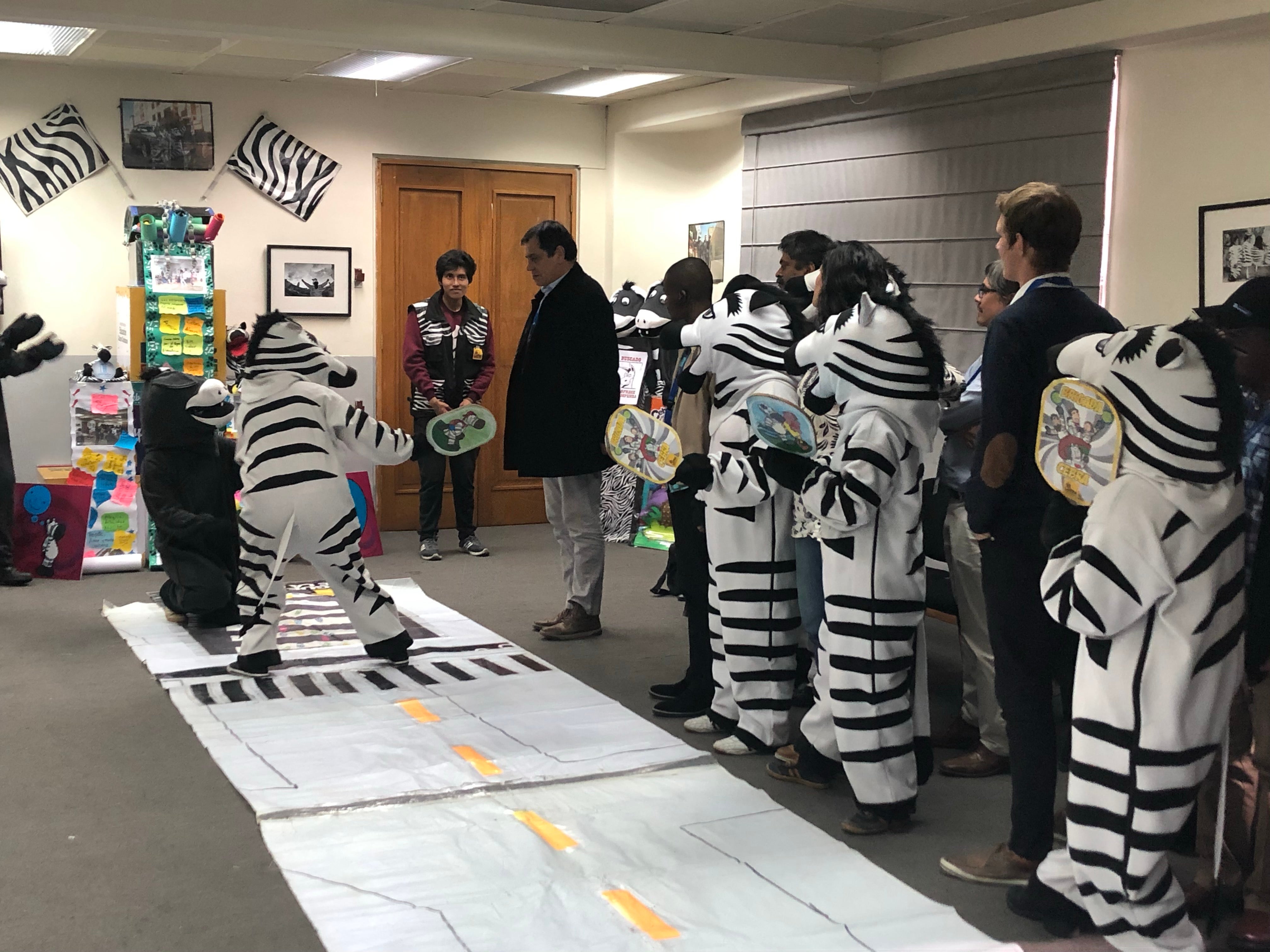 Role Play between participants and Las Cebras in La Paz, safely crossing the street
UN-Habitat
On his part, Mukund Sinha from India enthused: "AoSUM was awesome. We moved from La Paz to Sao Paulo to explore what the cities are doing in terms of countering congestion caused by private car ownership. We are now equipped with valuable lessons that we will be able to apply in our home cities to move towards more human-centered mobility systems."
"AoSUM is a great example of the key role that private sector can play in driving progress towards the SDGs by providing impactful solutions in mobility", said Stefanie Holzwarth in her closing remarks.
So far, since 2017, 70 trainees have graduated from AoSUM, coming from a diversity of 37 countries in total. UN-Habitat feels proud about this achievement and want to thank not only the co-organisers but also the other contributors incl. the World Resources Institute, the Wuppertal Institute for Climate, Environment and Energy, GAM Cable SRL, Municipality of La Paz, Voom Taxi, Swisscontact, Servicios Ambientales S.A., Las Cebras La Paz, SPTrans, Tembici, and Bike Tour Sao Paulo.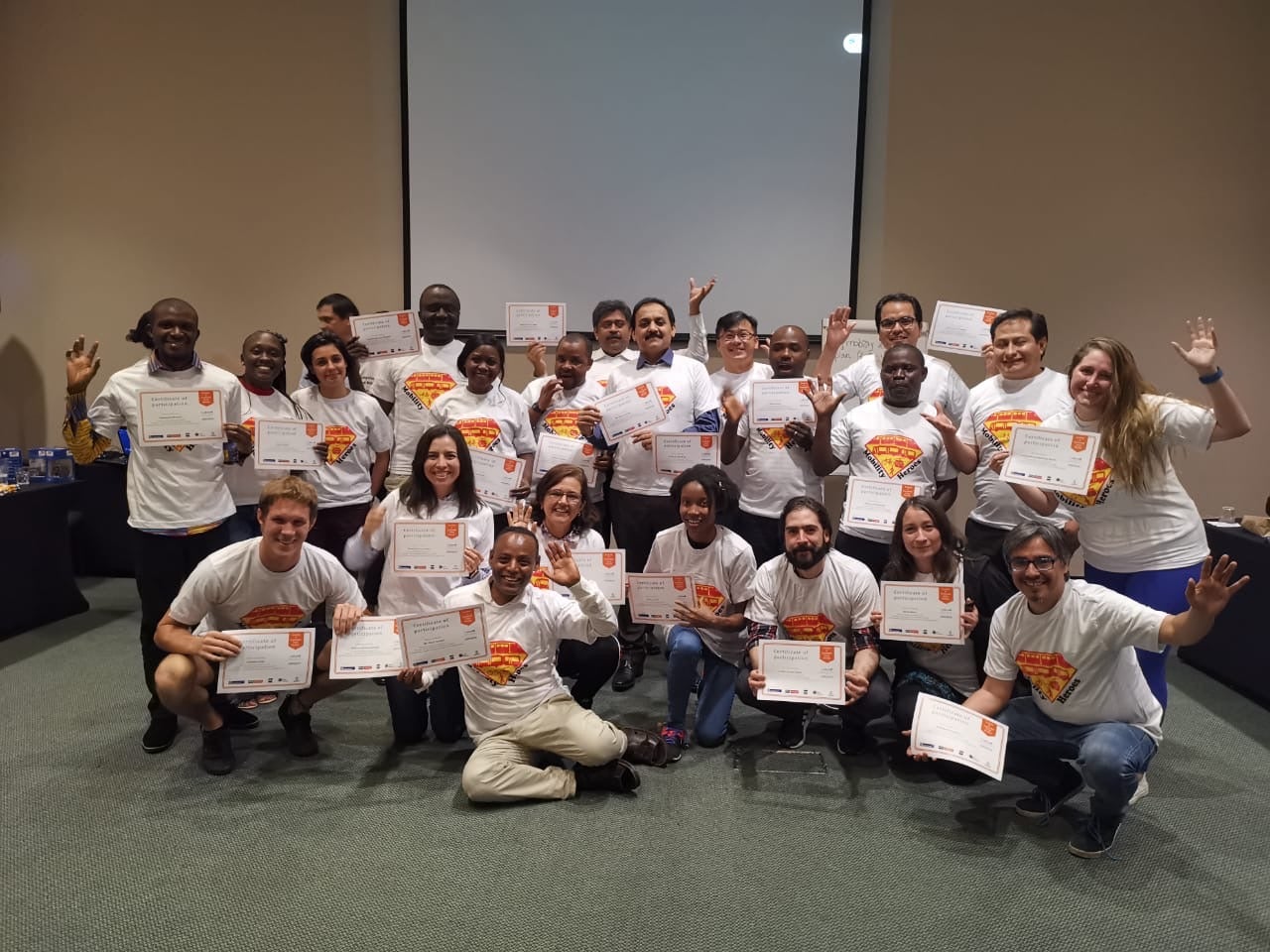 Closing Ceremony of AoSUM 2019 in Sao Paulo
UN-Habitat