Nairobi, 25 March 2021 - Team Europe, together with the Governors of the six coastal counties, the Ministry of Devolution and the Blue Economy Secretariat, launches the Go Blue initiative in Kenya today. The four-year programme is a EUR 25 million initiative funded by the European Union with  support from EU member states. The programme aims to harness important coastal and marine resources to achieve a sustainable blue economy and bring jobs to over 3,000 youth and women.
"Cities require good urban planning, governance and legal structures. This also means looking at cities in wider regional and international contexts. Jointly working on integrated spatial planning solutions – both on land and in water – on different levels of government and with consideration to different sectors is key to achieving a sustainable blue economy. We are ready to support Kenya's coastal counties and cities in their journey towards resilience, sustainability and blue growth."
Maimunah Mohd. Sharif, Executive Director of UN-Habitat
"Our marine and coastal ecosystems are extremely valuable in terms of providing ecosystem services – with many people earning their livelihoods through them. Rather than depleting or polluting these resources, we must develop ways in which to harness and protect them. UNEP and UN-Habitat are pleased to support counties such as Kwale and Lamu in providing key structures for mangroves restoration, while providing livelihood opportunities for nearby communities."
Inger Andersen, Executive Director of UNEP
The blue economy relies on natural resources from marine and coastal ecosystems and Kenya has an abundance of untapped maritime resources along its coast. Thus, the main objective of Go Blue is to bring inclusive, integrated, participatory, and sustainable economic growth to the coastal region. The programme will develop new work streams contributing to the blue economy, including small-scale fisheries, waste recycling, aquaculture or tourism, and entrepreneurial and technical skills in blue economy sectors, thus strengthening key value chains and tackling regional bottlenecks. It will also promote coastal counties' efforts to develop integrated approaches to land-sea planning and management with a focus on restoring key coastal and marine ecosystems. Youth and women will be primary beneficiaries and will be included in more decision-making processes. Lastly, the capacity of Kenya's Coast Guard will be strengthened to safeguard ocean assets.
Community participation in Gazi
[UNEP/Ahmed Mohamed]
Go Blue will be implemented in cooperation with the Jumuiya ya Kaunti za Pwani (JKP) together with national government ministries such as the Blue Economy Secretariat, Ministry of Agriculture and Fisheries, the Kenya Coast Guard Service, Ministry of Interior, Ministry of Transport and Bandari Maritime Academy. All implementing partners will apply different but complementary strategies to implement the initiative: The four EU Member States – France, Germany, Italy, and Portugal – are providing their expertise in fostering economic growth, while the two UN agencies – UN-Habitat and UNEP – will ensure that interventions are in line with obligations of environmental conservation and urban planning, and to adapt and mitigate coastal cities and communities against adverse effects of climate change.
Specifically, UN-Habitat and UNEP will provide support to all six counties to develop and mainstream the conservation and sustainable use of coastal urban and marine environments. The agencies' aim is to promote integrated land-sea planning and management in Kenya's coastal areas to ensure healthy and productive marine ecosystems and resources as a prerequisite for a sustainable blue economy in Kenya through 3 key methodologies:
an integrated, ecosystem-based land-sea planning and management framework, crucial to improve ongoing spatial planning efforts in counties
a regional land-sea vision that will help prioritize blue economy-related issues at large
targeted mapping, data collection, data analysis and assessments related to spatial planning (both land and sea) and ecosystems assessments
This will feed into the establishment or upgrading of each county's GIS data lab, as well as a regional GIS data hub, to strengthen data related to land use changes, urbanization and environmental change patterns, marine and coastal natural assets, and issues related to human activity (e.g. fisheries, tourism, waste). In addition, the project plans to implement key pilot activities in the areas of public space, waste management, constructed wetlands, MPA management, blue carbon, mangrove restoration, spatial planning at all levels, and community empowerment through business and livelihoods support, among other activities.
The information and evidence from all project activities will be used to support the replication in towns across the JKP area through the project's online knowledge sharing platform and various trainings aimed at strengthening all stakeholder's capacities, particularly women and youth. Furthermore, four counties will have developed their own land-sea planning proposals as a result of the project, and six innovative pilot activities will be funded by investors that directly contribute to the blue economy and land-sea planning.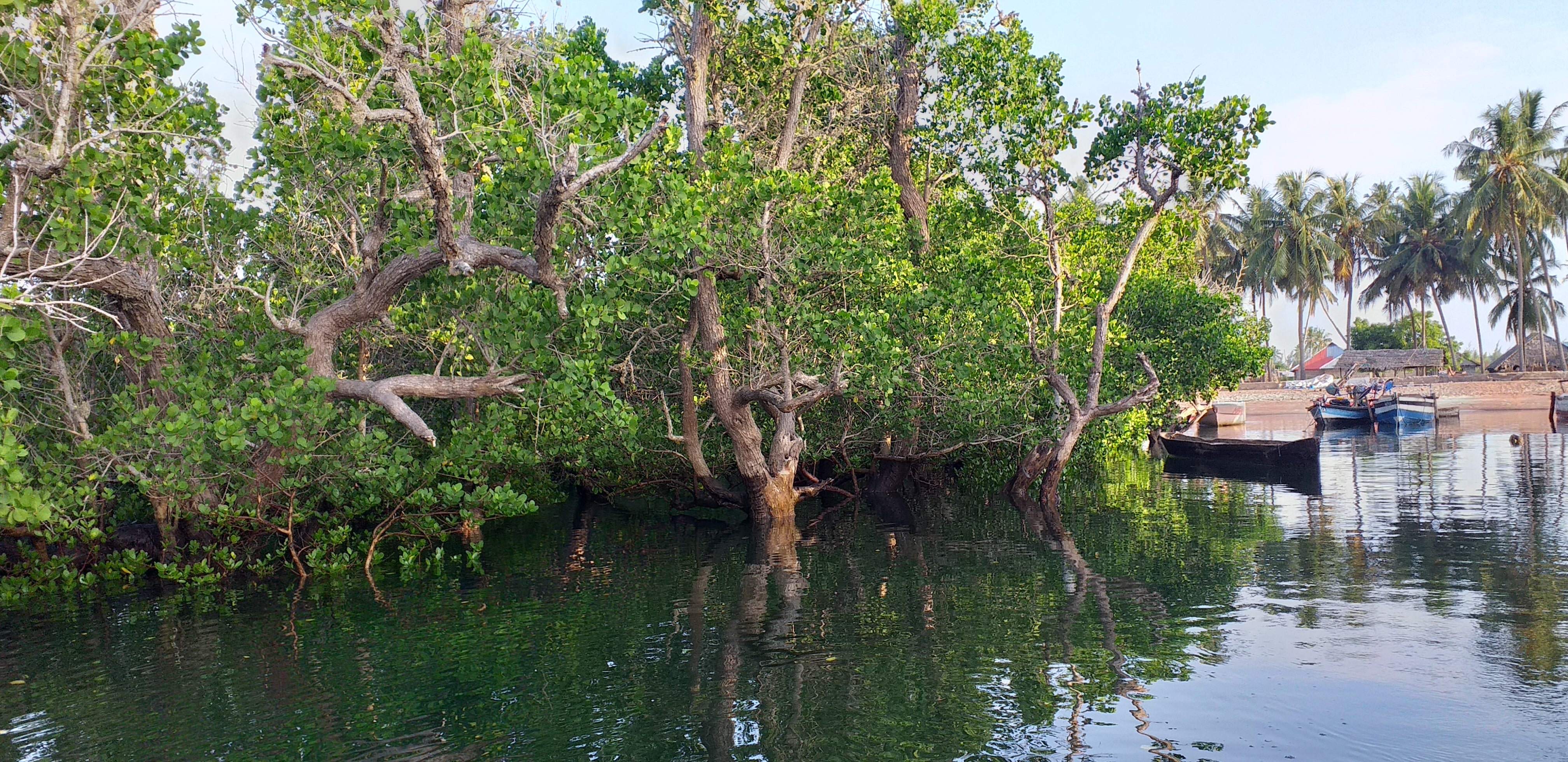 Mangrove Jimbo village
[UNEP/Ahmed Mohamed]