Mosul, 20 May 2022 – More than two thousand returnees received the keys to their homes in the Bab Sinjar Housing Complex in Mosul, Iraq, under a UN-Habitat project, supported by the government of Japan, to ensure returnees have access to adequate and dignified housing.
The destruction of homes has been the major obstacle for displaced citizens trying to settle back in their areas of origin. Ninewa governorate, of which Mosul is the provincial capital, has the highest number of vulnerable people, with more than 260,000 returnees living in deplorable conditions.
The nine medium-rise residential buildings, comprising of 324 apartments, have been built within the city centre on land offered by the Mosul Municipality. The project also comprised of the rehabilitation of 578 houses in the nearby Zanjili neighborhood and vocational training for 153 returnees, 46 of them females.
Japan has been a major contributor to the UN-Habitat projects in Iraq, aiming to assist citizens internally displaced by the self-proclaimed Islamic State of Iraq and the Levant (ISIL).
Mosul served as the capital of the caliphate of ISIL for around three years. As a result of the conflict, Mosul was about 65 percent destroyed.
Since 2014, the Japanese Government has provided approximately USD 56 million in fundings to UN-Habitat Iraq's projects, including the construction of the Bab Sinjar Housing Complex.
The Housing Complex was inaugurated in a ceremony attended by Mr. Ameen Ibrahim Finsh, Mayor of Mosul, Erfan Ali, UN-Habitat Regional Representative for Arab States, Wael Al Ashhab, Head of UN-Habitat Iraq County Programme and Senior Government Officials.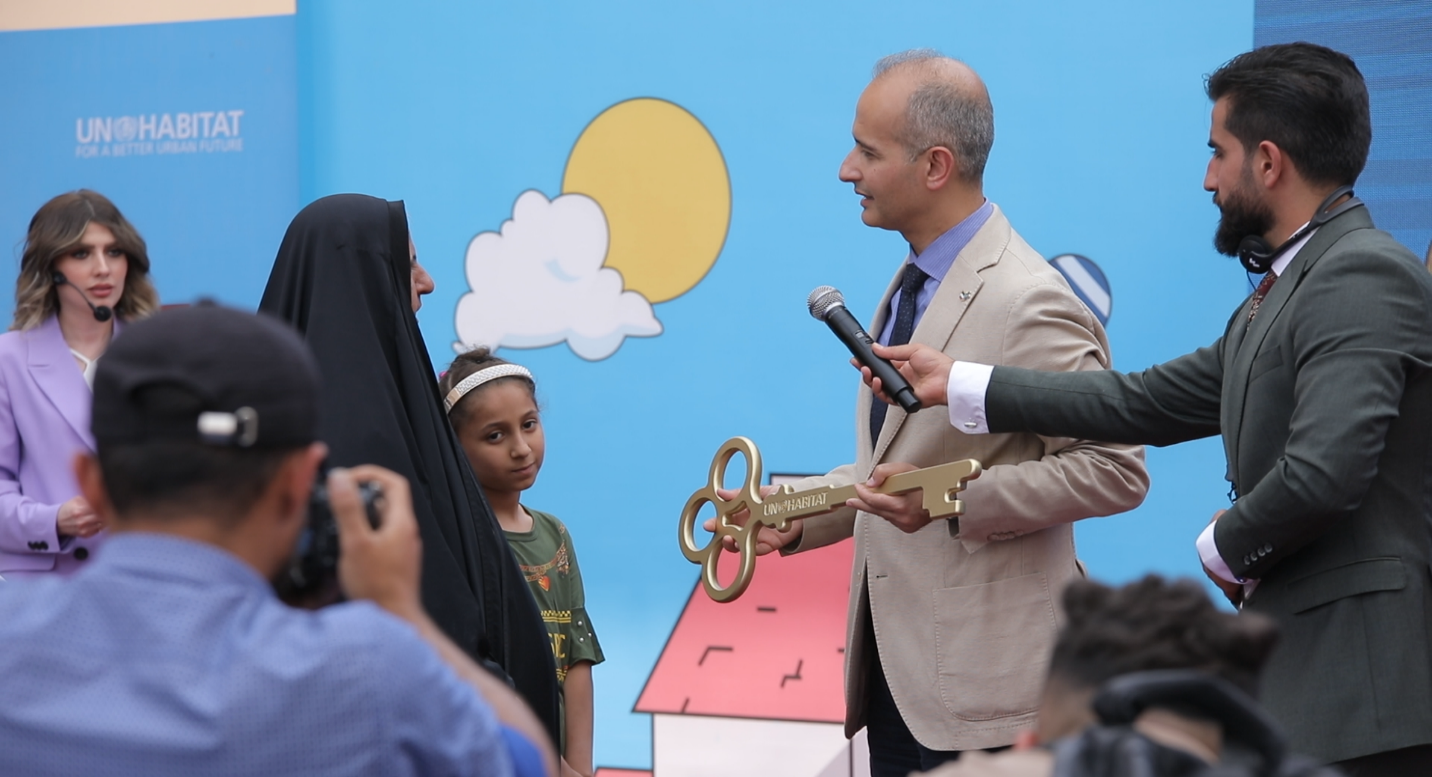 Erfan Ali, UN-Habitat Regional Representative for Arab States, hands a symbolic key to one of the recipients of the new houses in Bab Sinjar Housing Complex under UN-Habitat-Japan project
"This project supports those who lost their houses in Mosul," Ali commented. "2,300 people will benefit and will return to 324 housing units within this new complex, which is also equipped with facilities, including water, sanitation and electricity."
Ali expressed his gratitude to the Government of Japan for their generous support and praised the partnership between the Government of Iraq and UN-Habitat with regard to durable solutions, which means the internally displaced persons no longer have specific assistance and protection needs that are linked to their displacement.
Mr. Finsh expressed his gratitude to the Government of Japan and UN-Habitat. He also highlighted the great need for similar projects to support the returnees.
The project's achievements and lessons learned were further discussed in a round table meeting preceding the ceremony aiming to strengthen ongoing cooperation frameworks toward building inclusive, safe, resilient and sustainable cities and communities in Iraq, particularly in the province of Ninewa, beside supporting the country's efforts to achieve the Sustainable Development Goals.