The threat climate change poses is real and its happening now. Buildings and construction are hugely complicit—even more so than the automobile and livestock sectors. Buildings and constructions account for more than one-quarter of all greenhouse gas emissions (GHGs), through greenfield development, cement production, and the burning of fossil fuels such as oil, gas, and coal for construction purposes.
Over the next 30 years, more than half of the expected building stock will be constructed, most of this will be in rapidly growing cities in developing countries in Asia and Africa. On average, 55 to 70 percent of the built areas will be devoted to housing. Current national housing policies place emphasis on affordability but little attention is placed on environmental sustainability. This is despite 19 percent of global energy consumption stemming from the residential sector.
It is clear from these figures that reaffirming the role of energy efficiency and environmental sustainability in our construction and housing stock has the potential to stimulate much-needed transformative effect on cities, and fortunately the work with the housing sector is at the core of UN-Habitat.
What makes the housing and buildings sector sustainable then? A first a crucial element in making the housing sector energy-efficient occurs before and during construction. "Green homes" or "Eco-homes" use materials that are sustainably sourced and produced using energy efficient means. Low carbon construction ensures that we reduce the impact our homes have in contributing to climate change while also building resilience and energy efficiency into our homes and communities.
Green building includes a structure's planning, design, construction, and operations. It also factors in energy, water, indoor environmental quality, materials selection and location. Alternative housing solutions also include favoring locally sourced materials that are sustainable. Considerations of where products are manufactured should also be observed; ideal products are made in factories that operate in an energy efficient manner. Longer-lasting materials are more efficient as well, because disposing of them and manufacturing new components to replace them requires significant energy use.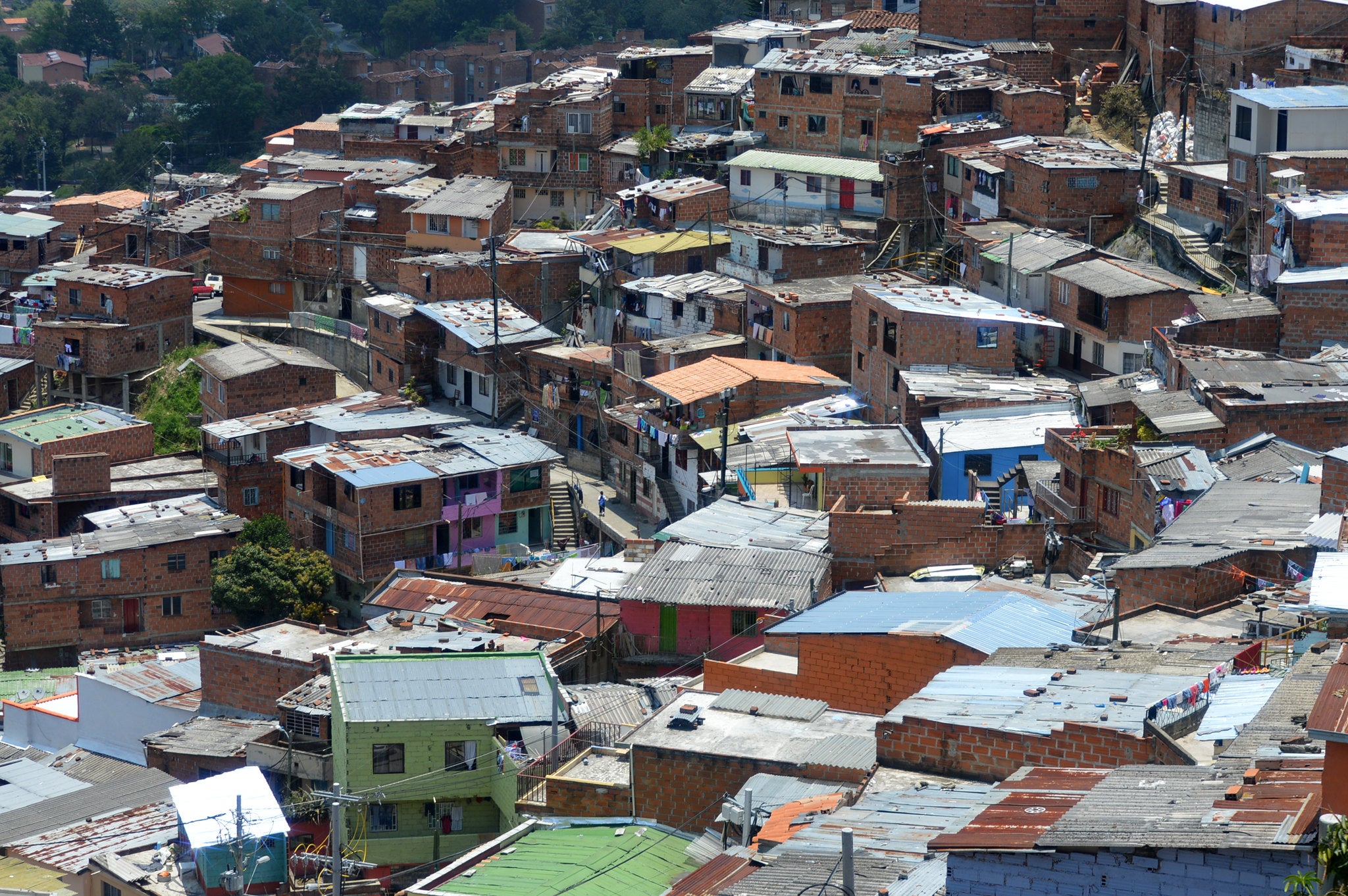 Medellin, Colombia. Most of the building stock needed for 2050 will be residential housing in the developing world.
[UN-Habitat/Julius Mwelu]
There have been a number of international success stories on the adoption of sustainable building practices. In Australia, low carbon buildings have been shown to produce 62 percent fewer greenhouse gas emissions than average Australian buildings. In India, sustainable buildings certified by the Indian Green Building Council have resulted in energy savings of 40 to 50 percent and water savings of 20 to 30 percent compared to conventional buildings in the country. Similar achievements have been witnessed in South Africa, where low carbon buildings achieving the Green Star certification have been shown to save on average between 30 to 40 percent energy and carbon emissions annually compared to the industry norm. New construction in the housing sector offers a great opportunity for change in current building practices.
UN-Habitat, through the Housing Unit, developed the app Sherpa: a personal guide to sustainable housing. It assists people involved in housing construction to self-asses the sustainability of housing projects through a user-friendly participatory application.
Sherpa responds to the Sustainable Development Goal (SDG) related to the housing sector. SDG11 has specific target's such as 11.1 on adequate housing, and as well as public space, transportation, participation processes, and the environmental impact of the housing sector, gender mainstreaming, disaster risk reduction, even employment generation through housing design. You can find out more about this app here.
In line with curbing the progression of climate change within housing construction, UN-Habitat, through the Global Platform for Sustainable Housing is constantly engaged in the adaptation and promotion of alternative building materials. Born out of natural, plentiful and renewable components, these materials include limestone calcined clay cement, construction and demolition waste, fly ash, cement free concrete, and even waste from metal industry turned into blocks. Other innovations in materials for the housing sector are being achieved by materials made with bio waste, and materials made out of reinforced earth. The collective benefits of these materials are lower CO2 emissions, lower production energy, cost-effectiveness and zero-greenhouse gas emissions.
UN-Habitat is advocating for a paradigm shift and recognizes the improvements in the sustainability of the building materials and design of the household, as well as the introduction of environmentally friendly solutions for the operation and management of utilities. Such actions will have positive impacts in reducing carbon emissions from the housing and construction sector, as well as rendering the housing stock sustainable and more resilient to climate change.
 
UN-Habitat, through the housing unit wishes to thank the following partners:
Association La Voute Nubienne
Build Academy
Cambridge University
CraTerre ENSAG
Development Alternatives Group
Eco-Sur Network
École Polytechnique Fédérale de Lausanne
Federal Institute of Technology ETH Zurich, Chair of Sustainable Construction
Lighthouse Project, Department of Environmental Affairs, Value Added Industries Program - South Africa
One Planet Network, Sustainable Buildings and Constructions
Oxford Brookes University
Oxara Project, ETH Zurich
The Energy and Resource Institute
Techo Internacional
The Energy and Resource Institute
VTT Finland