Nairobi, 23 July 2019 - During his official state visit to Kenya, President of Botswana, Erik Mokgweetsi Masisi, visited the United Nations Offices at Nairobi (UNON). President Masisi was received by the Acting Director-General of UNON and UN-Habitat Executive Director, Maimunah Mohd Sharif, as well as senior representatives from the United Nations programmes and agencies based here including UNEP, UNICEF, UNOPS, OCHA, WMO and IMO.
In her remarks, Ms. Sharif applauded the Government of Botswana for its exemplary commitment towards improving human settlements. She noted, "Botswana is one of the few African countries that has consistently over many years allocated annual public sector funding – towards both urban and rural housing development."
Botswana is one of two pilot countries in Africa, alongside Tunisia, that has implemented a project focused on monitoring and reporting on human settlements indicators in line with Sustainable Development Goal 11. This project is being implemented by UN-Habitat in partnership with the United Nations Economic Commission for Africa, the Ministry of Infrastructure and Housing Development and Statistics of Botswana and the cities of Gaborone and Francistown.
Ms. Sharif recognized the Government's commitment to pursuing the common goal of building inclusive, safe, sustainable and resilient cities and human settlements. She congratulated the Government for "The good progress being made in the implementation of SDG11 monitoring project." President Masisi noted that Botswana's long-term national development goals and SDGs are closely interlinked like twins and that "Botswana will provide the necessary support to the priorities that it has mutually identified and agreed with [with] UN agencies."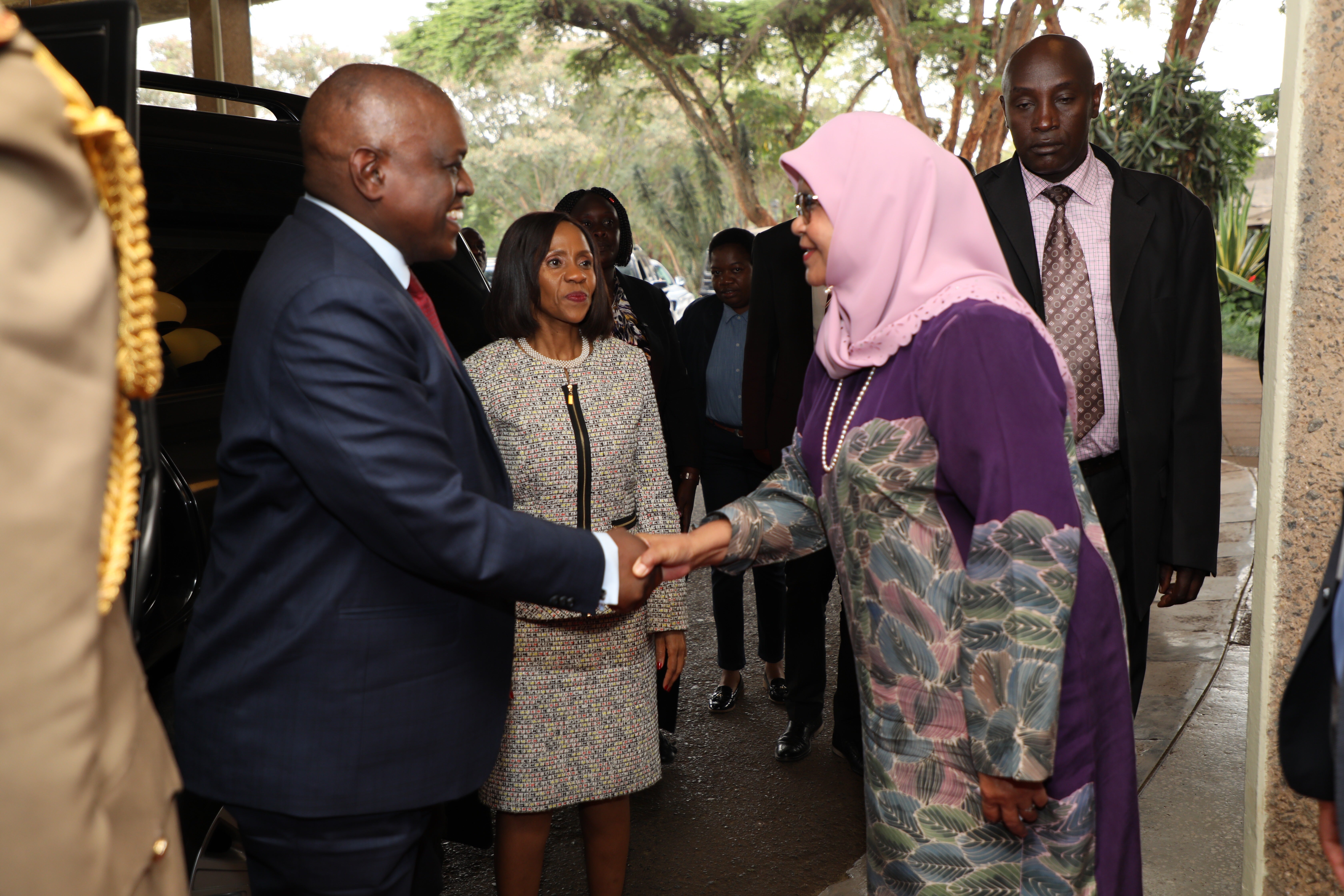 President of Botswana, Erik Mokgweetsi Masisi, is greeted by the Acting Director-General of UNON and UN-Habitat Executive Director, Maimunah Mohd Sharif.
[UN-Habitat/Julius Mwelu]
The project, entitled "SDG 11: Monitoring and reporting on human settlement indicators in Africa and Latin America" is critical in that it strengthens the capacities of national governments and supports the design of monitoring tools to monitor and report on SDG 11. The availability of and access to data and statistics at city and urban national level for the formulation of evidence-based policies is invaluable to planners, policy makers and everyone involved in decision-making, both at national and local governments. It is also key to achieving SDG 11. The other two countries taking part are Colombia and Ecuador.
The project has enabled the creation of a database of more than 50 city-level and urban indicators for Gaborone and Francistown, which aim to be expanded to other urban centres in Botswana. This data will enable city authorities as well as local and national stakeholders to gauge their performance and formulate inter-sectoral policy interventions over time.
UN-Habitat has also supported the Government of Botswana in the development of a National Action Plan for the implementation of the New Urban Agenda, a national urban profile and urban profiles for Gaborone, Francistown and Lobatse. Botswana successfully completed Phase II of the Participatory Slum Upgrading Programme (PSUP) in 2018 and has been selected for Phase III implementation of the Programme.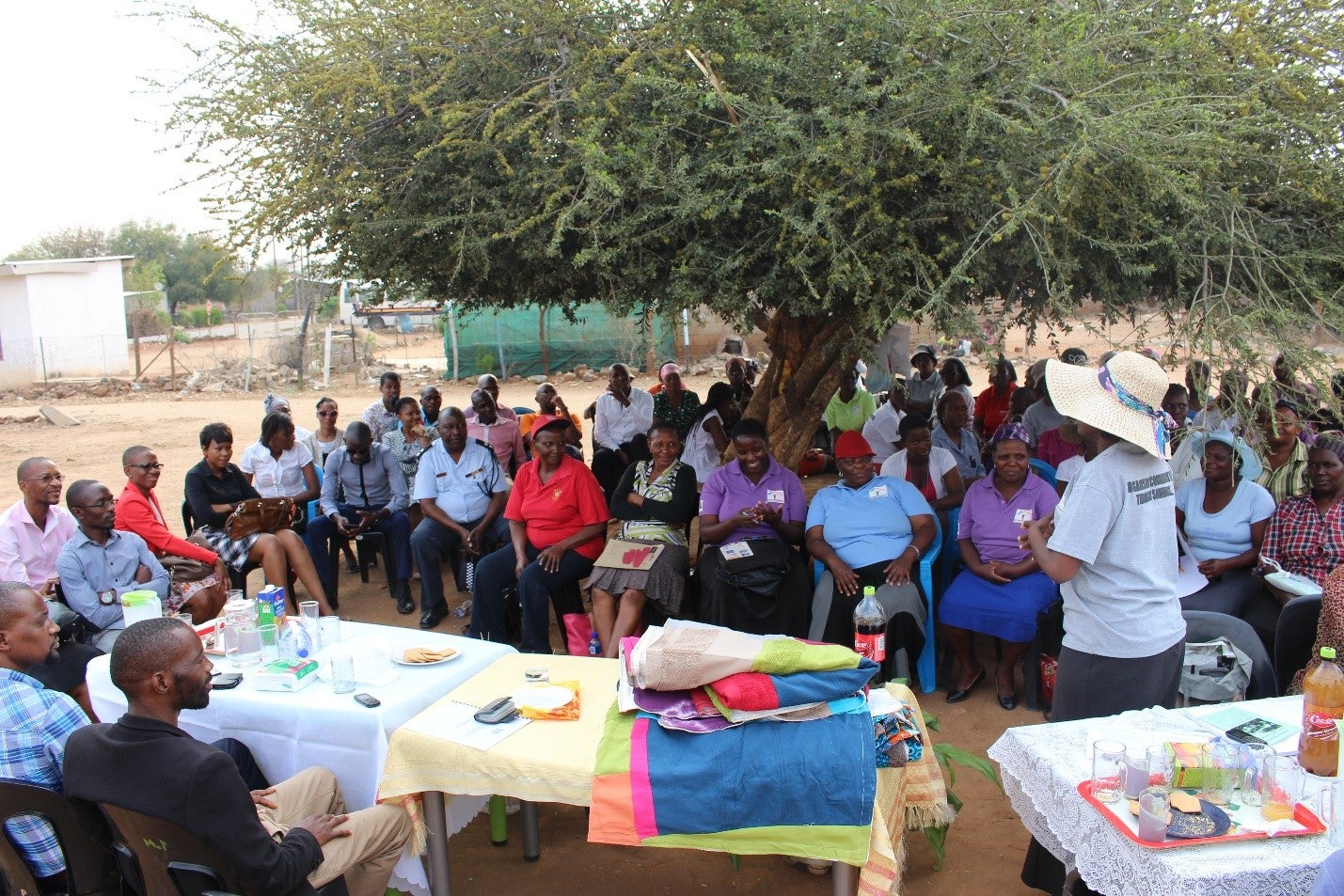 Community consultation during urban profiling in Francistown
© UN-Habitat/PSUP
Article: Taina Christiansen, UN-Habitat
Photos: [UN-Habitat/Julius Mwelu]
Video: Benedict Otieno (Camera) & Aoibheann O'Sullivan (Editor)