Sihanoukville, Cambodia, 23 December 2021 - "Our commitment is to help government fulfill its obligation of providing space for civic participation and reducing social exclusion as well as poverty.  With this commitment, we can accelerate the drive towards a smart, sustainable and inclusive Sihanoukville."
With those concluding remarks, Pauline Tamesis, the UN Resident Coordinator in Cambodia, marked the end of a project in which UN-Habitat and other UN agencies in the country provided a comprehensive set of policy and programmatic solution to living standards of the Cambodian population, including vulnerable groups, in Preah Sihanouk province (SVP).
The project "Sihanoukville for all:  Promoting Smart, Sustainable, and Inclusive city" implemented between August 2020 and December 2021 was in line with the United Nations Human Security approach and Cambodia's United Nations Development Assistance Framework (UNDAF).
It has been implemented by joint effort of the UN Resident Coordinator to Cambodia, together with UN-Habitat and UN Human Rights under the Human Security Trust Fund.
Initiated through discussions between UN Country Team and Kuoch Chamroeun, Governor of Preah Sihanouk Province, in November 2019, the project provided opportunities to discuss a wide range of issues, including urbanization, economic growth and inclusive development among national, provincial and local stakeholders.
In recent years, an unprecedented amount of financial investments has promoted rapid economic development in the province of Preah Sihanouk. China has been the main driver for this exponential growth, contributing 85 per cent of financial investment (USD 1.1bn out of USD1.3bn) in a province that has reportedly seeing a 126 per cent increase in Chinese population in 2017-2018.
The province has more factories, resorts, hotels and casinos than ever before and is experiencing a fast-tracked urbanization trend.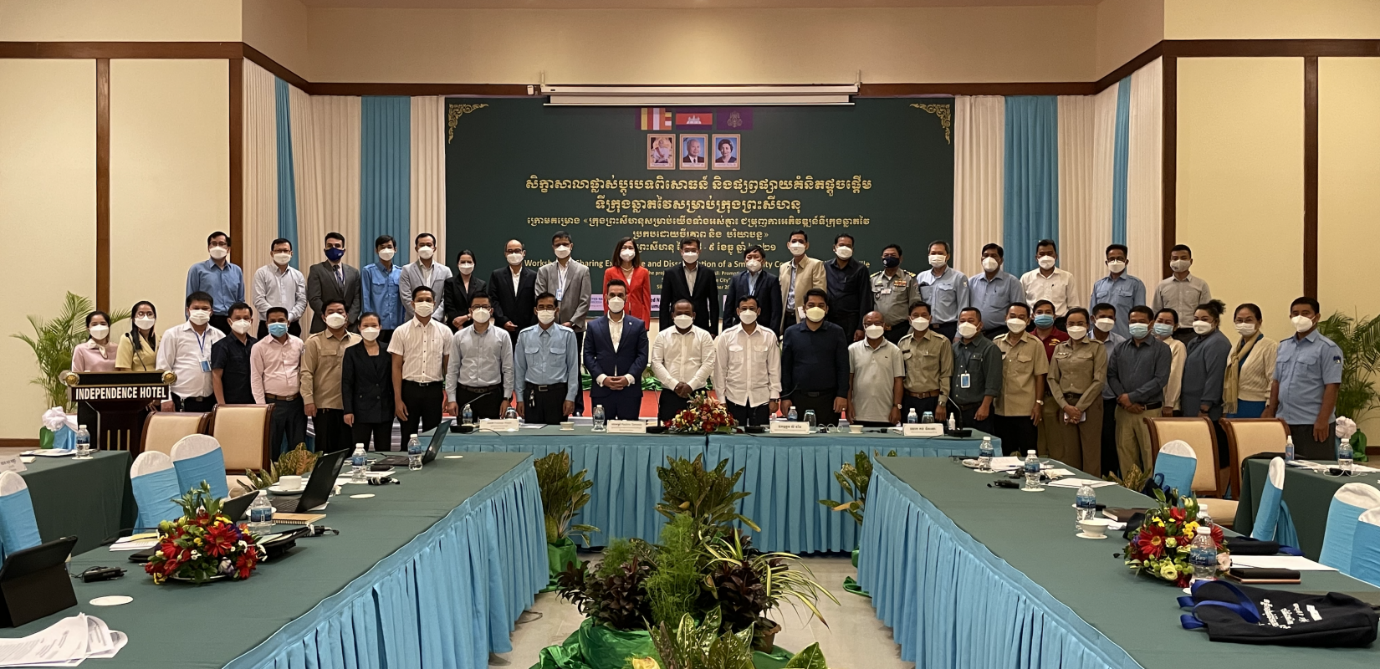 [UNHabitat/Cambodia]
Despite the new opportunities for economic development and employment, vulnerable local population has been suffering an exclusion phenomenon, because the economic benefits have been distributed unevenly leaving people behind, especially the most marginalised.
The Smart, Sustainable and Inclusive City Concept for SHV was produced based on the analysis of existing development gaps, the emerging urban challenges, the policy framework and lesson learned from global smart cities case studies.
Desk research, interviews, consultations with local stakeholders and above all the recommendations highlighted by the Human Security assessment. It composes of 13 sustainable, inclusive, smart initiatives which positioned the concept of "Leaving no one behind" in the center of smart city strategy. 
Sor Varin, the Ministry of Interior's Deputy Director General of the General Department of Administration, emphasised that "Smart City is the new and modern urban development concept in Cambodia for the last 3 to 4 years. We do not have clear definition, policy, strategy, and roadmap, but Royal Government of Cambodia commits to learn from doing."
At the concluding December 8-9 workshop, the "Sihanoukville Smart, Sustainable and Inclusive City Concept," the final assessment document was handed over to the provincial administration and other local stakeholders.  The document will be also used to share and exchange knowledge on smart city concept development process to national smart city committees and selected Cambodian cities of Phnom Penh, Siem Reap and Battambang.