Freetown, Sierra Leone, 20 August 2021 – To help the Government of Sierra Leone to develop a better National Urban Policy (NUP) process, UN-Habitat this month conducted a workshop to develop government capacity and build up countrywide knowledge through a "trickle down" system.
The training covered the three  modules in the NUP development process: introducing the NUP; the NUP Process and Assessment; and the Thematic Application of NUP to address urbanisation challenges such as climate change and participatory slum upgrading.
To support the workshop, Minister of Lands, Housing and Country Planning (MLHCP) Turad Senessie met in advance of the gathering with the workshop focal lead Alphajoh Cham to emphasise the need for deliberate and targeted capacity building training.
Representing the minister during the opening session, the Permanent Secretary of MLHCP Israel B. K. Jigba said the need for planning and development control is evident in Sierra Leone, considering the current land use. He noted that UN-Habitat is in a vantage position to support the ministry in its capacity building efforts.
"The capacity building training offers a unique opportunity for stakeholders to collaborate and participate as we chart a path to address the challenges of urbanisation in Sierra Leone and harness its benefits," UN-Habitat's workshop lead, Saiid Conteh, said.
During the participatory workshop, the participants asked questions to ensure a deeper understanding of the modules delivered. The attendees focused on the need for the NUP to be relevant to the Sierra Leone context.
"I learnt a lot from the training, and I want the UN-Habitat to support the Kenema City Council in Sierra Leone with this kind of training because it can be applied practically to urban issues, we are currently faced with," said Yarawah Kargbo, Kenema City Council member who attended the workshop.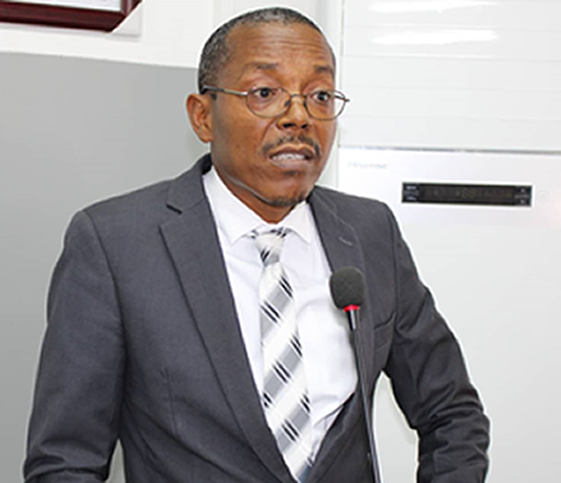 Dr. Turad Senessie, Hon. Minister Lands Housing and Country Planning
[UN-Habitat]