Participants shared their thoughts and suggestions about community-level waste management initiatives
UN-Habitat Philippines
Manila 22 October 2019-- "Yung pagkilala sa basura, yung perspective ng mga tao na ito'y marumi, patapon, walang kuwenta… Ang isang bagay kung hindi mo na kailangan, pwede pang may makinabang diyan. Pwede pang gamitin ng iba." (Trash is considered dirty, disposable, and without value. But something that you no longer need can still be used by other people")
This statement by Ms. Theresa Carampatana of the United Libis Homeowners Association, Inc captured the mood of the launch of Urban October in the Philippines which was anchored on this year's World Habitat Day theme of "Frontier Technologies as an Innovative Tool to Transform Waste to Wealth.
The festivities kicked off with the Kapihan at Usapang Urban (Urban Conversations Over Coffee) session on October 7, 2019.UN-Habitat and event partner Technical Assistance Movement for People and Environment, Inc. (TAMPEI) invited urban actors and community representatives for presentations and candid discussions on community-led sustainable waste management and rainwater harvesting initiatives.
The program started with a video message from UN-Habitat Executive Director Maimunah Mohd Sharif encouraging innovative techniques to solve the waste problem in our cities. It was followed by a presentation on the "Bayang Walang Basura Program" (Country/Town Without Trash Program) by Mr. Marlon Palomo of the Philippine Rural Reconstruction Movement (PRRM), who discussed community-level social enterprises focused on solid waste management in partnership with Local Government Units.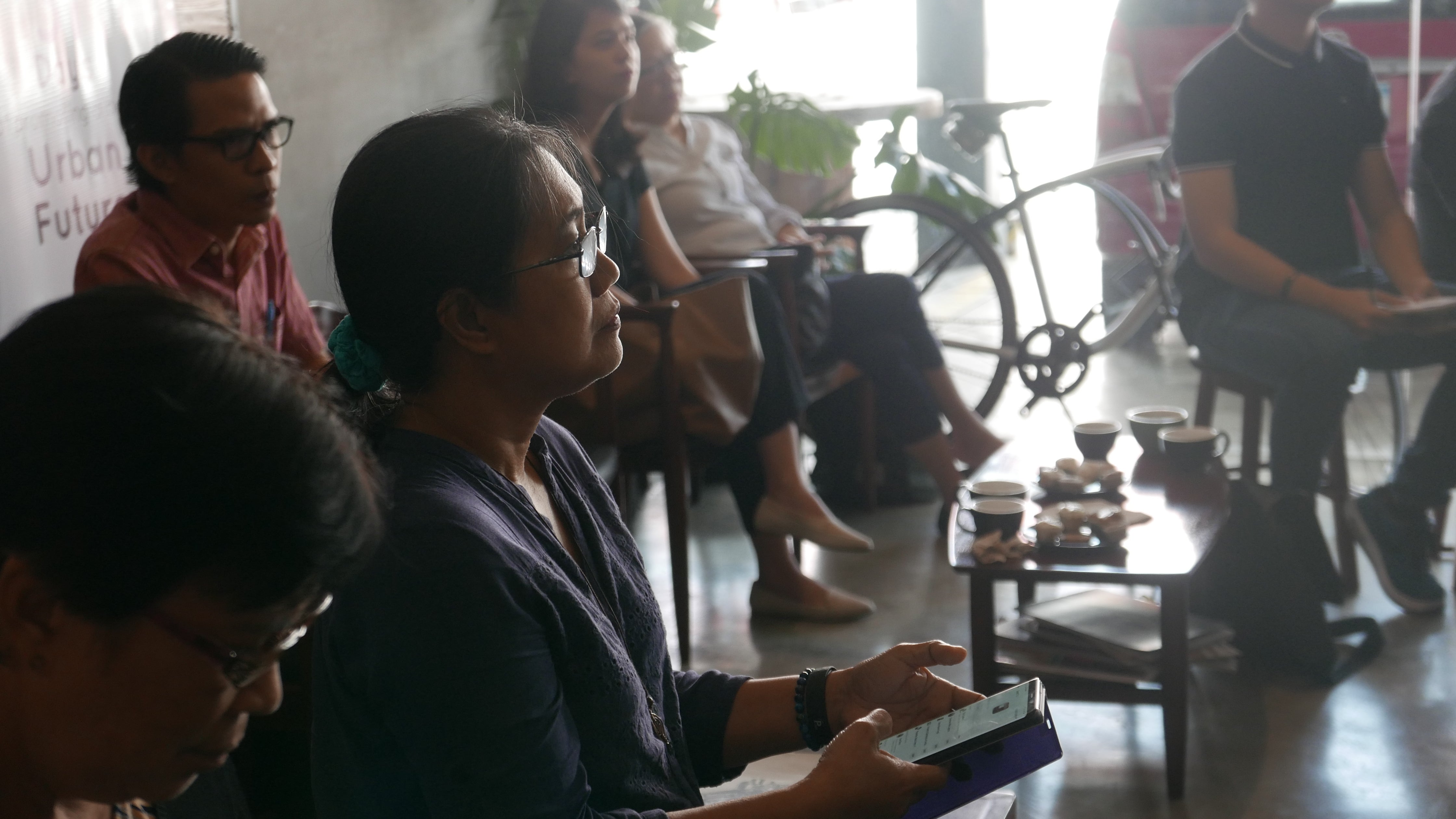 The first 'Kapihan at Usapang Urban' was streamed online to encourage more participants to join the conversation.
UN-Habitat Philippines
The last speaker, Ms. Maricel Genzola of the Foundation for the Development of the Urban Poor, presented an innovative project in the same city that uses solar-powered technology to turn harvested rain into potable water.
Members of the audience participated by sharing their experiences, knowledge, and suggestions. Many of them agreed that collective governance is crucial in waste management efforts. According to Ms. Ruby Cristobal from the Department of Science and Technology (DOST), "Ang gobyerno dapat i-recognize ang power ng communities at sa communities, yung mga katulad nating mga nasa organisasyon at media, empower the small groups. Pag marami yan at nagkabit-kabit, naniniwala ako, if not in 5 years, maybe in 10 years baka kakayanin. We start from somewhere and let it flow like a network." (The government should recognize the power of the communities, while those of us from organizations and the media should empower the small groups. When we link all of them, I believe we can do it, if not in 5 years, in 10 years. We start from somewhere and let it flow like a network.)
The session was also able to acknowledge certain nuances and complexities such as the question raised by Mr. Palomo on whether recycling and upcycling encourage companies to produce more plastic. Another concern was raised by Mr. Ruel Cabile from the EcoWaste Coalition, who mentioned that there are Filipinos from vulnerable sectors who depend on waste-picking for a living.
Apart from facilitating important dialogues in a relaxed atmosphere, the Kapihan provided opportunities for possible collaboration between like-minded organizations and individuals concerned with urban sustainability. The session was streamed online so more people could join the conversation.
Launched in Urban October by UN-Habitat Philippines, Kapihan at Usapang Urban (Urban Conversations Over Coffee) is a series of dialogues between speakers and participants on specific urban issues and approaches to address these challenges.