Yangon, Myanmar, 18 June 2020 – UN-Habitat supported a team of community volunteers in five informal settlements in Myanmar's largest city Yangon who have contacted over 13,2000 households to provide accurate information about COVID-19 and dispel false rumours.
Information leaflets were shared with communities in Hlaingthayar, Shwepyitha, Dala, South Dagon, and Dagon Seikkan with information about COVID-19 preventive actions including how to keep your family safe, working or shopping in a markets selling fresh meat and fish and how to make a mask at home.
The 61 community volunteers were trained remotely by UN-Habitat and provided with a Personal Protective Equipment kit consisting of masks, full face visors, gloves, and hand sanitizers.
A rapid assessment of informal settlements conducted by UN-Habitat revealed that a third of families could not afford to buy masks to protect themselves and the volunteers also distributed 102,000 masks to the households.
UN-Habitat is working with existing community development committees in the informal settlements. In Hlainthayar, UN-Habitat partnered with Bedar Social Development Group and the Urban Poor Network.
Nyein Chan, a community organizer said the project helped them reach the community in the time of an emergency.
"We had several meetings on how to manage the project and reach out effectively to the community. I feel that we did not just distribute things, we were able to organize ourselves together to accomplish this," he said.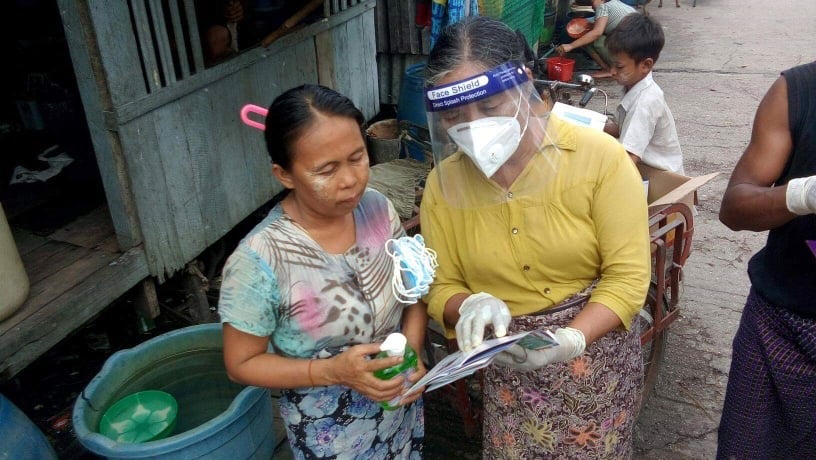 UN-Habitat community volunteer assists a slum resident in Yangon, Myanmar to fit a COVID-19 mask properly as part of community outreach providing accurate information on the pandemic
[Bedar Social Development Group]