Nairobi, 22 July 2022 -- The Go Blue Programme is an initiative by the European Union and the Government of Kenya, aiming to advance the Blue Economy agenda within coastal counties in Kenya, thus contributing to the socio-economic development of the Kenyan Coast while enhancing the protection of coastal resources. 
The project, spearheaded by the United Nations Human Settlements Programme (UN-Habitat) and the United Nations Environment Programme (UNEP), focuses on Mombasa, Kilifi, Taita Taveta, Lamu, Kwale and Tana River, which jointly form the Jumuiya ya Kaunti za Pwani (JKP).  
One intended result of the Go Blue Programme is the adoption of an integrated, ecosystem-based approach to land-sea planning and management. To achieve that, there is a need for adequate and sustainable public spaces that promote the Blue Economy by promoting sustainable tourism while creating opportunities for local economic development projects and employment. 
To implement this result area, the Global Public Space Programme, in coordination with the county governments of Mombasa and Kilifi, organized Minecraft workshops which adopted the approach outlined in the Block by Block Playbook, underscoring the role of community members in co-designing public spaces.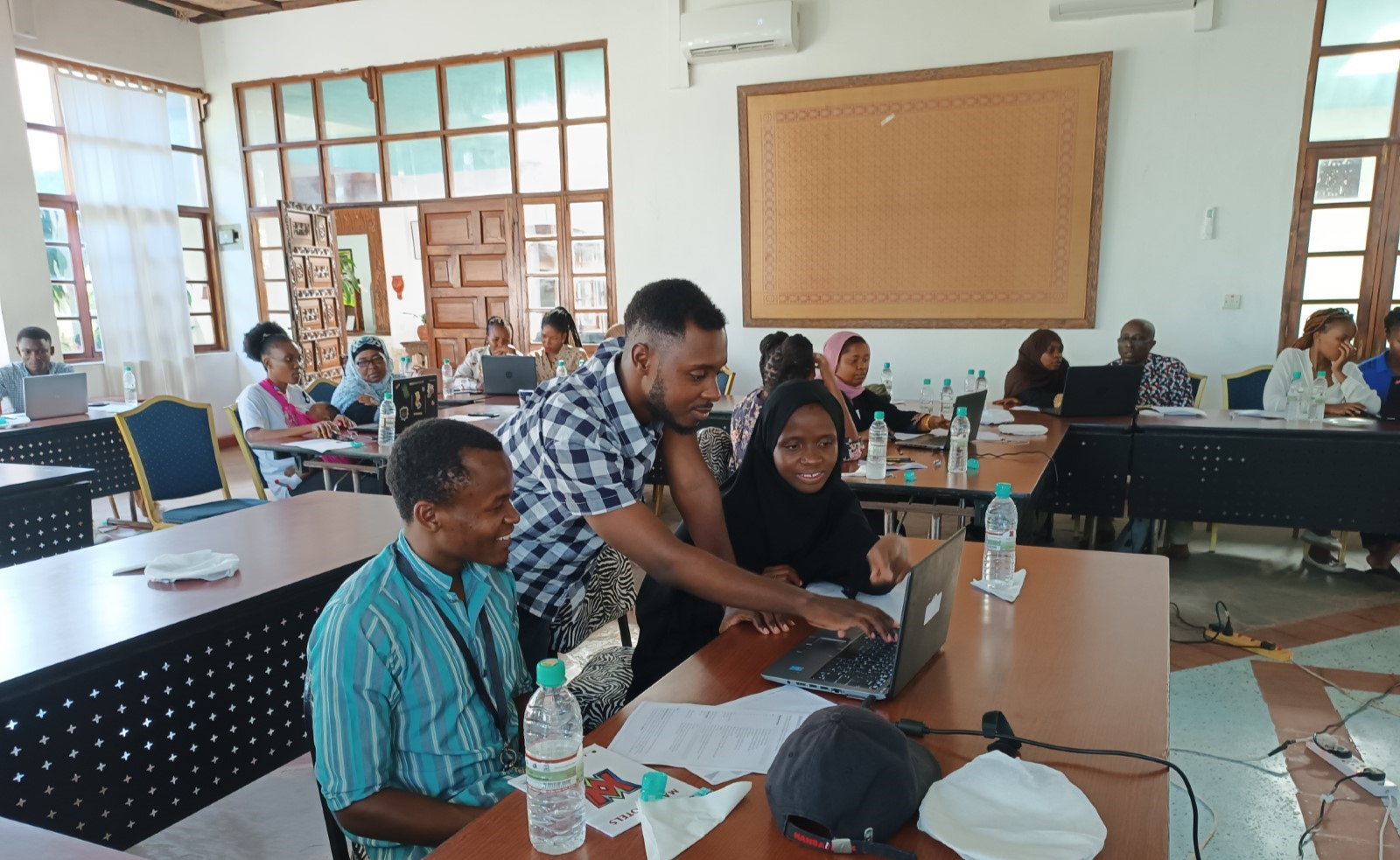 Workshop participants using Minecraft
[UN-Habitat]
Minecraft is an easy to learn sandbox computer game often referred to as 'Digital Lego'. It has been used by UN-Habitat in partnership with the Block by Block Foundation, successfully upgrading 140 public spaces in 90 cities worldwide, therefore enhancing access to safe and inclusive public spaces for about 2.3 million people and advancing the implementation of SDG 11.7. Over the years, Minecraft workshops have been instrumental in giving community members a voice and an opportunity to rethink their public spaces, while kickstarting communication between community members and local authorities on matters of public spaces. 
The first two-day workshop in Kilifi County May 23-24 brought together 28 participants from Sokoni ward and adjacent neighbourhoods, including the youth and elderly men and women.  
During a site visit participants saw some of the challenges and opportunities within the space, therefore laying the foundation for the co-design session using Minecraft. Key interventions highlighted during the process included security lights, playing amenities for children, washrooms, waste management facilities, defined paths, nursing rooms for women, park furniture and vantage points as the park overlooks the beach.  
"This is a good model for designing public spaces and, going forward, this can help us in designing other spaces in Kilifi County. Before the COVID-19 pandemic, we never embraced the need for public spaces, but through this we have come to learn that we need to conserve and design them to handle such situations," said Jacinta Makau, a municipal planner in Kilifi County Government.
Workshop participants in Kilifi using Minecraft to share design ideas
[UN-Habitat]
A similar workshop in the neighbouring Mombasa County May 26-27 adopted a similar approach, engaging 23 residents, students, representatives from Mombasa County Government and the Kenya Alliance of Residents Association (KARA), who received proposed 3D solution models.
The participants noted that insecurity is a key challenge in Shelly Beach, highlighting that over the years, there have been reported cases of crime which often threaten economic activities, especially those closely linked to tourism.  
The site is predominantly used for small-scale businesses but lacks waste management facilities resulting in pollution of the site, often extending to the beach and the ocean. Thus, the participants proposed amenities to enhance security, shops and restaurants, waste management facilities, defined paths, emergency facilities, furniture, playgrounds, lighting, parking, and public toilets.
The proposed ideas from both counties will be used to upgrade the respective public spaces as part of the Go Blue Programme, thus enhancing access to safe and inclusive public spaces that contribute to the Blue Economy through job provision and sustainable tourism.