Morondava, Madagascar, 21 December 2020 – UN-Habitat and partner OXFAM met with the municipal and local authorities of Morondava to establish the City Project Team (CPT) for the Building Urban Climate Resilience in South-Eastern Africa project.
Financed by the Adaptation Fund, the four-year project assists four countries, Madagascar, Malawi, Mozambique and Union of Comoros to build their urban resilience by implementing a mix of city-level infrastructure sub-projects, national level capacity-building and regional knowledge and experience sharing.
Morondava is a coastal city located between the Mozambique channel and the Morondava river delta. Surrounded by water bodies, Morondava is highly prone to flooding and suffers from poor drainage and weak solid waste management systems.
To address these challenges, the project will construct flood-proof elevated roads, bridges and safe havens, improve solid waste management and drainage capacity, rehabilitate mangroves and implement urban greening in high risk areas. These interventions were identified through the participatory CityRAP process implemented by UN-Habitat in Morondava in 2016.
The meeting marked the establishment of the CPT to faciliate the implementation of these activities, ensure quality project outputs and attain positive impacts for the people of Morondava.
The team is comprised of representatives rom Morondava municipality, UN-Habitat, OXFAM, sub-national government entities and community leaders.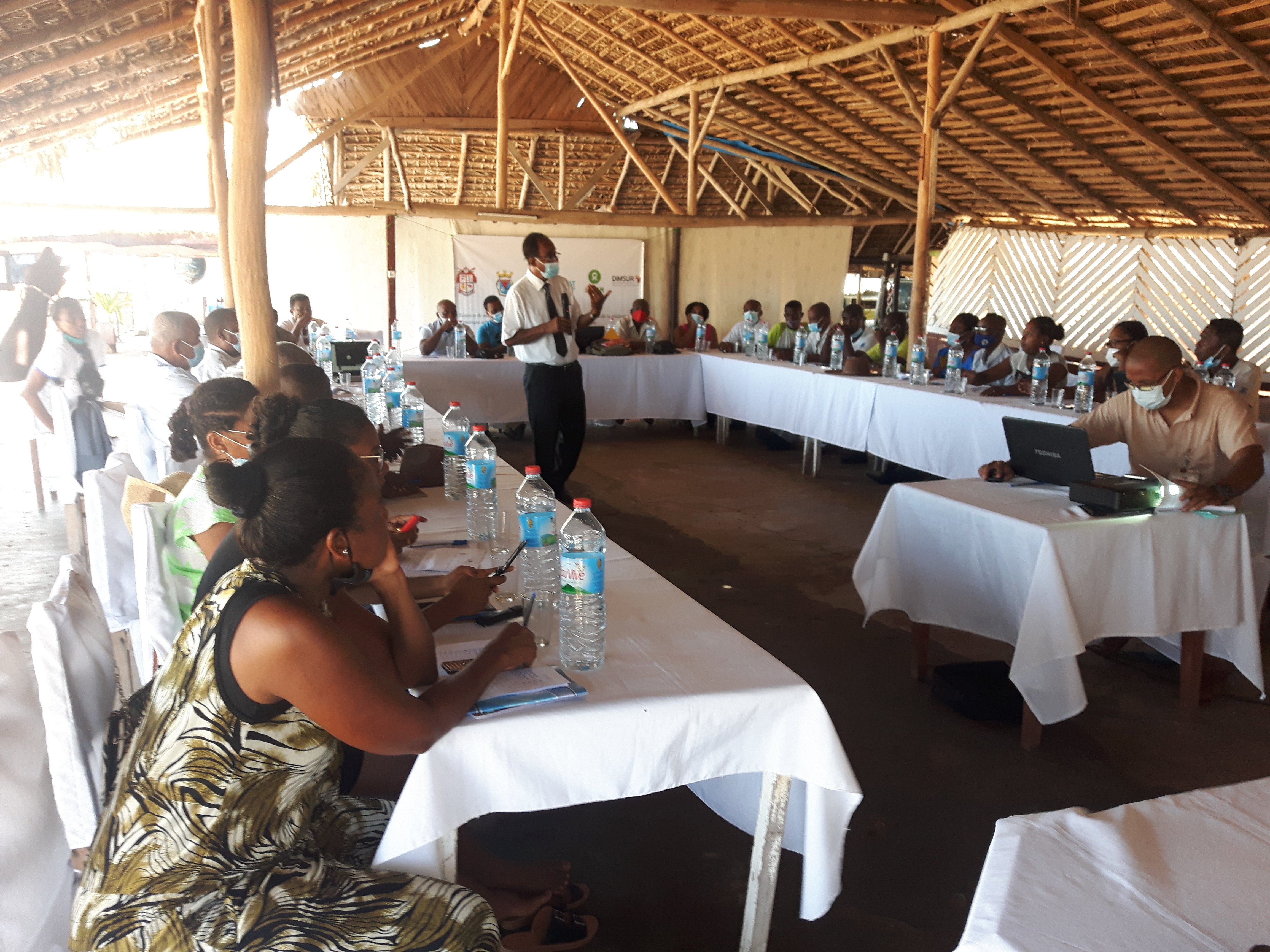 UN-Habitat/OXFAM
Speaking at the meeting, Mr. Zaid, focal point of the project in Morondava municipality said, « Together, we will achieve good things for our city. It has been a long time since we started preparations for this project and we are counting on the outcome of our past efforts...If we want to succeed in this project, we need the contribution of everyone, from the Morondava municipality, each neighborhood and the whole community. »
« We highly appreciate the leadership of the Mayor, who has been part of this project from the beginning and is eagerly waiting for the construction of all the infrastructure discussed today. Regarding the solid waste management sub-project, I would like to highlight the application of the hygiene code of the city of Morondava because they will be interdependent and will facilitate the effective improvement of the solid waste management expected by this project. » said Mr. Joda Eric, Chief of Fokontany Andakabe neighborhood.
The local representatives of the National Bureau of Disasters and Risk Management, the Ministry of Environment, Sustainable Development, and Territorial Planning together with all the local stakeholders showed their great desire to contribute to the project for urban climate resilience in Morondava.