La Paz, Bolivia, 20 May 2022 - Within the framework of its SDG Cities Program, UN-Habitat awarded the Silver Certification to the Autonomous Municipal Government of La Paz (GAMLP) of Bolivia for its voluntary commitment to accelerate the implementation of the Sustainable Development Goals (SDGs) to leave no one and no place behind.
"We recognize La Paz as the first Latin American city to join the emblematic and global initiative of SDG Cities (…). We will remain, as always, committed to supporting you (Mayor) and the Municipality in this process (...). And we hope that many other cities in Bolivia and throughout the region will follow," said Rafael Tuts, director of the Global Solutions Division at UN-Habitat.
By becoming an "SDG City", the municipal authorities will work to achieve the Goals through four stages: data collection and analysis (which is already completed), evidence-based inclusive planning, strengthening of local institutions, and the prioritisation of investment in SDG initiatives.
"At the national and Latin American level, we are the first city to receive this certification. This is not by chance, since there is a firm commitment, assumed by our management, to achieve a city in movement, that is healthy, that is safe, that is modern and green, fast and interconnected, a north facing and productive La Paz, with an open and effective government, seeking to achieve a peaceful La Paz", said La Paz Mayor Iván Arias Durán.
The SDGs are a universal call to action to end poverty, protect the planet and improve the lives and prospects of people everywhere. Through this certification, UN-Habitat recognises and makes visible the efforts of the Mayor's Office of La Paz to comply with the 2030 Agenda.
In this regard, the mayor added that the next step is to achieve Gold Certification. "Likewise, we intend to achieve Gold Certification very soon, which would imply having a plan with a view to fully implementing the SDGs. Thank you for the award, thank you for the recognition that commits us to be better every day."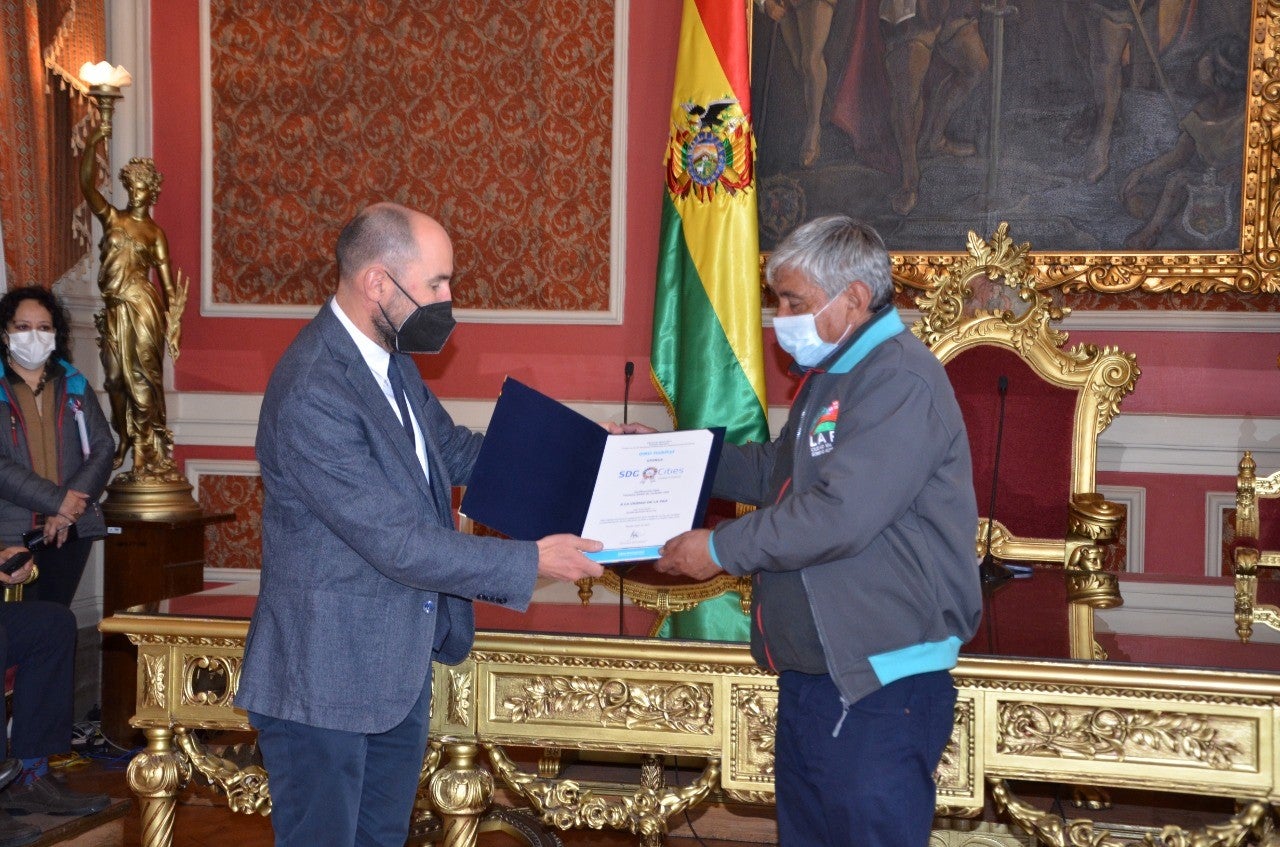 [Municipal Autonomous Government of La Paz]
Presentation of the Voluntary Local Report
During the event, the mayor of La Paz presented the coordinator of the UN-Habitat programme in Bolivia, Sergio Blanco, the Voluntary Local Report (RLV), a tool with a comprehensive, multi-stakeholder and multi-level approach for locating good practices and monitoring the significant progress towards compliance with the 2030 Agenda for Sustainable Development.
 
This document responds to a four-stage process: the collection of information, the calculation of indicators, the construction of the Global Urban Monitoring Framework (UMF) and, finally, the drafting of the RLV.