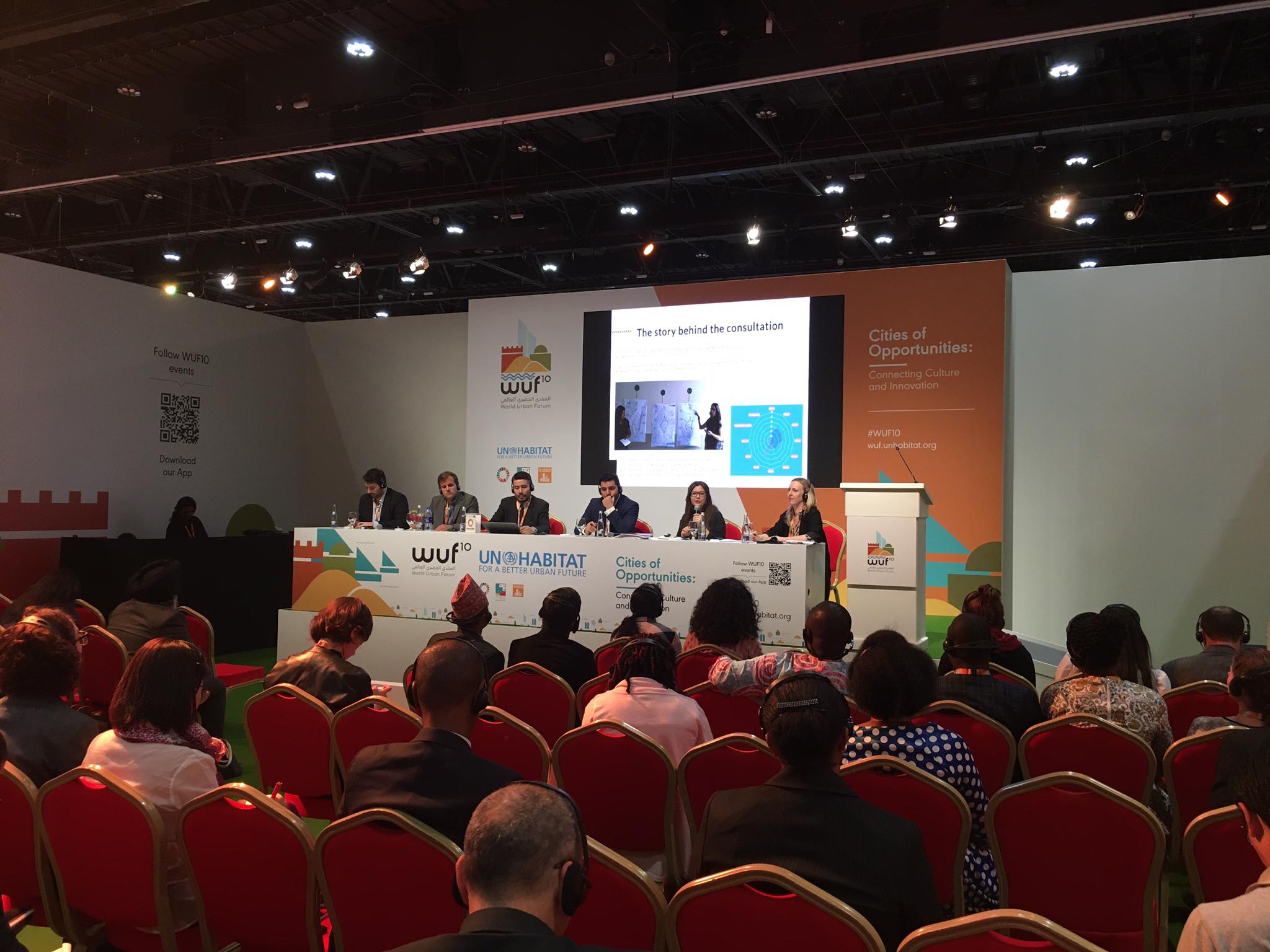 Abu Dhabi, 20 February 2020 – An innovative tool that was used to engage citizen participation to formulate public policies in Latin America was presented at the tenth session of the World Urban Forum (WUF10). Since 2018, over 20,000 citizens in Brazil have participated in the consultation along with an additional 5,000 citizens from six participating cities from Bolivia and Peru.
The networking event Technology and Citizen Engagement: Using innovative mobile phone technology in monitoring the SDG11 in cities brought innovation to the forefront by displaying how a mobile app has managed to capture views of citizens related to the effectiveness of public policies that their livelihood and how innovation can raise citizens' awareness about the Agenda 2030 for Sustainable Development.
Gustavo Maia, founder and CEO of Colab, a citizen-to-government engagement platform that offers a social network for citizens, unveiled the results of the Sustainable Cities and Communities Consultation carried out in Brazilian cities. The consultation included a survey developed using Sustainable Development Goal 11 (SDG11) and capacity building indicators and was answered by city inhabitants, civil society organizations and local governments. The preliminary results obtained in La Paz and Tarija (Bolivia)- and Chimbote, Miraflores, Trujillo and Barranco (Peru) were later presented by Jesus Cepeda, CEO of OS City, a Mexico-based start-up that uses technology to gather data and detect the needs of cities
According to preliminary results from La Paz, citizens perceived transport as one of the city's main strengths. These findings were supported by the presentation of Edgar Pacheco, director of research and data of the municipality of La Paz, which showcased the municipality's investment efforts focused around the improvement of mobility and accessibility through cable cars. This example validated the reliability of the data collected by the Consultation and how it can be used to support decision-makers when evaluating and adjusting policies in their cities, and to identify new investment opportunities.
Daniel Mancebo de Araujo, coordinator of the planning office of the municipality of Rio de Janeiro stated that "institutional capacity is very important to achieve our goals" as he shared that the mayor's office is making great efforts to bring citizenry closer to the decision-making process.
Beatriz Gonzalez Mendoza, coordinator of Accountability Systems for Measuring, Monitoring and Reporting on Sustainable City Policies in Latin America project of UN-Habitat, closed the session by outlining the trajectory of how a capacity building exercise in Latin America led to the development of the app that now allows citizens to share their opinions on the state of urbanization their cities. The Consultation in Brazil concluded on February 10th of this year and is set to end on March 31st Peru and Bolivia.
This project is funded by the UN Development Account and is implemented by UN-Habitat in collaboration with the Economic Commission for Latin America (ECLAC). For further information about the first phase of implementation in Brazil, please view the report in Portuguese here.